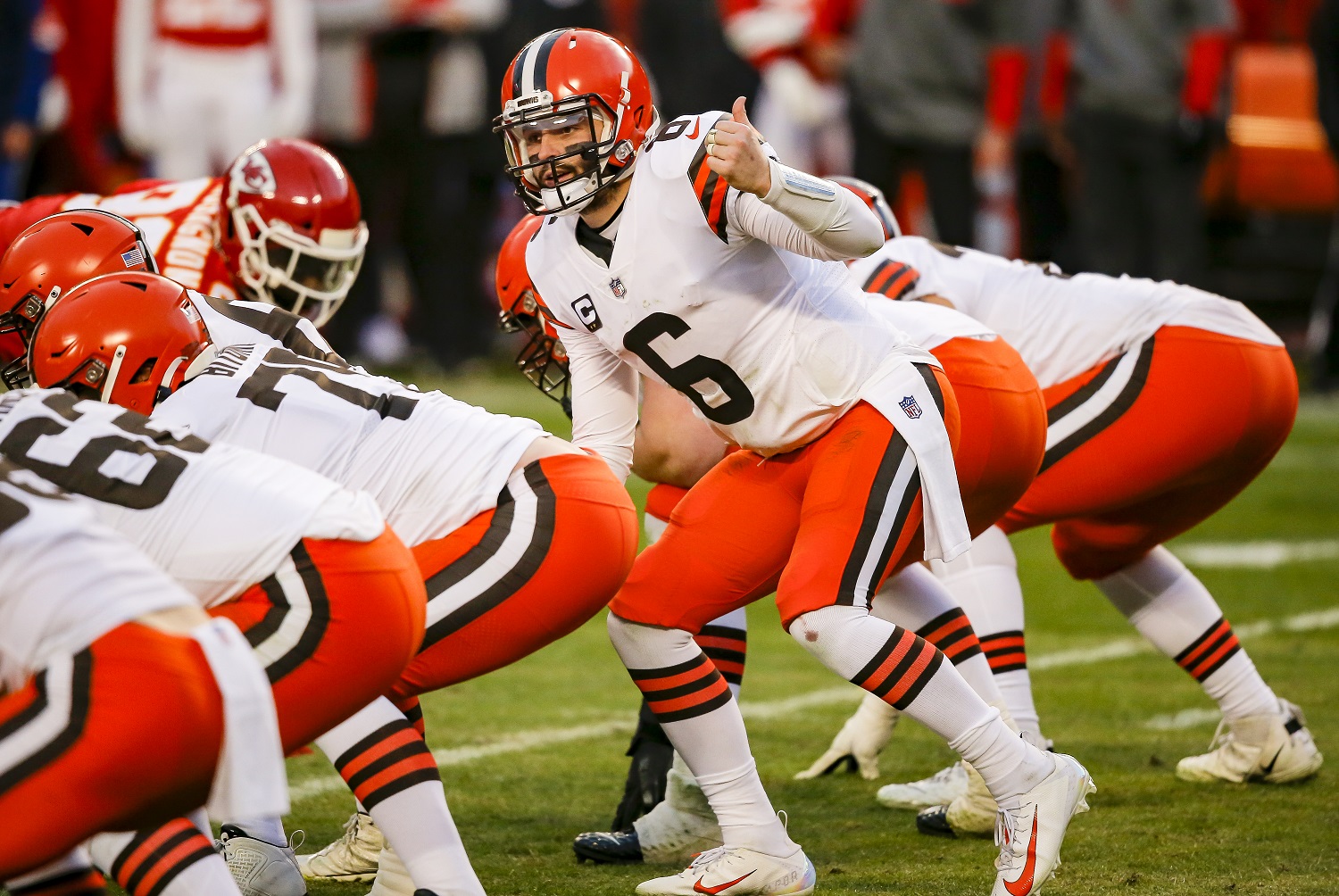 Baker Mayfield Once Quoted DMX After a Crazy Cleveland Browns Comeback Victory
Third-year Cleveland Browns quarterback Baker Mayfield quoted lyrics from rapper DMX in describing a comeback victory against the Cincinnati Bengals in an October 2020 NFL game.
We lack a sufficient body of evidence to determine whether Baker Mayfield is completely cool under pressure. We're leaning that way, though. On the other hand, the Cleveland Browns quarterback has shown via his humorous commercials that he is cool off the field.
Sometimes that coolness sails right over the heads of fans and the media. That was the case last NFL season when Mayfield dropped a pop culture reference. Only savvy observers picked up upon it following a dramatic comeback victory engineered by the third-year pro.
The Cleveland Browns' Baker Mayfield gamble is paying off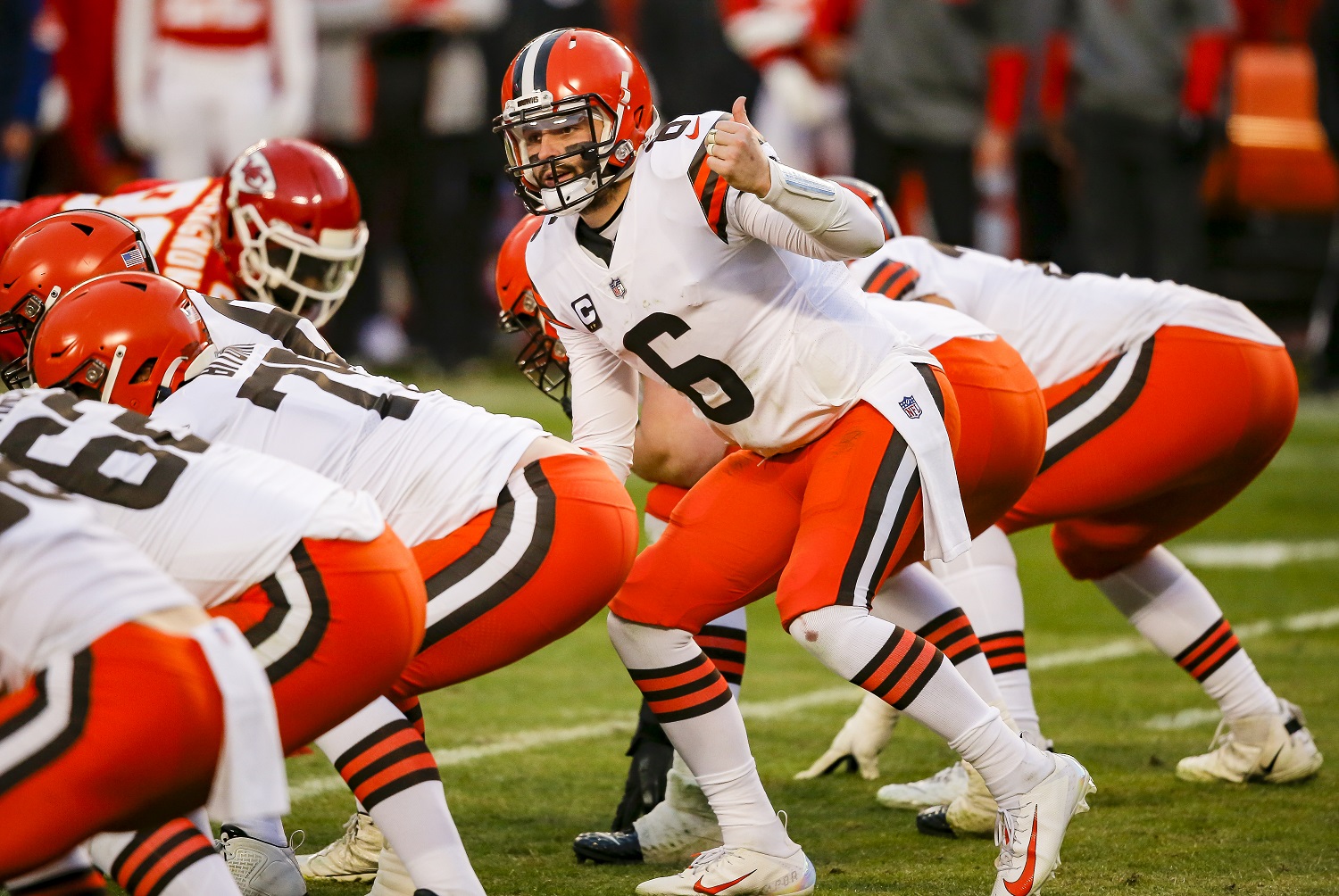 Baker Mayfield was by no means a sure thing when he entered the NFL as the No. 1 overall selection of the 2018 NFL draft. Collegiate wins and gaudy statistics did not translate into successful NFL careers for Oklahoma Sooners quarterbacks Sam Bradford and Landry Jones, Mayfield's notable recent predecessors.
The led to concerns that Mayfield might be a system quarterback. Coupled with his average size, some observers thought Sam Darnold was a safer bet among QB candidates in the draft class. However, the Cleveland Browns went with Mayfield.
Mayfield's rookie season showed enough production – 27 touchdown passes, a 63.8% completion rate, and four game-winning drives – to merit optimism about his future despite 14 interceptions. Unfortunately, the 2019 season was a disaster. Mayfield's numbers were down across the board, and his 21 interceptions and 40 sacks were major contributing factors to a 6-10 record.
Baker Mayfield quoted DMX after a crazy comeback victory
The 2020 NFL season was a breakthrough for both Baker Mayfield and the Cleveland Browns. Backed by a strong running game, Mayfield led the Browns to an 11-5 record and a playoff berth. He threw the exact same number of passes as in 2018 but the results were better.
His yardage and TD totals were down slightly, but Mayfield was a more efficient and disciplined quarterback. As the victories went up, interceptions and criticism of his many endorsements and commercials went down.
An important turning point came on Oct. 25, 2021. One week after a humiliating loss to the Pittsburgh Steelers in which Mayfield threw for 119 yards and had to be relieved by Case Keenum, he came roaring back. Shaking off a first-pass interception, Mayfield threw for a career-best five TDs, including two in the final 4:53, to beat the Cincinnati Bengals, 37-34.
Mayfield finished 22-for-28 after misfiring on his first five attempts, he rang up 21 straight completions and finished with 297 yards. His last throw was the game-winning TD with 11 seconds to go. Afterward, overcoming three fourth quarter deficits, he imparted this wisdom on reporters:
"Just got back on track. Whatever it takes to win. Stop, drop, shut 'em down, open up shop."

Baker Mayfield
It sailed over the heads of a lot of people that day, but Mayfield was quoting from Ruff Ryders' Anthem by DMX, definitely making him the day's hippest quarterback — even if the rest of the tune's lyrics would make Tipper Gore cringe.
DMX is reportedly fighting for his life
Rapper DMX was hospitalized April 2 in White Plains, New York, after suffering a heart attack, his attorney told reporters. Murray Richman initially said DMX, whose given name is Earl Simmons, had been taken off life support and was breathing on his own. However, CBS News reported Richman had subsequently backed off that update on Sunday.
DMX, who was nominated for two Grammy Awards in 2000 and another the following year, was listed in critical condition in the intensive care unit. Citing unidentified sources, TMZ.com reported DMX had originally suffered a drug overdose late Friday. His breathing had stopped for a prolonged period, causing life-threatening brain damage, TMZ reported.
All stats courtesy of Pro Football Reference.