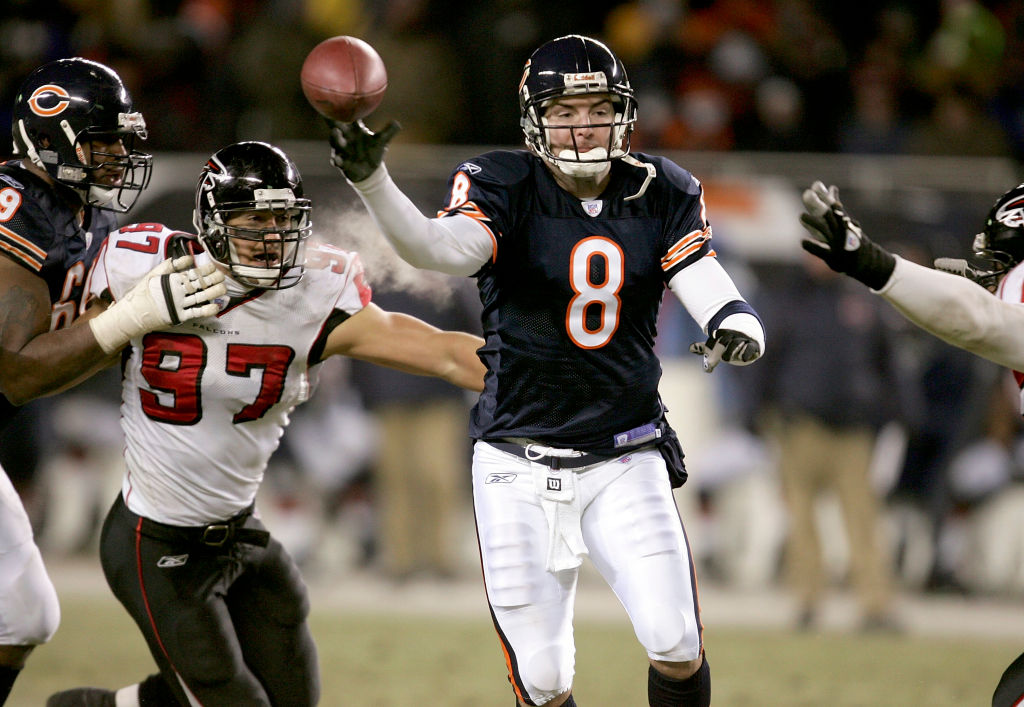 Bears Bust Rex Grossman Turned His $15 Million Into A Nursing Company
Rex Grossman is among the worst quarterbacks who led his team to the Super Bowl. The former Bears quarterback later founded a nursing agency.
Rex Grossman's name alone still causes Chicago Bears fans to sigh and grimace. Grossman had impressive arm strength, but a disastrous NFL combine should have scared the Bears away from the beginning.
Nearly a decade after Rex Grossman's final NFL game, let's look back at the former Bears quarterback and how he may have helped fight against the coronavirus.
Rex Grossman had an underwhelming NFL career
The Chicago Bears selected Rex Grossman with the 22nd overall pick in 2003's NFL draft. That was after Grossman had a horrific combine performance and, if he wasn't a quarterback, should have fallen to at least the second round.
Grossman didn't become the Bears' full-time starting quarterback until 2006 when he went 13-3 and led the Bears to a Super Bowl. Well, it would be better to say Grossman strongly benefited from an excellent defense that held its own after Grossman threw 20 interceptions.
Grossman only started seven games in 2007 and was out of Chicago by 2009. He started 13 games for the 2011 Redskins, but went 5-8 and threw 20 interceptions to 16 touchdowns.
Grossman spent 2012 and 2013 in Washington as a veteran mentor to Robert Griffin III and Kirk Cousins.
Grossman is possibly the worst Super Bowl quarterback in recent memory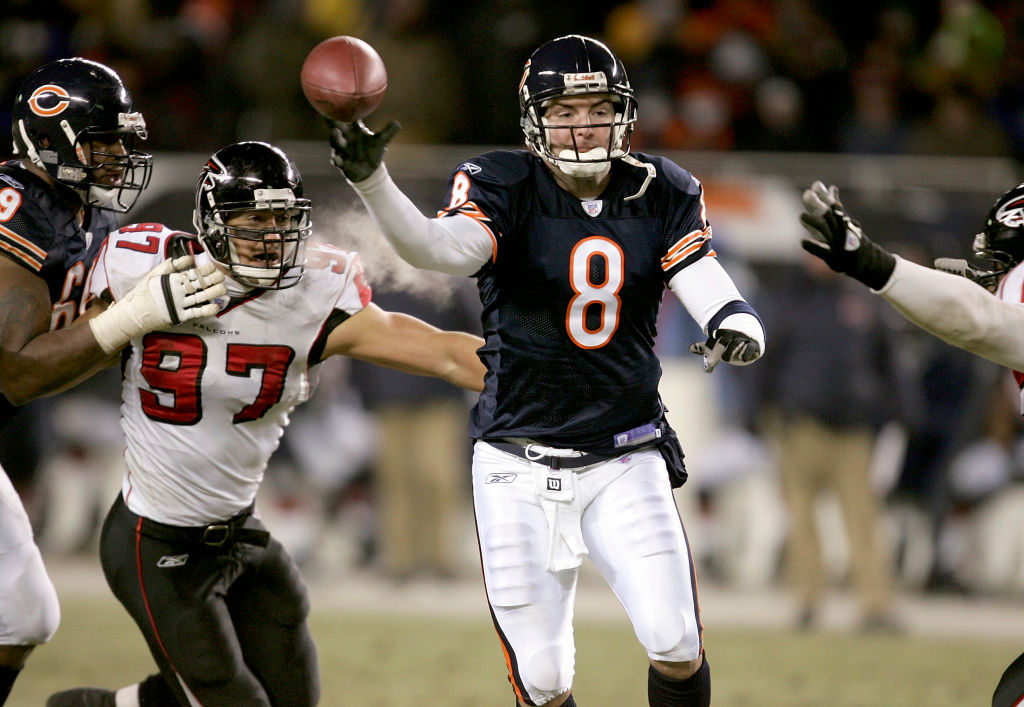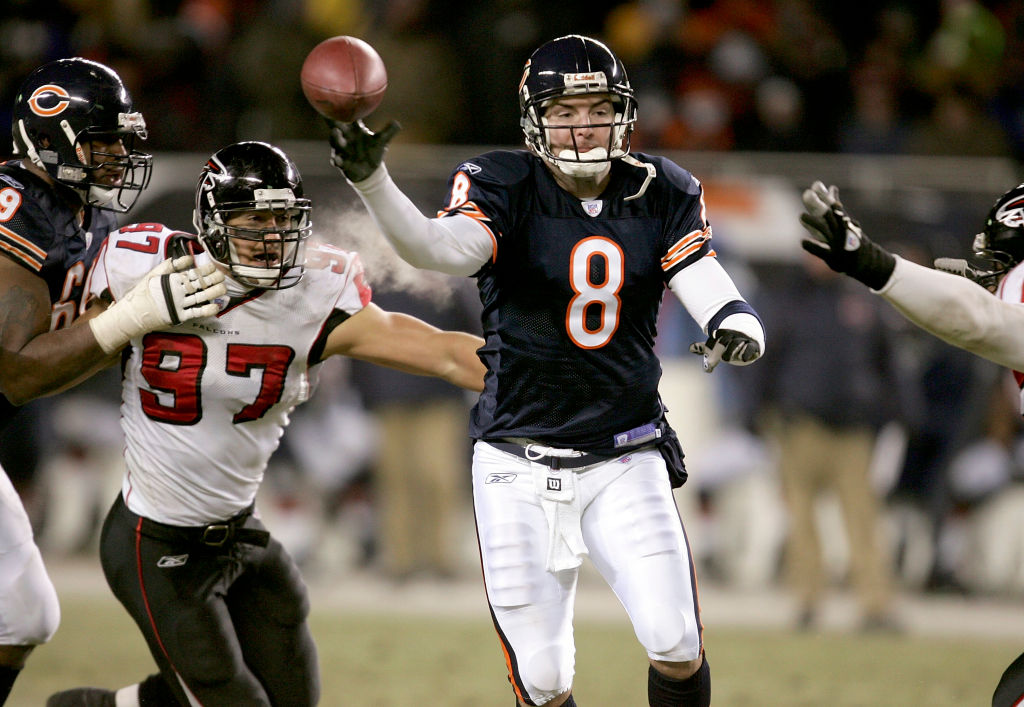 The AFC had an interesting stretch from that began in February 2002 and ended earlier this year. The conference's starting quarterback in the Super Bowl, aside from one year, was always one of Ben Roethlisberger, Peyton Manning, or Tom Brady.
Baltimore's Joe Flacco was the exception in February 2013. Kansas City's Patrick Mahomes won the Super Bowl last year.
The NFC has been more varied, though the majority of Super Bowl quarterbacks have at least been successful. The list of NFC quarterbacks to start a Super Bowl since February 2002 includes Hall of Famer Kurt Warner and Hall of Fame locks in Green Bay's Aaron Rodgers and New Orleans' Drew Brees.
Seattle's Russell Wilson and Atlanta's Matt Ryan have strong Hall of Fame cases, as does ex-Giants quarterback Eli Manning. The likes of Cam Newton, Donovan McNabb, and Matt Hasselback all also started Super Bowls.
Then, there's Rex Grossman. At least Tampa Bay's Brad Johnson finished his career with a winning record and more touchdowns than interceptions. Former Eagles quarterback Nick Foles had had a solid career so far.
But Rex Grossman? Of all the quarterbacks to make a Super Bowl in the 21st century, he is easily the worst.
Rex Grossman founded a nursing agency after he retired
Rex Grossman retired with over $15 million in career earnings. Over $10 million of that came from his six seasons in Chicago.
During Grossman's playing days, he and his wife, Alison, founded Florida Medical Staffing in 2009.
Located in Delray Beach, Fla., the company "specializes in providing skilled temporary and permanent staff to the medical community, including hospitals, skilled-care facilities and other medical providers," according to its website.
Those were always crucial ways to help those in the medical field. During the coronavirus pandemic, Florida Medical Staffing's role is even more important.