Bill Belichick Developed His Wealth of Football Knowledge From His 2 Heroes – His Dad and a Heisman Winner
Bill Belichick is the proud owner of eight Super Bowl rings. Six came as head coach of the New England Patriots, and he grabbed a couple more as defensive coordinator of the New York Giants.
Widely known as one of the best NFL coaches of all time, Belichick got an early start to his career. He also learned from the best, soaking in knowledge from his two heroes.
Bill Belichick took after his father, Steve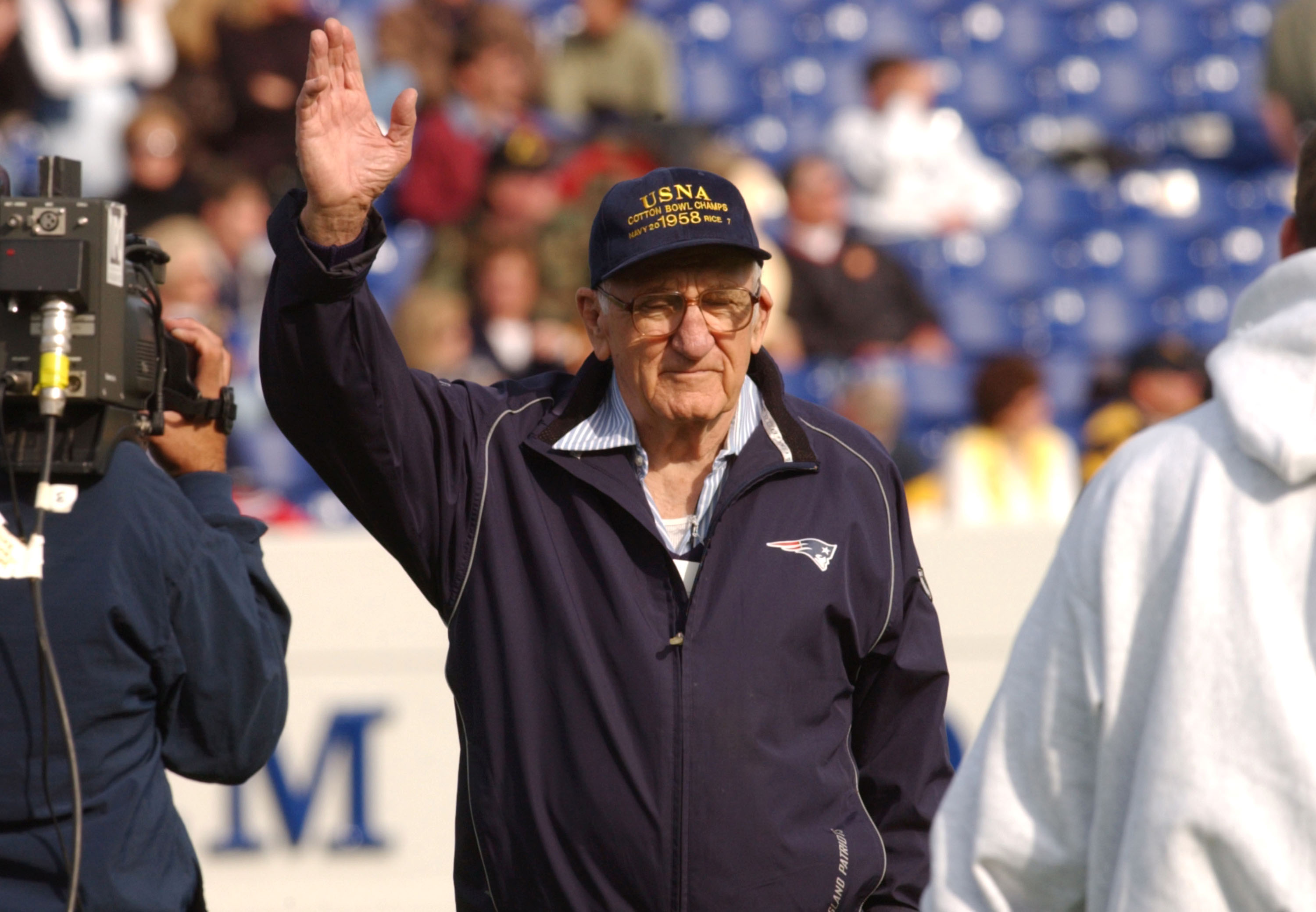 Football is clearly in the Belichick genes. Bill Belichick caught the bug from his father, Steve, who was a player, coach, and scout. Steve was a longtime assistant coach and scout with Navy from 1956-1989. When Bill was 9, he followed his father to practices and team meetings whenever allowed. He sat in on Monday-night meetings when the team went over the scouting report of the following week's opponent.
"He'd sit in the back of the room, maybe for 90 minutes a session," Steve told Sports Illustrated back in 2004. "I never had to say a word to him about his behavior. He'd stare at the front of the room and not say a word."
Some of the other coaches took young Bill under their wing. Ernie Jorge, who was an assistant coach on the offensive side, brought Bill an envelope every Thursday night. Written on it was 'Bill's Ready List' and it contained the game plan for the week.
By age 10, Bill was already fluent in Navy's offensive terminology. He picked up on formations and schemes. He was well ahead of his time.
Steve Belichick passed away at the age of 86 in November 2005. He was Bill's mentor and hero.
"Obviously, he had a tremendous influence on my life personally, and particularly in the football aspect," Bill said after his death, according to ESPN. "It was great to be able to share the tremendous memories with him and some of our recent successes."
Bill Belichick also learned his football from another hero
While Bill was hanging around the Navy football team as a youngster, he got to know quite a few of the players. One of his favorites was running back Joe Bellino.
Bellino was a star. In fact, he was a two-sport star at Navy, playing baseball and football, but football was where he made his mark. Bellino could do everything. In his senior year, he rushed for 834 yards and also caught 15 passes for 264 yards. He also threw for a pair of touchdowns.
He went on to win the 1960 Heisman Trophy. Because of his five-year commitment to the U.S. Navy after graduation, he wasn't drafted until the 17th round in the 1961 NFL Draft. He was also selected in the 19th round of the 1961 AFL Draft by the Boston Patriots. He played three seasons with the Patriots, beginning in 1965, and was mainly used as a kick returner.
"That was his first hero," Steve said of Bellino. "Joe was the hero of a lot of kids in America then, and Bill was his friend."
"Imagine what Bill must have absorbed," said Bellino, who passed away in 2019. "He'd sit in the back of the room listening to his father give the scouting report. He's a six-, seven-, eight-year-old youngster hanging out at the Naval Academy. Midshipmen in uniform, parades, the brass, the visiting presidents, the football team with two Heisman winners (Bellino and 1963 recipient Roger Staubach). And he saw his father's work ethic. He saw everyone in that room soak up what his dad was telling us, believing if we did what he said, we could beat anybody."
Belichick has put together one of the NFL's best coaching resumes
All that time learning from his father and the other Navy coaches and players paid off. Bill Belichick has gone on to become one of the most successful NFL coaches in history. His first NFL gig came as he made $25 a week working under Ted Marchibroda of the Baltimore Colts in 1975. After short stints with the Detroit Lions and the Denver Broncos, he hooked on with the Giants in 1979.
He spent 12 years with the Giants, in roles ranging from special teams coach to linebackers coach to defensive coordinator. He got his first head coaching job with the Cleveland Browns in 1991. Belichick compiled a 36-44 mark from 1991-95 and made one playoff appearance.
Belichick worked as an assistant under Bill Parcells in both New England and with the New York Jets before becoming the Patriots head coach in 2000. At first, he rubbed Patriots owner Robert Kraft the wrong way.
"He used to be a junior Parcells," Kraft told Sports Illustrated. "He walked around saying things like, 'This team's worse than I thought,' or, 'We can't win with this.' I told him to cut it out. Who needs that? Talk to me about what we can do to make it better. And he did."
That he did. He turned the Patriots into a dynasty, and he's got six Super Bowls to prove it.