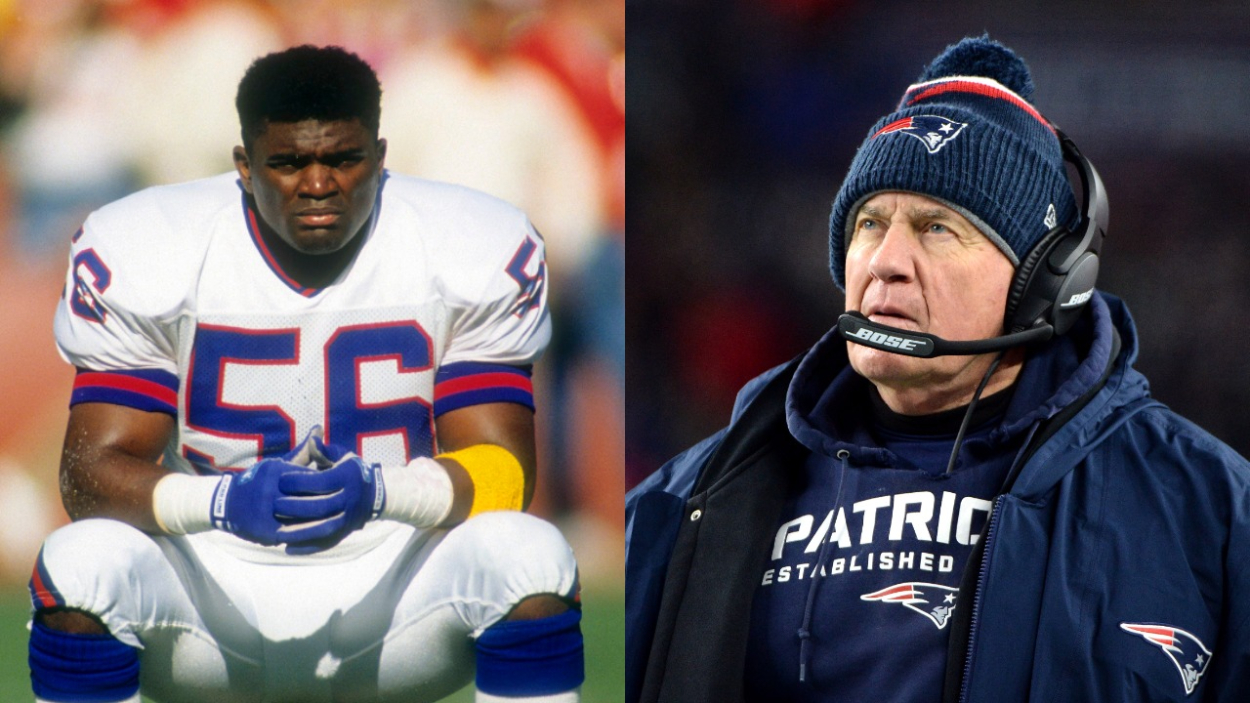 Lawrence Taylor Reveals How Pissed He Was When Bill Belichick Became His Defensive Coordinator, Says He 'Cursed' Bill Parcells Out
Lawrence Taylor had a ton of success on the Giants. He was, however, very pissed when Bill Belichick became the defensive coordinator.
One of the most respected and feared defensive players in NFL history is Lawrence Taylor. He had an incredible career with the New York Giants and led the G-Men to a ton of success throughout his time in New York. However, while current New England Patriots head coach Bill Belichick was the defensive coordinator for the Giants when they had all their success with Taylor, the relationship between the two men did not start off too well. In fact, Taylor was pissed when former Giants head coach Bill Parcells named Belichick as the defensive coordinator.
Lawrence Taylor is a New York Giants legend
Lawrence Taylor was the No. 2 overall pick in the 1981 NFL draft out of North Carolina, and he had about as great of a start to his NFL career as anyone can have. Taylor earned six consecutive First-Team All-Pro selections from 1981 through 1986 and ultimately earned 10 straight Pro Bowl selections. He also won the 1981 Defensive Rookie of the Year award before becoming the best defensive player in the entire game.
Taylor was incredible at getting to the quarterback, as he even led the NFL with 20.5 sacks in 1986. It was during that 1986 season where Taylor also even won the NFL MVP award.
Overall in his career, Taylor earned 10 Pro Bowl and eight First-Team All-Pro selections, an MVP award, and three Defensive Player of the Year awards. Taylor also eventually entered the Pro Football Hall of Fame.
He was pissed when Bill Belichick became his defensive coordinator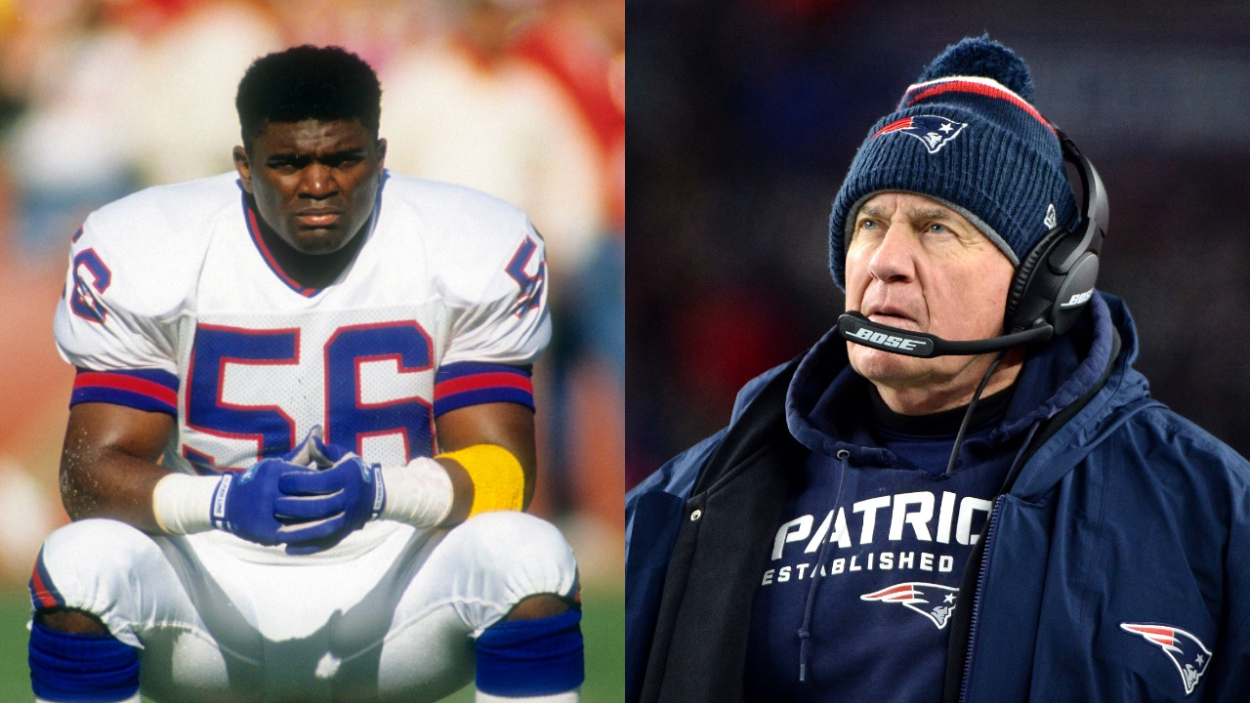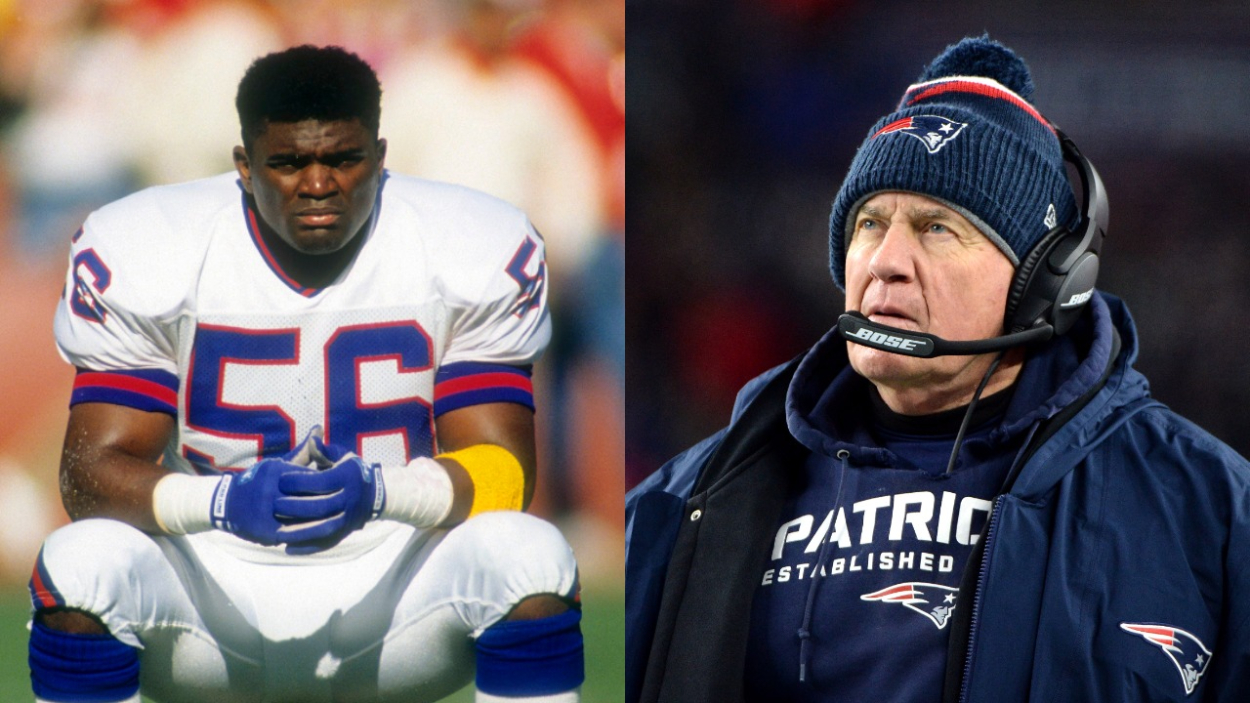 Bill Belichick became the Giants' defensive coordinator in 1985. However, Taylor was not too happy with the decision made by former Giants head coach Bill Parcells. Belichick had worked with the Giants' special teams in each of the previous six seasons.
"I cursed Parcells out when he hired Belichick as the defensive coordinator," Taylor said on the Jan. 27, 2021 episode of Boardroom: Out Of Office, according to CBS Sports. "I come into the league, and I meet Bill Belichick. He's an assistant special teams coach… now what the hell, that's like a towel boy. What the hell is that? Assistant special teams coach."
He continued: "And then the next year he's special teams coach, and then, the third year, Parcells becomes the head coach and he makes … Belichick the defensive coordinator. And I went apes***. I went up to him and I said, 'Ain't no way! Ain't no way!'"
Everything between Lawrence Taylor and Bill Belichick worked out
Taylor eventually said that Parcells informed him that Belichick had designed most of the Giants' defense.
"I said, 'what?!' I mean, even Cover 2 … all those belong to him?" Taylor said, according to CBS Sports. "And he got a little respect from me that day, and I tell you what, he has turned out to be one of the best coaches in history."
Taylor then went on to win his NFL MVP award with Belichick as his defensive coordinator, and they helped lead the Giants to two Super Bowl titles. 
New York's first Super Bowl title with Parcells, Taylor, and Belichick was in 1986, and the Giants' defense was second in the NFL in points allowed that year, as it only allowed 14.8 per game. The other came in 1990, and the defense was No. 1 in the NFL in points allowed, only allowing 13.2 per game.
Obviously, Belichick earned Taylor's respect, and it appears the two have a great relationship now. Tom Brady once even said that Taylor is one of four things that make Belichick laugh.
Before all of that success, though, Lawrence Taylor was extremely skeptical of Bill Belichick and his abilities to run an NFL defense. It's funny to see how everything worked out.
Stats courtesy of Pro Football Reference