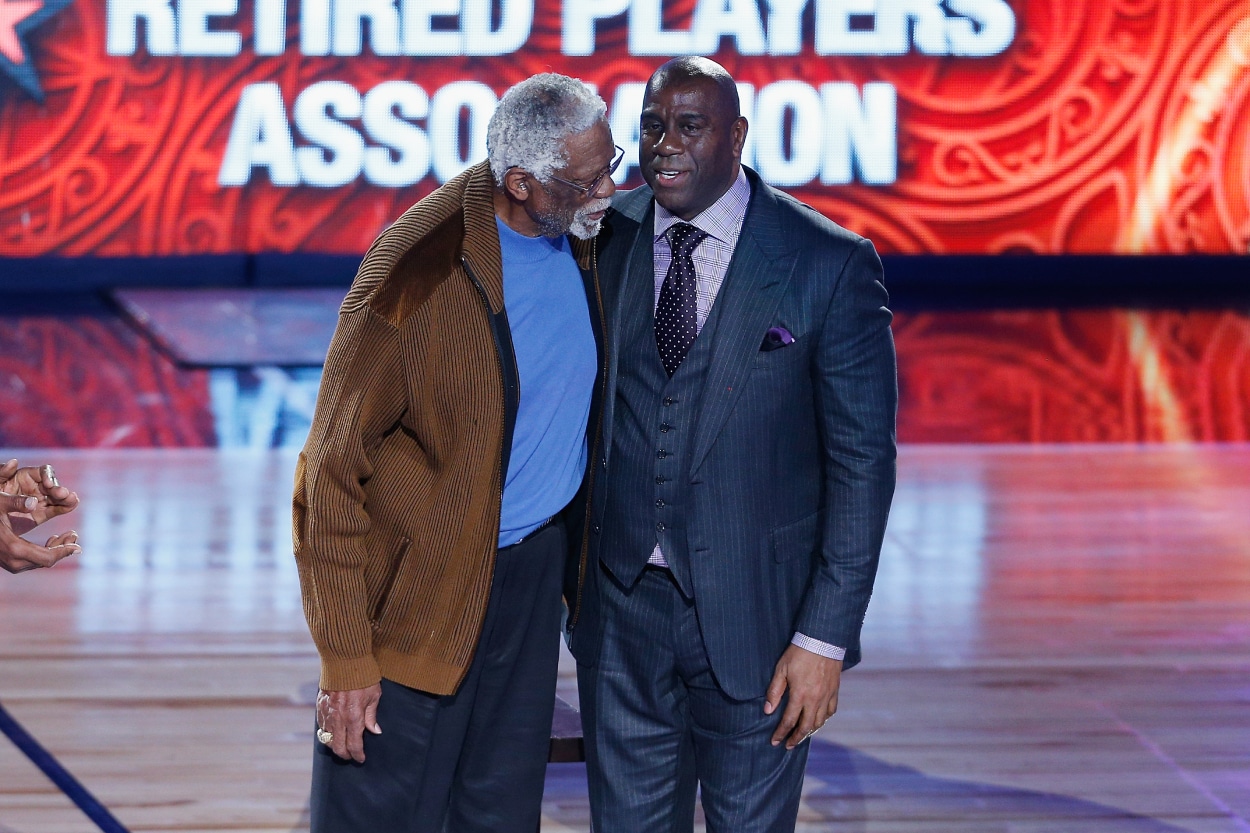 Bill Russell Was the Idol to Many, Including Boston Celtics Rivals Magic Johnson and Kareem Abdul-Jabbar
Magic Johnson and Kareem Abdul-Jabbar both had a Boston Celtics legend — Bill Russell — as their idol.
Throw the rivalry out in this case. The Boston Celtics family suffered a tremendous loss Sunday when legendary center Bill Russell died. He was 88.
Many expressed their condolences and shared their memories of the 11-time NBA champion and civil rights activist, including a pair of Los Angeles Lakers legends in Magic Johnson and Kareem Abdul-Jabbar. Both Hall of Famers and Celtics rivals labeled Russell their idol.
Magic Johnson and Kareem Abdul-Jabbar called Bill Russell their idol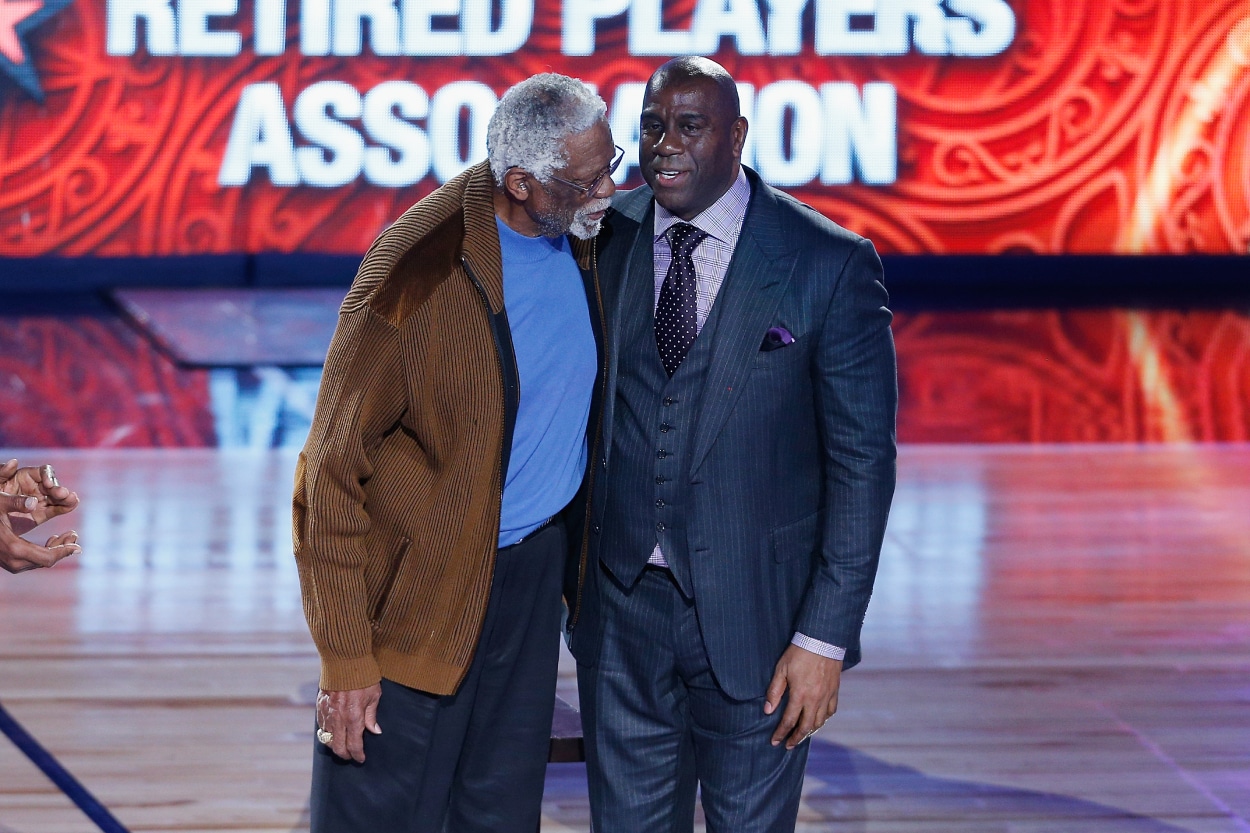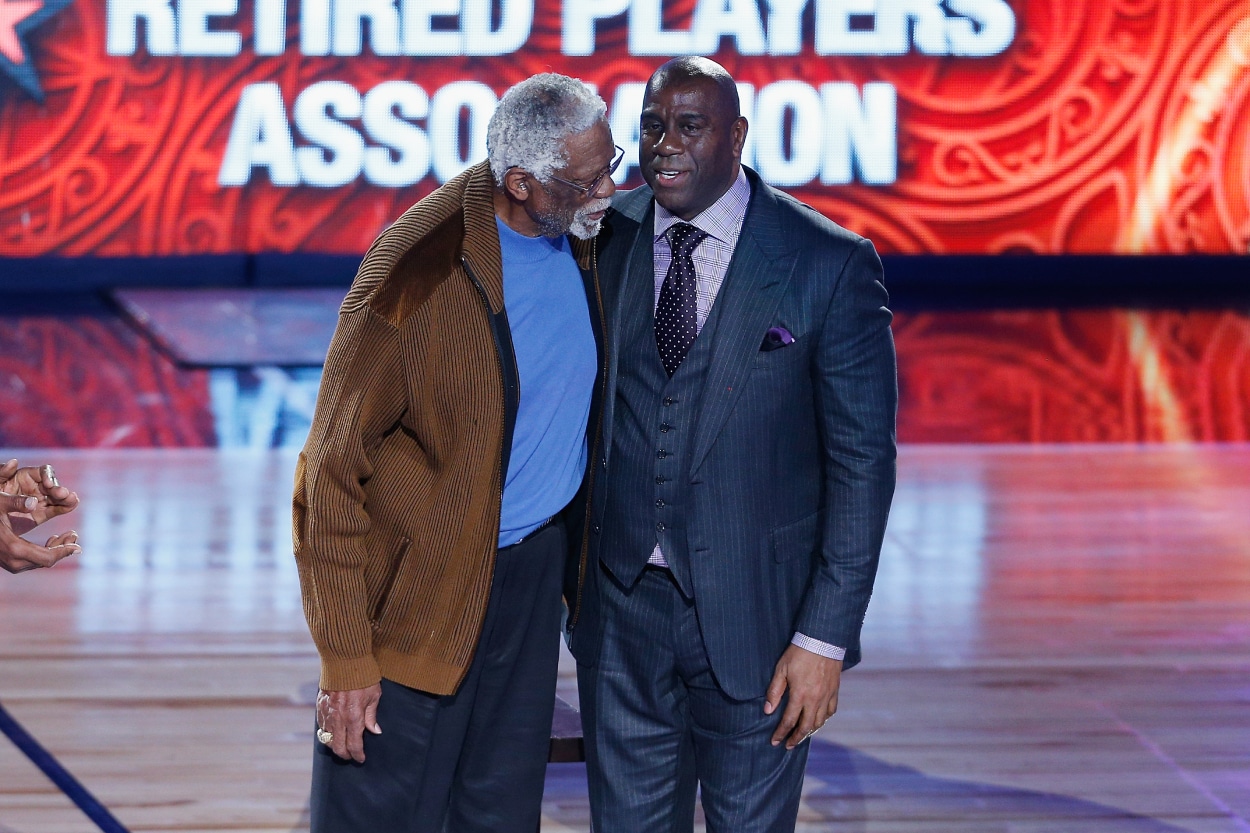 Russell played a major role in the Celtics/Lakers rivalry. His battles with Wilt Chamberlain inside the paint were epic and started what might still be the NBA's best rivalry.
Chamberlain clearly won the statistical battle. His career numbers of 30.1 points and 22.9 rebounds are unmatched. When he averaged 50.4 points and 25.7 rebounds per game in the 1961-62 season, it was unheard of. Despite the numbers, Chamberlain finished his career with two championships.
Russell was part of 11 NBA championships. While his individual numbers weren't nearly as glamorous as Chamberlains, they were still impressive. He led the league in rebounding five times and averaged 22.5 boards over his Hall of Fame career. Russell changed the game with his defensive mindset. His shot-blocking ability was second to none, even though blocked shots weren't an official stat back then.
When Russell's death was announced Sunday, Johnson was quick to make a statement via social media.
"Bill Russell was my idol," Johnson wrote via Twitter. "I looked up to him on the court and off. His success on the court was undeniable; he was (dominant) and great, winning 11 NBA championships. Off the court, Bill Russell paved the way for guys like me."
Abdul-Jabbar didn't hesitate to use the "idol" word, either. The NBA's all-time leading scorer said he's known Russell for 60-plus years.
"He was my hero and a role model," Abdul-Jabbar wrote on his verified Twitter account.
Johnson spoke about Russell's off-the-court contributions
While Russell collected 11 rings and made 12 All-Star appearances during his basketball days, Johnson thought highly of Russell's off-the-court achievements.
"He was one of the first athletes on the front line fighting for social justice, equity, equality, and civil rights," Johnson tweeted. "That's why I admired and loved him so much. Over the course of our friendship, he always reminded me about making things better in the Black community.
"Despite all of his achievements, he was so humble, a gentle giant, a very intelligent man, and used his voice and platform to fight for Black people. Since the day we met, he mentored me and shared advice."
Johnson also remembered Russell's sense of humor, something that went unnoticed because Russell always seemed so serious in public.
"Later in life, he never missed an opportunity to tell me how proud he was of me for what I was doing for Black America throughout the country," Johnson wrote. "I will forever remember his cackling laugh, sense of humor, and love for the game of basketball."
It doesn't matter if you're a Celtics fan or a Lakers fan. Everyone seems to say the same good things about Russell.
Like Sportscasting on Facebook. Follow us on Twitter @sportscasting19 and subscribe to our YouTube channel.