Bill Walton Penned a Heartfelt Ode to Charles Barkley Following Chuck's Career-Ending Injury
No great player in NBA history lost more to injuries than Hall of Famer Bill Walton. In 14 seasons, he missed more games than he played. Perhaps that experience gave Walton the empathy to write a eulogy for the NBA career of Charles Barkley when it was cut short by a gruesome knee injury in 1999.
Barkley was the antithesis to Walton in many respects. He was too short and too heavy to dominate the way he did. But Barkley did it anyway for 15-plus seasons. Listed at 6-foot-6 but generally acknowledged as closer to 6-foot-4, Barkley led the NBA in rebounding once and grabbed nearly 12 a game in his career.
Charles Barkley defied the assumptions in his career
Before the 1984 NBA Draft, Charles Barkley intentionally gained weight. He didn't want the Philadelphia 76ers to take him with the fifth overall pick. General manager Pat Williams did it anyway, and Barkley's No. 34 jersey hangs in the rafters of Wells Fargo Arena after his eight stellar seasons with the team.
He credits former teammate Moses Malone, a three-time NBA MVP, for saving his career. As a rookie, Barkley got limited minutes and asked Malone about it. Malone, never one to sugarcoat things, told the rookie it was because he was too fat, lazy, and out of shape. The rookie took the message to heart and became a superstar.
Barkley wasn't an ironman by any stretch of the imagination. He played every game in a season only once and missed more than 10 games in seven different seasons. But not only did Barkley defy expectations despite his lack of height, but he also did so in an era when it wasn't unusual to have two centers playing together. The Houston Rockets pioneered it with the Twin Towers, 7-foot-4 Ralph Sampson and 7-foot Hakeem Olajuwon, but other teams copied the formula.
Contrast that to Bill Walton's career. He was the next big thing when he graduated from UCLA in 1974. The no-brainer No. 1 overall pick, Walton was constantly hounded by injuries. The only time he played more than 70 games in a season was in 1985–86, and that was as a reserve for the Boston Celtics, averaging only 19.3 minutes per game.
Barkley missed stretches of games with injuries. Walton sat out four full seasons, with five other campaigns during which he played in less than half of his team's games. But it was Walton who summed up the career of Barkley most eloquently.
Bill Walton likened Charles Barkley to a player from a future era
Much is said in the modern NBA about positionless basketball. But after Charles Barkley tore the quadriceps tendon in his left knee in December 1999, Bill Walton reflected on Barkley's career in an essay for The Sporting News:
"Barkley entered the league when it was getting into player specialties, yet he never conformed. Barkley wasn't a position player. He wasn't a small or power forward. He was neither a point guard nor an off guard. And he certainly wasn't a center.
"Yet, often in the same game, often on the same play, he was all of the above. He wasn't a player who waited for action to come his way. He always has been the guy who forced the action."
Barkley got the nickname The Round Mound of Rebound while at Auburn. In his NBA career, he thrived as the villain. And Barkley was always the aggressor. He didn't defeat an opponent so much as pummel them into submission.
Bill Walton explained his appreciation for Barkley's style.
"I played against Barkley at the very end of my career, and it was always tough but fun," Walton wrote. "At 6-foot-4, Barkley always amazed me with the things he was able to do. He played incredibly hard, and he liked the rough game.
"If you got your licks in first, he never complained. He never said a word other than, 'Oh, so that's how we're going to play.' Then he usually ended up putting you on the floor. But he'd always come over to pick you up like he was your best friend."
Barkley played with an edge, one that Walton recognized and appreciated.
Bill Walton acknowledged the hole in Barkley's resume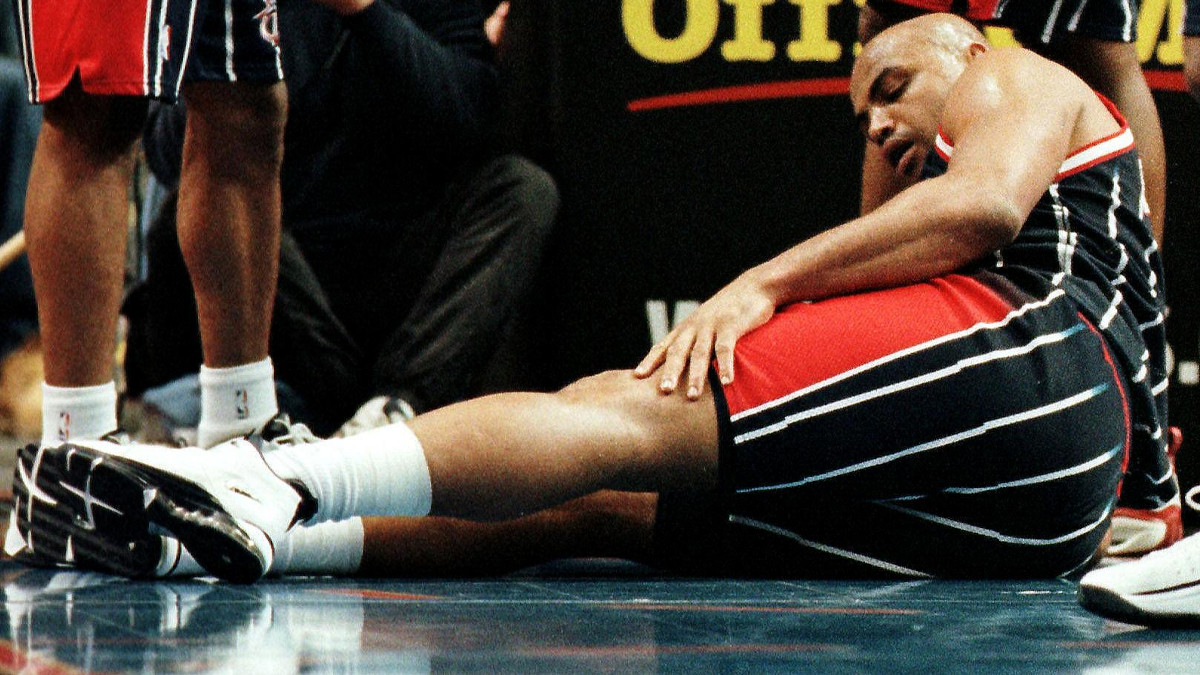 Charles Barkley never won a championship, much to his lament over the years. But his career intersected the greatest era of overlapping dynasties in NBA history. Barkley played from 1984–2000. In those 16 seasons, only six different teams won titles. Of that group, only the San Antonio Spurs won less than two.
Bill Walton knew it would leave a void for Barkley.
"Presumably ending his career without winning an NBA title probably will leave a hole deep inside him because he never experienced the incredible sense of satisfaction and accomplishment of having something (a championship) in a particular year that the rest of the league didn't.
"But Barkley has given the NBA 16 years of his best and made as much out of his career as anyone could have expected. He has said that he exceeded even his expectations."
Barkley played in the NBA Finals just once. He was NBA MVP in 1992–93, his first season with the Phoenix Suns, but his club lost to Michael Jordan's Chicago Bulls in six games. Barkley played with two other teams that reached the conference finals.
Walton was part of two title teams in his career. In 1977, he was NBA Finals MVP as the Portland Trail Blazers stunned the 76ers. In 1986, he was Sixth Man of the Year on a star-studded Celtics club that dominated the NBA.
Their careers couldn't have been much different. Yet in Charles Barkley, Bill Walton saw the spirit of a champion. He was just never able to find the open window to grab his ring.
Statistics courtesy of Basketball Reference.