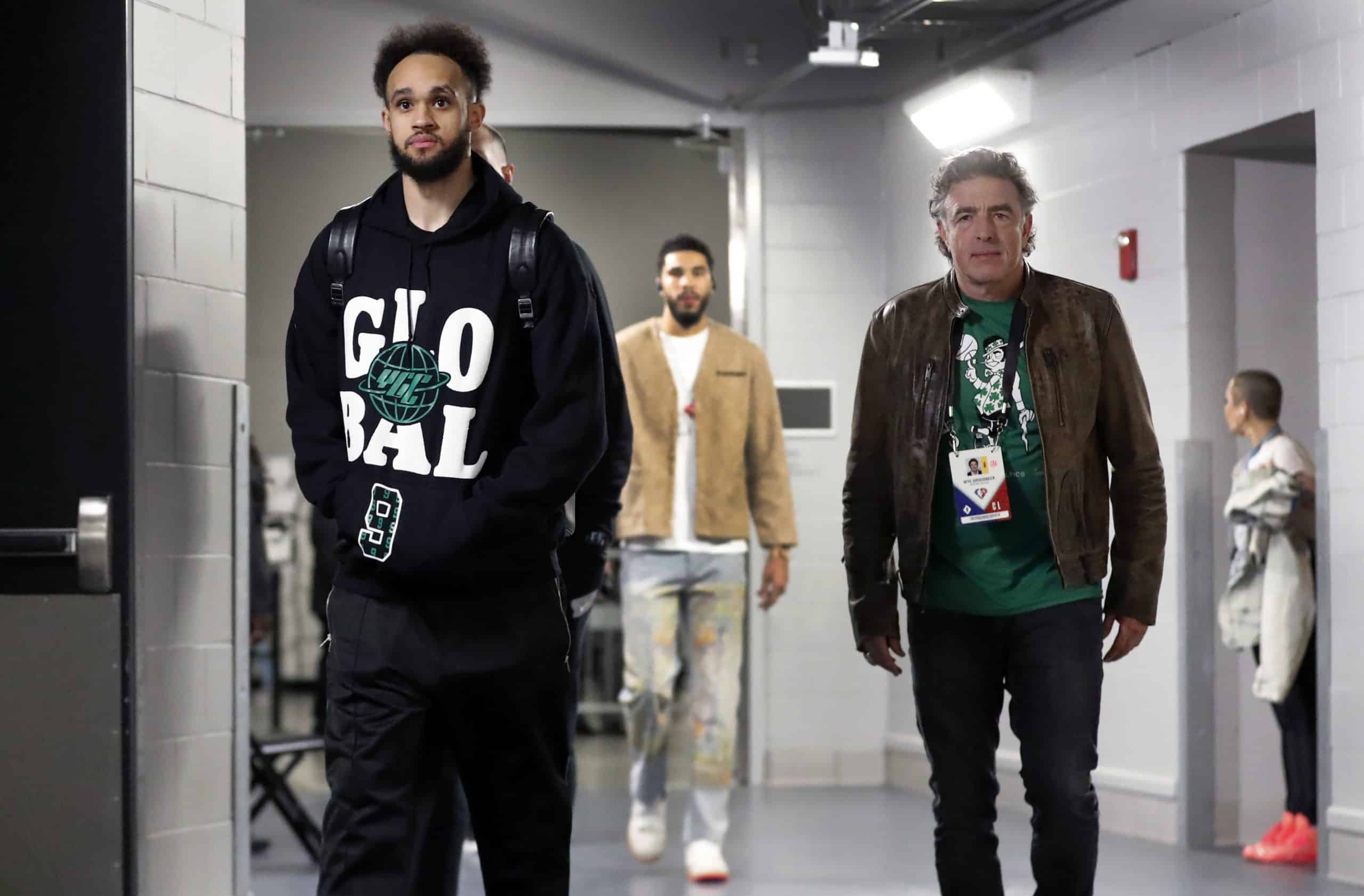 Boston Celtics Co-Owner Wyc Grousbeck: 'It Pained Me' to Have to Throw Danny Ainge Out of the Locker Room
The Boston Celtics and the Golden State Warriors play Game 1 of the 2022 NBA Finals on Thursday.
This wasn't the year Boston Celtics co-owner Wyc Grousbeck thought he might get another championship ring. He wants another one, but he figured with a new coach in Ime Udoka and Brad Stevens transitioning to the front office, it might take a couple of years.
After a rocky start to the season, there have been numerous celebrations as the Celtics work their way through the postseason. Sweeping the Brooklyn Nets in the first round, ousting the defending champion Milwaukee Bucks, and knocking off the top-seeded Miami Heat were reasons to celebrate. They're hoping for one more celebration after they face the Golden State Warriors in the 2022 NBA Finals.
Grousbeck, speaking recently on Boston radio station WEEI, is enjoying each and every moment as his team inches closer to putting up Banner 18. He did say, however, that he was "pained" when he had to remove former Celtics president Danny Ainge from the locker room during one of those celebrations.
Wyc Grousbeck admitted he wasn't expecting the Boston Celtics to turn things around so quickly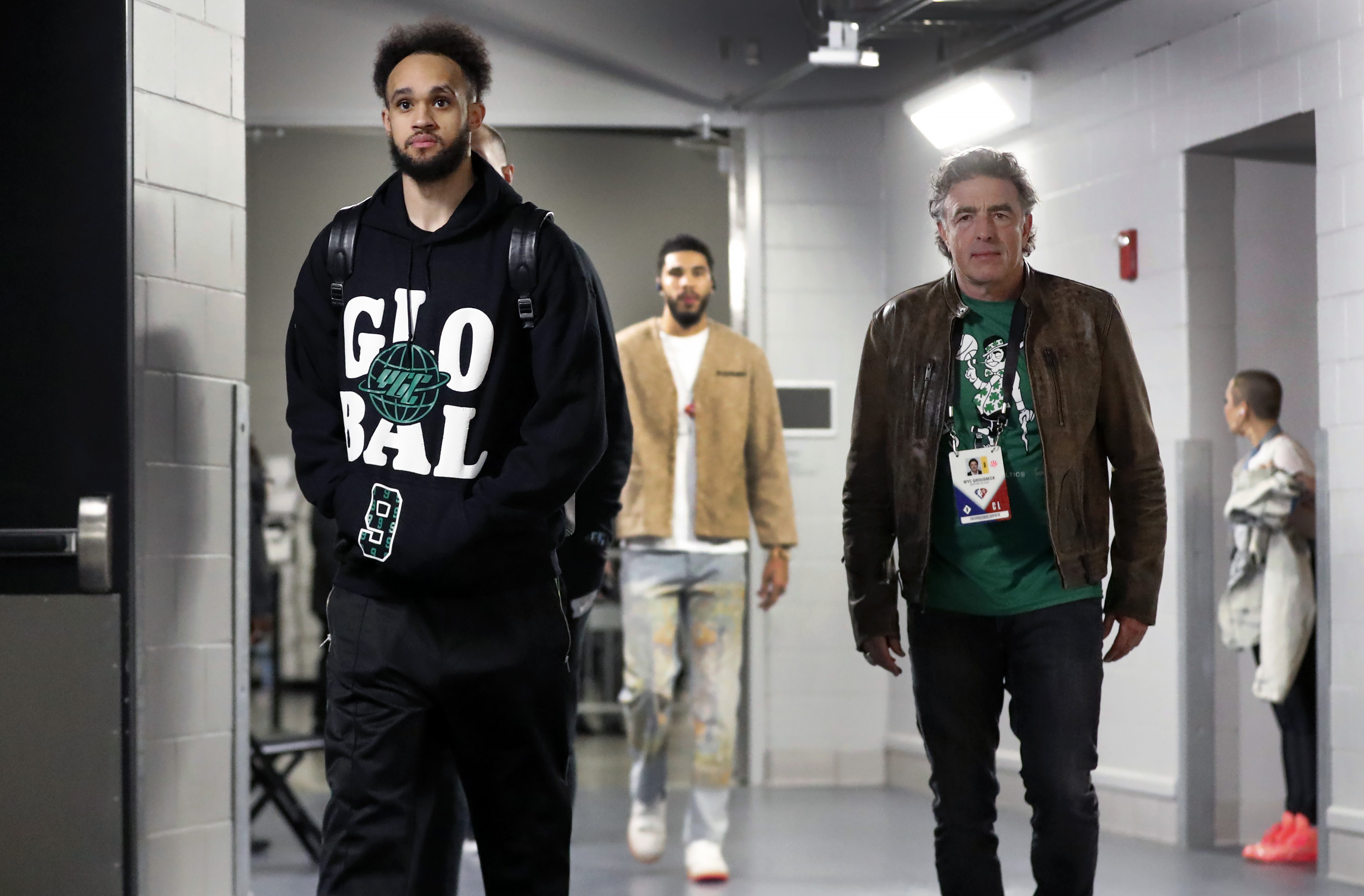 The Celtics had an ugly beginning to their first season under Udoka. Boston made wholesale changes after finishing the 2020-21 season with a 36-36 mark. Ainge resigned after the season. Stevens, who coached the team for eight seasons, replaced Ainge in the front office. Stevens helped bring in Udoka as the next coach.
With the musical chairs taking place, Grousbeck figured this season would be more of a feel-out year. It looked to be more of the same when the Celtics were 25-25 through 50 games. In March, Grousbeck spoke about his expectations at the beginning of the season.
"Just to be completely honest, transparent, which I always do, but just to really nail it down, in the offseason, when Ime and Brad were in place, I met with them," Grousbeck then during an appearance on WEEI in Boston. "I said I'm not freaked out about this year. Ime, you're gonna be a first-year head coach. You don't need to get off to some amazing start. This year doesn't have to be a record-setting year."
Grousbeck, Stevens, and Udoka stayed patient. Stevens made a couple of nice moves at the trade deadline. The Celtics caught fire, winning 26 of their last 32 regular-season games.
"What I want to do is win a ring, another one, when we're in the prime years — the next five years," Grousbeck continued. "We've got the makings here with Jaylen (Brown) and Jayson (Tatum). We've got Marcus (Smart) and Rob (Williams) and hopefully, they can keep developing and Rob can develop and so on, which he has.
"But I said don't do anything this year for a quick Band-Aid that's gonna mess up the next four years. This feels like we're going to build into this thing. Now, it's actually caught fire over the last couple of months or so. Everybody is feeling great."
Grousbeck recently joked he had to throw Ainge out of the locker room
Grousbeck made another WEEI appearance this week and spoke about the team's success and their upcoming meeting with the Warriors. He also spoke about Ainge's return to TD Garden. Ainge, who holds a front-office position with the Utah Jazz, was in Boston when the Celtics knocked off the Bucks.
The Celtics owner joked about how it hurt him to ask Ainge to leave the locker room after all the work he did to help build this team.
"He was so instrumental while he was here," Grousbeck said of Ainge this week. "It really pained me to have to threaten to throw him out of the locker room when he showed up in the Milwaukee series.
"I'm like, I'm sorry, guests are not allowed in this locker room. You represent the Utah Jazz. That was a lot of fun. We all had a pretty good laugh. It pained me to have to throw him out of the locker room."
Grousbeck talked about how much Ainge played a role in the success of the Celtics today.
"Brad identified Ime as a top candidate for the coaching job," Grousbeck said. "It dates back to Danny. Obviously, the drafting of Marcus Smart and Jaylen and Jayson. We attracted Al (Horford) in free agency. That's sort of the core of this team now. It was put together, obviously, under Danny.
"Then he bailed out last year of his own wishes. So it's all the sweeter now to having him try to get a pass into the locker room. But we love Danny. We always will. He's a Celtic for life."
Like Sportscasting on Facebook. Follow us on Twitter @sportscasting19 and subscribe to our YouTube channel.