Boston Celtics: Kevin Durant Isn't Worth Breaking Up a Good Thing
Should the Boston Celtics make a deal for Kevin Durant? The short answer is no. The longer answer is no way.
Durant would arguably be the best player on the Celtics should Boston pull the trigger on a deal for the soon-to-be 34-year-old star. I'd give him a slight edge over Jayson Tatum for now, but how long would that last? Tatum has improved each season, and he's just 24. The injury-prone Durant is on the downside of a tremendous NBA career.
Trading Jaylen Brown for Durant would be painful but worth doing even if those were the only two pieces. It's what comes after that which makes it foolish for Boston to consider making the move.
The Boston Celtics should only move on from Jaylen Brown under one condition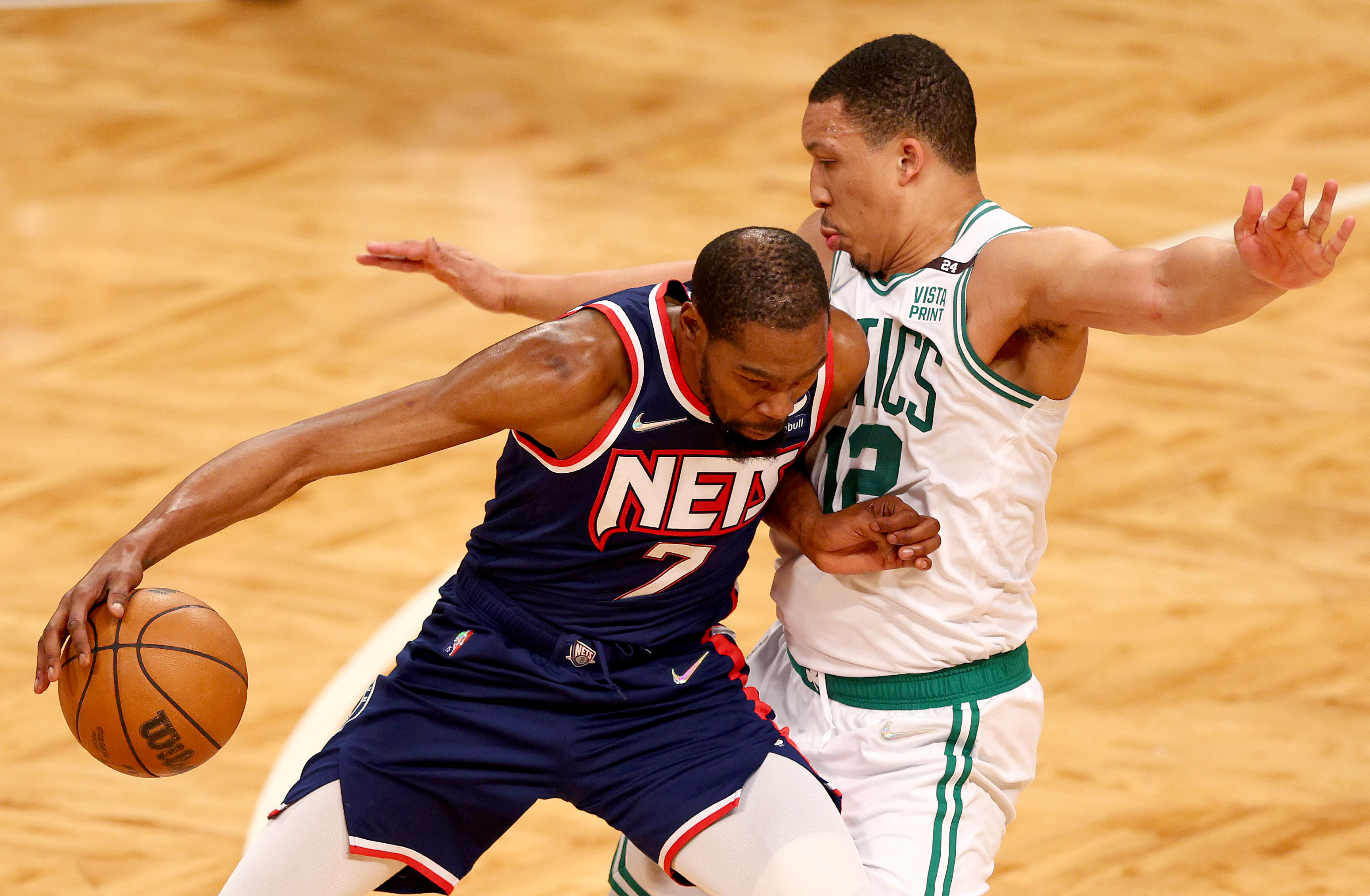 No player on the Celtics should be labeled untouchable. That includes Tatum. If the Milwaukee Bucks offered Giannis Antetokounmpo for Tatum, you make the move in a heartbeat. That said, the Celtics are in a position where they should be the ones dictating the moves in a possible deal for Durant.
Boston is fresh off an NBA Finals appearance with a young core of players. The team is set up nicely for future championship runs. Brooklyn is a mess. Their two stars — Durant and Kyrie Irving — want out. Their next best player, Ben Simmons, hasn't seen the floor in more than a year.
After Durant requested a trade this offseason, the Celtics popped up as a trade partner, with Brown being the key piece heading back to Brooklyn. Brown for Durant straight up would even be tough for Celtics fans after seeing the progress Brown and Tatum made together during the second half of last year. Financially, the deal wouldn't work in a one-for-one swap, but the Nets want a whole lot more anyway.
They've reportedly asked for Marcus Smart and multiple first-round draft picks as well. The only way the Celtics should consider trading Brown in a package like this is if he flat-out says he has no plans to return to Boston when his contract expires in two years. If, behind the scenes, he's saying he doesn't want to play in the shadow of Tatum and wants to be a team's go-to guy, then Boston has to consider moving him.
The Celtics have a good thing going and already improved from last season
The only way the Celtics can be considered a serious trade partner is if Brown is adamant about testing the free-agent waters. Brown's earned that right, but the Celtics need to look out for their future as well.
Even if it's clear Brown wants out, the Celtics can't afford to break up what they have. Last year, depth was an issue for Boston. Brad Stevens addressed that problem by bringing on veterans Malcolm Brogdon and Danilo Gallinari without disrupting their core.
With those two additions, the Celtics have to be the favorite to return to the championship round. Why jeopardize that by losing Brown and Smart?
Prior to last year — and even through the midway point — questions arose about whether or not Tatum and Brown could play together. The previous season, Boston finished 36-36 and was bounced in the first round of the playoffs. Last year, they began 25-25. It wasn't until late January when things turned around. They became the hottest team in the league and never looked back.
Brooklyn can't be picky here. Brown is likely the best player they would ever get in return. Asking for Smart and multiple picks should scare the Celtics away, and that's a good thing for Boston fans.
Like Sportscasting on Facebook. Follow us on Twitter @sportscasting19 and subscribe to our YouTube channel.
RELATED: Boston Celtics: Jayson Tatum, Paul Pierce Weigh In on Jaylen Brown for Kevin Durant Trade Rumor