Boxing Legend Bernard Hopkins Painted a $100,000 Ad on His Back Before Beating a 40-0 World Champion
Respect for middleweight boxers reached new heights thanks to dominant runs by Carlos Monzon in the 1970s and Marvelous Marvin Hagler in the '80s. Bernard Hopkins took it to an even higher level after the turn of the century on the basis of style and substance.
Hopkins reunified the championship and then logged unprecedented success defending the title. His victory over Felix Trinidad in 2001 was his most memorable moment, putting both his superb skills and a bizarre $100,000 ad on display in Madison Square Garden.
Bernard Hopkins was a worthy successor to Marvin Hagler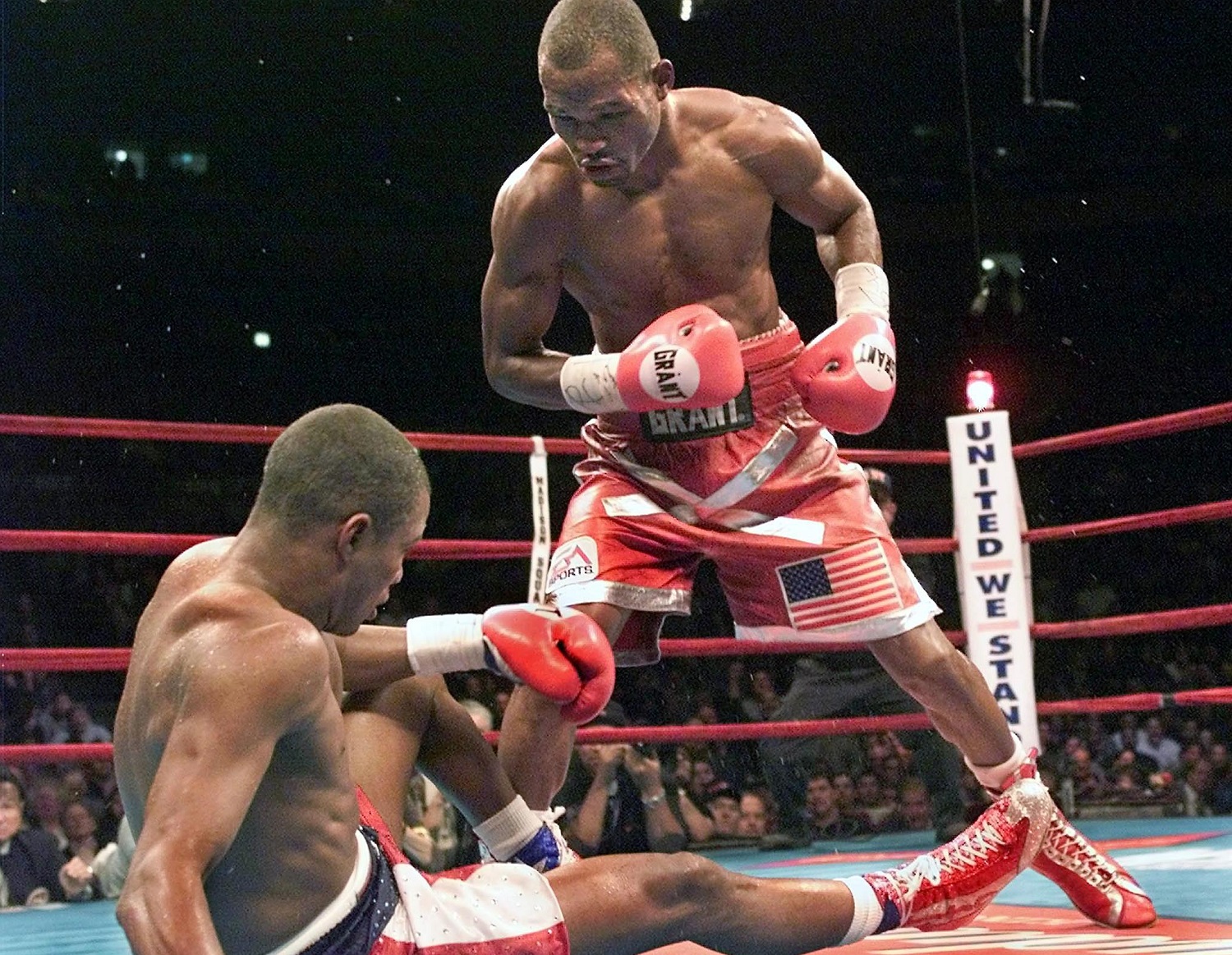 Marvelous Marvin Hagler snatched all of Alan Minter's world titles with a third-round TKO in 1980 and then proceeded to make a dozen successful defenses until finally losing to Sugar Ray Leonard in a controversial 1987 decision.
While there were respectable subsequent champions, none rose to anything approaching Hagler's stature until Bernard Hopkins arrived. Hopkins earned the IBF middleweight crown in 1995 and made 11 successful defenses before also adding the WBC belt by beating Keith Holmes in April 2001. Five months later came his landmark win over Felix Trinidad to consolidate all the titles.
Later, Hopkins beat other big names — including Oscar De La Hoya and William Joppy — during a string of what became 19 straight title defenses through 2005. Beating Trinidad brought him Ring Magazine's Fighter of the Year honor, and Hopkins later earned the distinction of oldest world champion by beating Jean Pascal at the age of 46.
Bernard Hopkins wore a $100,000 ad on his back while beating Felix Trinidad
While Philadelphia's Bernard Hopkins was cleaning out boxing's middleweight division, Felix Trinidad of Puerto Rico was running the welterweights table, including Oscar De La Hoya and Pernell Whitaker. With Trinidad 40-0 and Hopkins 39-2-1, the sport's fight of the year was scheduled for Sept. 15, 2001, at Madison Square Garden but was pushed back two weeks following the 9/11 terrorist attacks.
The bout was already of interest before the opening bell, but Hopkins added two twists to it, according to HBO:
When Hopkins removed his warm-up jacket after entering the ring, fans saw a giant ad for an online betting site painted on his back, for which GoldenPalace.com paid the fighter $100,000.
Word came out that Hopkins bet the entire $100,000 on himself at 7-to-2 odds.
The fight started cautiously, then Hopkins did the two things essential to victory: He delivered twice as many scoring punches, and Hopkins skillfully fended off Trinidad's trademark vicious lefts. Trinidad responded by trying to score with his right hand.
"Bernard just had answers for everything that Tito had, and I recall specifically in the middle rounds, Tito landed a crisp, clean, signature right-hand flush," referee Steve Smoger recalled to HBO. "Bernard grunted and continued pressing the action and I could see the demeanor of Tito, 'I hit this guy with everything, and he's still here.'"
Trinidad barely survived the 11th round, and then Hopkins sent him to the canvas early in the 12th. Though Trinidad got to his feet, his father came out of the corner to stop the fight.
Had it gone to a decision, Hopkins was far ahead on points on all three scorecards.
He was still competitive well into his 40s
The Felix Trinidad fight was Bernard Hopkins' 13th title defense. He won six subsequent bouts before losing twice at the age of 40 to unbeaten Jermain Taylor in 2005. In theory, that should have been the end of a stellar career. However, the ad painted on Hopkins' back for the Trinidad fight might as well have said, "The start of something great."
Hopkins was 46 years old when he beat Jean Pascal for the WBC light heavyweight title in 2011, and 48 when he took the IBF version of the belt from Tavoris Cloud. On April 19, 2014, Hopkins extended his record for the oldest fighter to win a title by taking Beibut Shumerov's WBA championship three months after his 49th birthday.
Hopkins finally retired following a loss a month before his 52nd birthday with a record of 55-8-2.
Like Sportscasting on Facebook. Follow us on Twitter @sportscasting19.