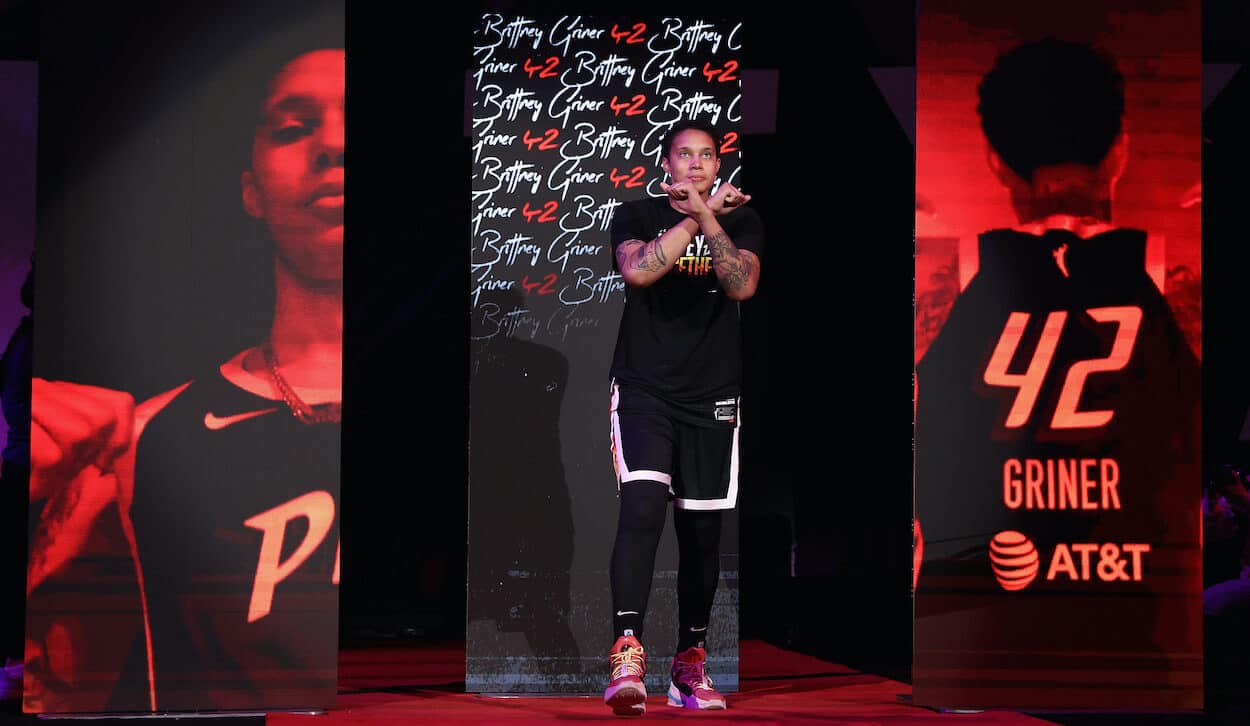 Brittney Griner: Mercury Coach Crushes LA Fans for Not Selling out Star's Return to WNBA
Brittany Griner got a hero's welcome in her first game back in the WNBA after a tumultuous year, but her coach says it wasn't enough.
The last time Brittney Griner suited up for a WNBA game was October 17, 2021, when her Phoenix Mercury lost in the WNBA Finals to the Chicago Sky. The former Baylor star spent the 2022 season in a Russian prison, though, and missed the season. After a political battle to get the 6-foot-9 athlete back, Griner is back in the league, but as exciting as her return was, her coach Vanessa Nygaard thinks it's a shame it wasn't a sellout.
Brittney Griner returned to WNBA, but her coach wasn't impressed with the turnout
After nearly a year in Russian custody (more on that below), WNBA star Brittney Griner made her 2023 WNBA debut on Friday when the Phoenix Mercury opened the 2023 campaign at the Crypto.com Arena vs. the Los Angeles Sparks.
Griner's Mercury beat the Sparks 94-71, and she led all scorers with 18 points while adding six rebounds and four blocks.
Despite being on the road, Griner received a hero's welcome from the California crowd. She also got a visit from former California Senator and current Vice President Kamala Harris in the locker room before the game.
In addition to Harris, tennis legend Billie Jean King was in attendance, as were Lakers legends Magic Johnson, Robert Horry, and Pau Gasol, and current Lakers coach Darvin Ham.
There LA luminaries were among the 10,396 in attendance, according to Across the Timline.com. That is just over half of Crypto.com Arena's 19,067 capacity for basketball games.
After the game, Griner's coach, Vanessa Nygaard, criticized the LA fans for not selling out the arena for the return of "BG" after almost 600 days away from the league.
"It was great, but, like, honestly, come on, LA. We didn't sell out the arena for BG?" Nygaard asked reporters. "Like, I expected more, you know, to be honest. Right? Like, it was great. It was loud. How was it not a sellout?"
Griner did not comment on whether she was happy about the turnout or not. However, one thing that is for sure is that walking out on an American basketball court is a far cry from where she was a year ago.
Mercury star's return is the end of a global drama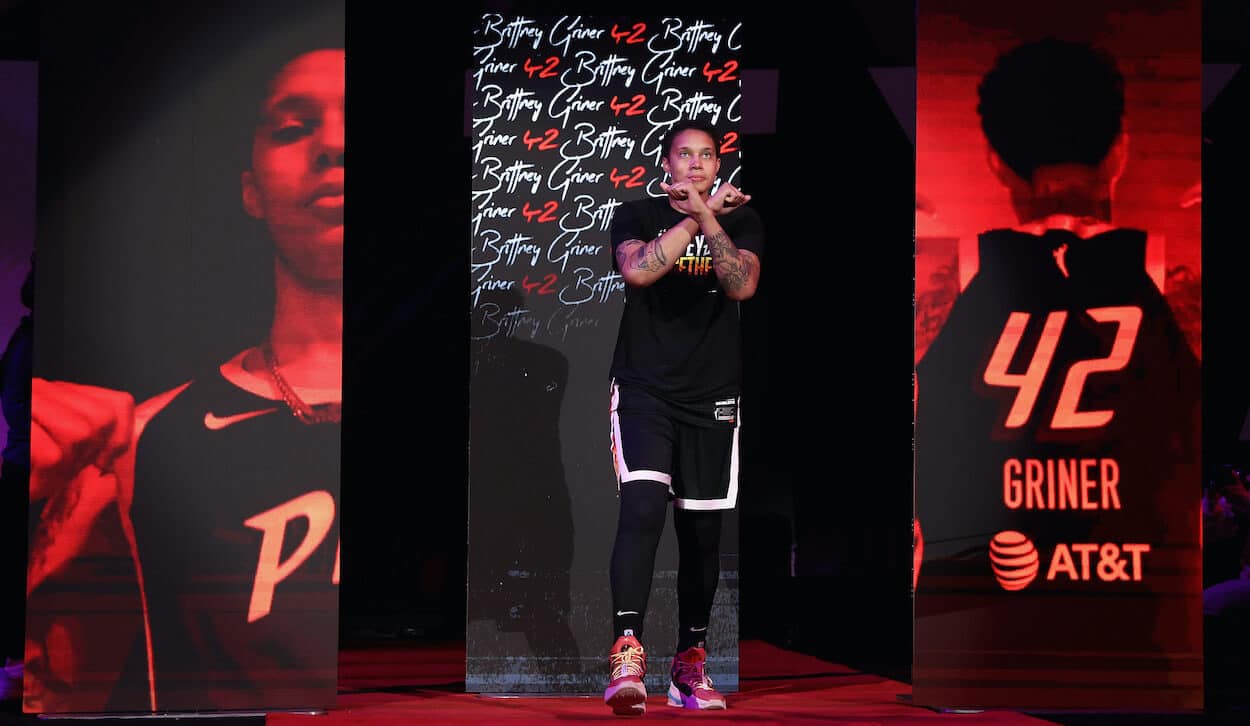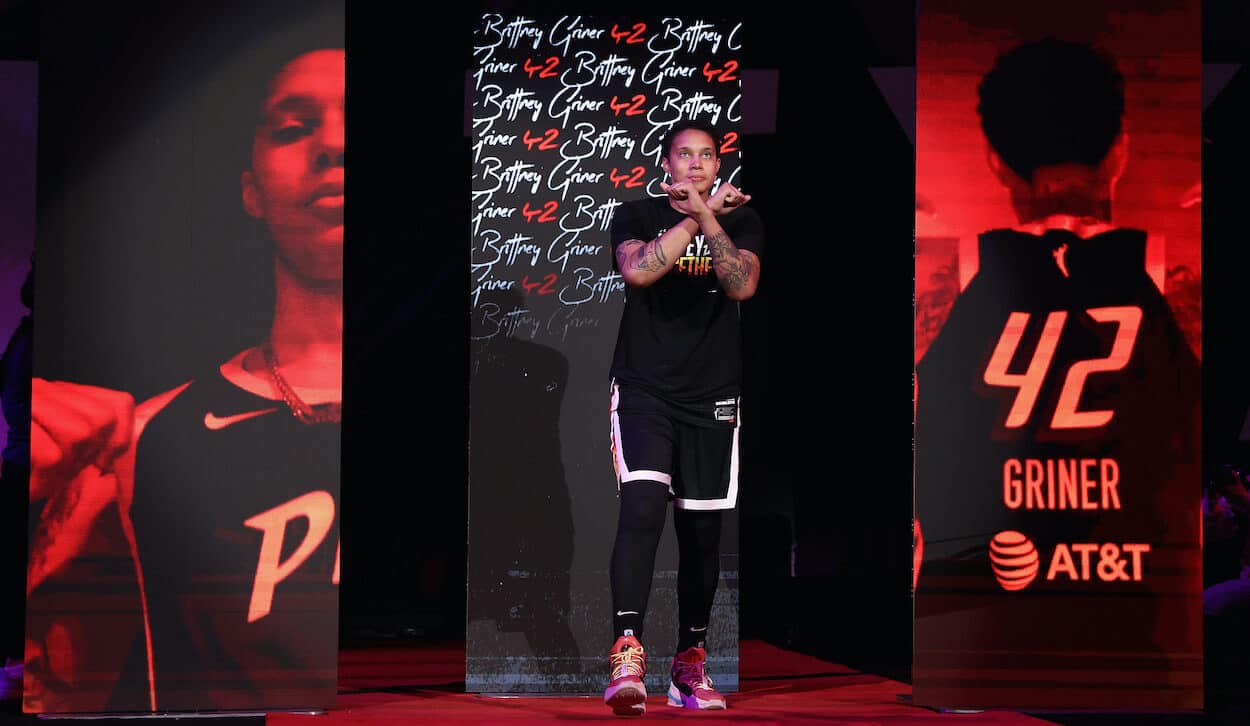 WNBA star Brittney Griner was well-known in sports circles as one of the best Women's college basketball players of all time and an eight-time WNBA All-Star. However, her name burst onto the world stage in 2022.
After playing for the Russian professional basketball team UMMC Ekaterinburg, Griner was returning to the United States for the upcoming WNBA season in February 2022 when customs officials at Sheremetyevo Airport near Moscow "found vape cartridges that contained oil derived from cannabis in her luggage" per ESPN.  
Russia invaded Ukraine a week later, and Griner became a star player in the game of global politics.
While the U.S. government negotiated for her release, a Russian court convicted Griner to nine years in prison for a crime that generally carries a maximum 15-day sentence under Russian law.
Griner stayed in a Russian women's prison until December 2022, when the U.S. and Russian governments conducted a prisoner exchange, swapping Griner for convicted arms dealer Viktor Bout.
So, whether there were a sufficient number of people there watching it or not, Brittney Griner's 2023 WNBA debut marked the end of a saga that started over a year ago and spanned the globe.