The Brooklyn Nets Should Be Relieved Over a 6-Foot-9 Piece of the Puzzle Falling in Their Lap
The Brooklyn Nets went about assembling their super team with Kyrie Irving, Kevin Durant, and James Harden in pursuit of a championship. It almost worked, too. They took the Milwaukee Bucks to Game 7 in the NBA Eastern Conference semifinals. Had they advanced, the Nets would have been a handful for the Atlanta Hawks and Phoenix Suns.
There's every reason to believe their big three will benefit from a full offseason and come back strong in the fall. On top of that, they received a strong signal over the weekend that they'll be keeping an important complementary piece in the fold, too.
Blake Griffin was a great pickup for the Brooklyn Nets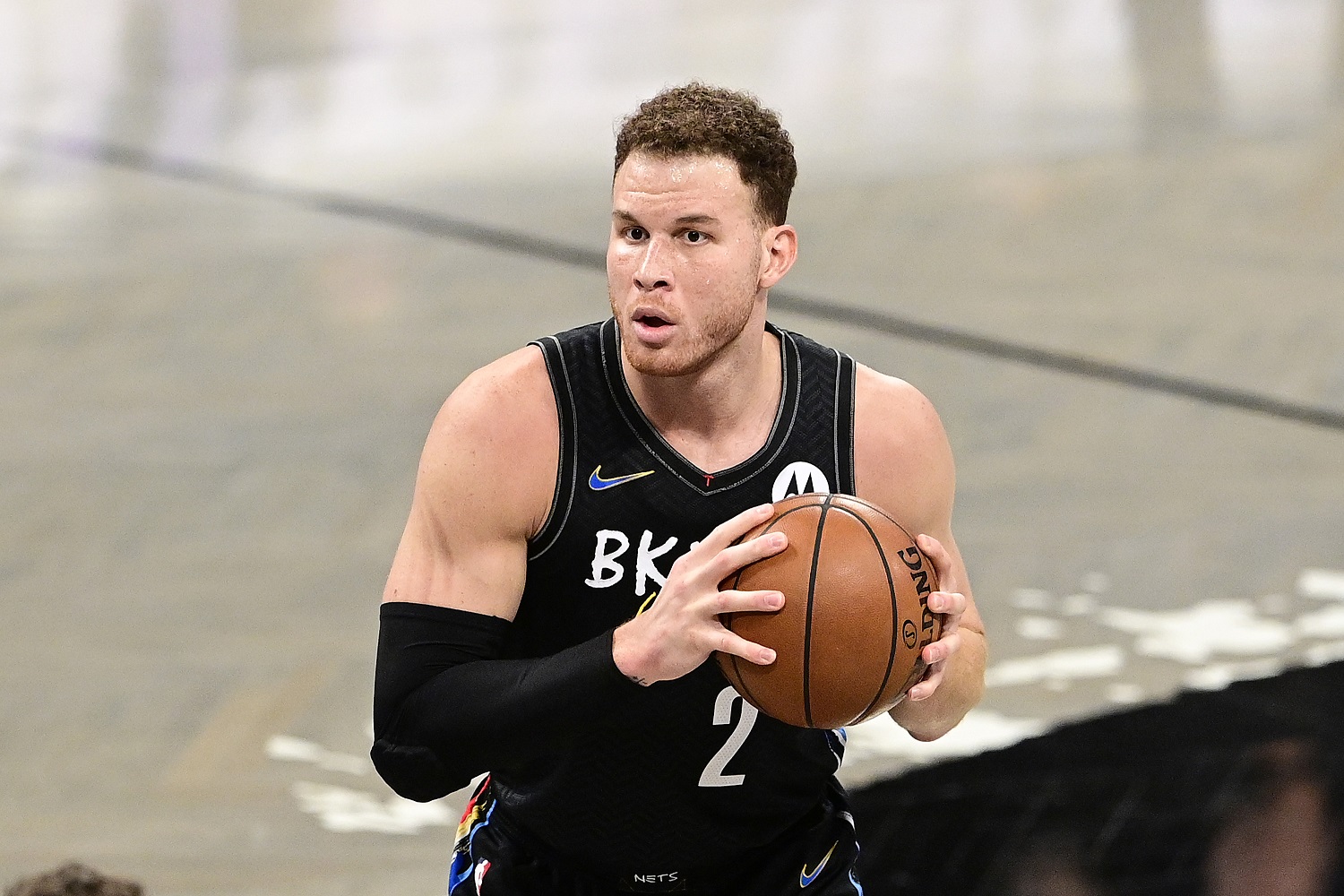 The Nets made a savvy move late in the 2020-21 NBA season by signing Blake Griffin, the No. 1 overall pick of the Los Angeles Clippers in 2009. Griffin missed his entire first season with a knee injury but came back to establish himself as a steady 20-point scorer early in his career.
The Clippers traded Griffin to the Detroit Pistons midway through the 2017-18 season. He was an All-Star in 2019, but the 6-foot-9 power forward became a different player in Detroit, shooting more from the perimeter to the detriment of his all-around game.
He spent the final three weeks of his Pistons career glued to the bench last season before reaching a buyout agreement. Free to go anywhere, with the Pistons picking up almost his entire salary, Griffin chose the Nets.
Griffin made his Nets debut on March 21 and played 26 games. Though he was a modest scorer, Griffin gave the Nets 10 starts and an average of 21.5 minutes a night alongside Jeff Green to help fill a void.
Blake Griffin wants to return to the Nets
ESPN basketball insider Adrian Wojnarowski reported on Sunday that Griffin, 32, wants to return to the Nets next season. With just a week to go before the start of free agency, that is a relief to Brooklyn's front office and coaching staff.
That's particularly true with respect to money. Because the Pistons bought Griffin out, Detroit will continue to pay the bulk of his salary, more than $29.7 million according to Spotrac.com, for one more season. It's conceivable that Griffin will push the Nets for an extension, but the coming season wouldn't be affected.
That frees up money that the Nets can apply to Green, a journeyman who averaged 11.0 points and 3.9 rebounds last season. However, Green has been playing recent seasons for the veterans' minimum and understandably wants a better deal. The New York Post reports that speculation has him going to the Milwaukee Bucks if the defending champions lose Bobby Portis.
The Nets' best-case scenario would have them retaining both Griffin and Green. If worse comes to worst, only being able to keep Griffin still constitutes a win.
Blake Griffin reinvented himself in Brooklyn
The Griffin that fans saw in the second half of the just-completed season was not the same forward they saw on NBA courts in recent seasons.
Griffin spent his first seven seasons with the Clippers as a low-post player, averaging 21.5 points on 51.8% shooting and pulling down 9.4 rebounds. His final partial season with LA and his time in Detroit saw Griffin drift out to the perimeter. He was taking 40% of his shots from beyond the 3-point arc, with marginal accuracy, and wasn't rebounding nearly as effectively.
With Durant, Harden, and Irving scoring the ball, that wasn't what the Nets needed from Griffin. So, he happily adjusted his game. His 26 games for Brooklyn weren't a large enough body of work from which to draw clear conclusions, but Griffin was highly effective in averaging 10.0 points and 4.7 rebounds while playing less than half the game.
He picked better spots for launching his 3-pointers and showed better accuracy, contributing to his best overall field-goal accuracy (49.2%) in five years. In short, he gave Brooklyn a significant boost by accepting a complementary role.
That extended into the playoffs, too, which gives the Nets additional reason to look forward to bringing him back this fall.
All stats courtesy of Basketball Reference.