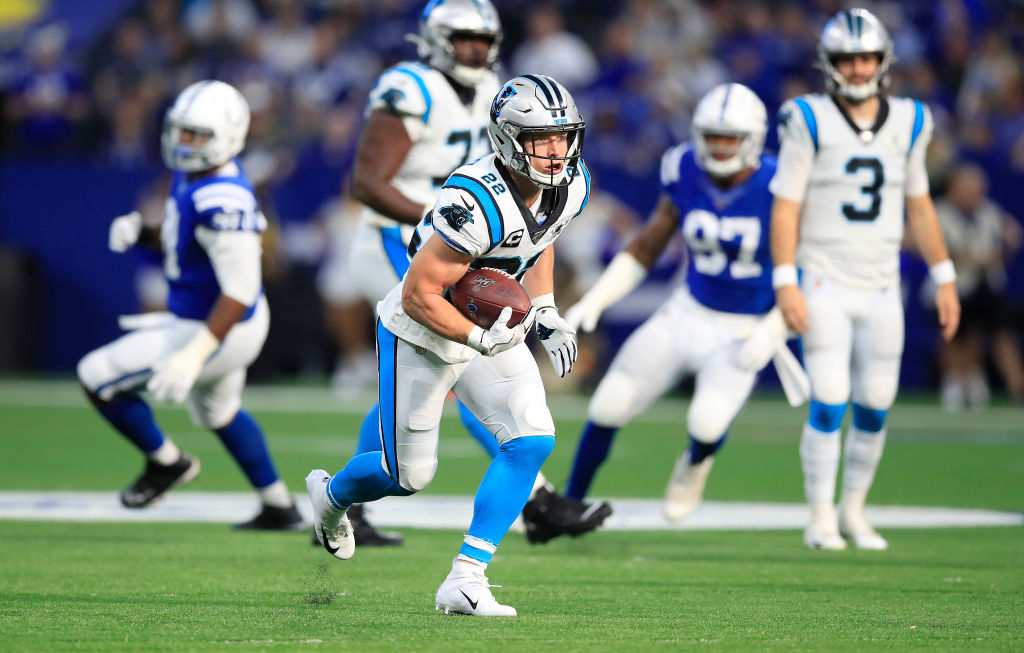 Bruce Lee Helped Christian McCaffrey Become the NFL's Highest-Paid Running Back
After a strong 2019 season, Carolina Panthers running back Christian McCaffrey became the NFL's highest-paid running back. He did it with a little help from Bruce Lee.
While Lamar Jackson's rise to stardom may have stolen most of the headlines during the 2019 NFL season, Christian McCaffrey had a pretty good year, too. Although the Carolina Panthers limped to a 5-11 record, their star running back exploded onto the scene. The club promptly rewarded him with a record-setting contract.
McCaffrey, however, didn't find success entirely on his own. The running back was actually aided some wisdom from by the late great Bruce Lee.
Christian McCaffrey's rise to NFL prominence
While the McCaffrey clan is full of athletic talent, Christian McCaffrey may be the best of the bunch. During the 2019 NFL season, he announced that ability to the world.
After an impressive high school career as both a football player and a sprinter, Christian headed to Stanford University. While he didn't make a major impact during his freshman campaign, the running back exploded as a sophomore. While he piled up more than 2,000 rushing yards, McCaffrey wasn't a one-trick pony; he caught balls out of the backfield and served as a return man, finishing the year with 3,864 all-purpose yards and 18 total touchdowns.
McCaffrey would spend one more season at Stanford before entering into the 2017 NFL draft. The Carolina Panthers snagged him with the eighth overall pick; while he only posted 435 rushing yards that campaign, he did finish the year with over 1,000 all-purpose yards.
While McCaffrey stopped returning kicks in 2018, he got more than 100 additional touches out of the backfield, breaking the 1000-yard rushing plateau for the first time. In 2019, however, he took his game to the next level; with Cam Netwon out for most of the season, McCaffrey became the Panthers' main man, racking up 1,387 rushing yards, 1,005 receiving yards, and 19 total touchdowns. The club rewarded him with a four-year, $64 million contract extension, making him the highest-paid running back in NFL history.
Using Bruce Lee's lessons in the NFL
When you think of Bruce Lee, movies like Enter the Dragon probably come to mind. His influence, however, isn't confined to movies or even martial arts.
As Mike Jones laid out in a 2018 USA Today story, Christian McCaffrey has leaned on some of Lee's wisdom on the football field. Inspired by the martial artist's famous quote about "[being] like water], the running back has become a multi-purpose weapon in the NFL, capable of carrying the ball and catching passes with equal ease.
"It has a lot to do with fluidity and being able to adapt," McCaffrey explained. "I think when you're running through a hole, and you're hit in certain, different ways, you have to be able to move and change and make people miss. You've got to be able to adapt to your environment. It all relates."
While Lee's lessons "fortified his mind," McCaffrey hasn't neglected his body either. According to Jones, the running back also used martial arts to "strengthen his core and improve his flexibility and reactionary skills."
Christian McCaffrey isn't the only athlete to learn from Bruce Lee
Based on Christian McCaffrey's 2018 and 2019 campaigns, it's safe to assume Bruce Lee's lessons have paid off. He's not the only running back to learn from the martial artist, though.
During his time at UCLA, Kareem Abdul-Jabbar, who was then known as Lew Alcindor, trained with Lee. While the big man had plenty of skills on the hardwood, he was still able to glean some important lessons from studying Jeet Kune Do.
"I dedicated myself to preparation by maintaining complete focus during basketball practice and my training with Bruce," Kareem explained in his 2017 book, Becoming Kareem. "As a result, I became stronger, faster, and a much more intense player." He even said that his famous skyhook was inspired by Jeet Kune Do's economy of movement.
Based on his own work—not to mention Christian McCaffrey and Kareem Abdul-Jabbar's success—it seems like Bruce Lee just might have been onto something.
Stats courtesy of Sports-Reference and Pro-Football-Reference