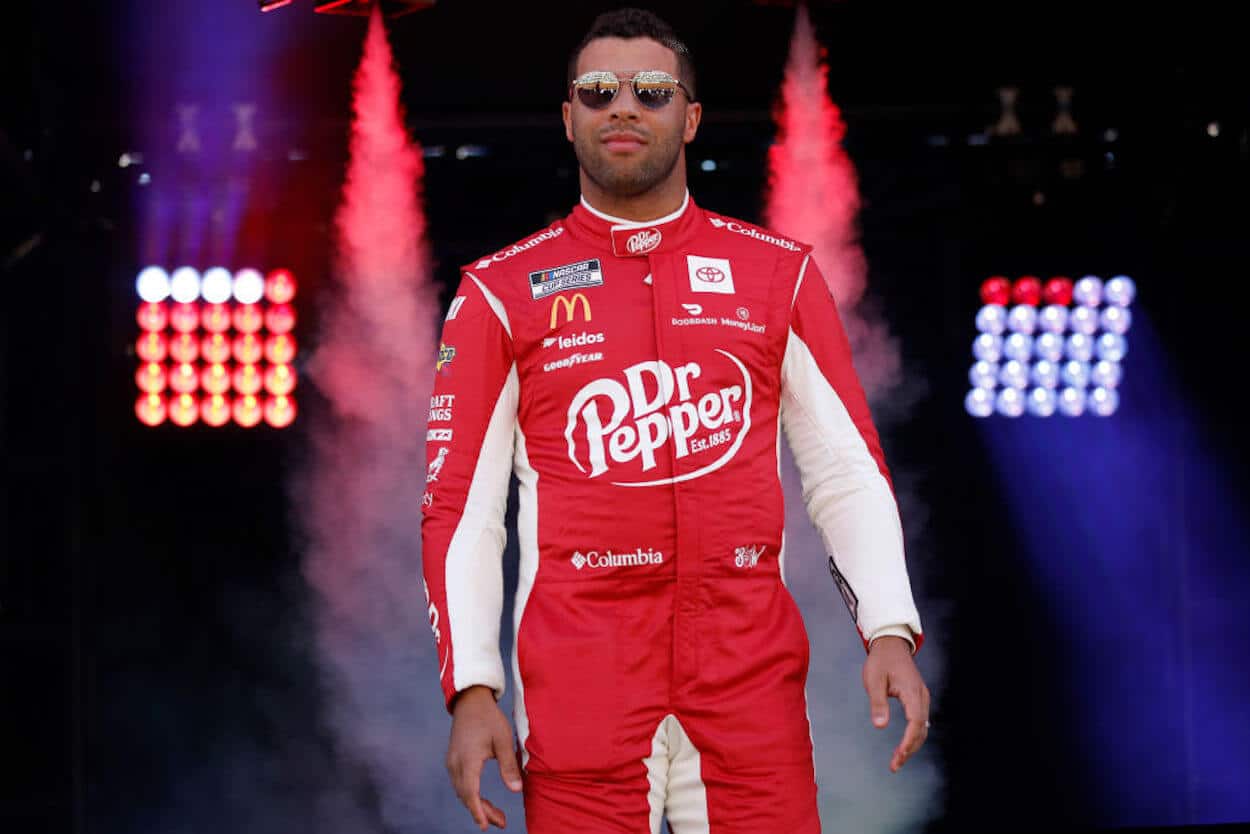 Bubba Wallace and 5 Others Who Could Have a Magical Sunday at Martinsville
Want to know who will claim a coveted grandfather clock at Martinsville Speedway? We've got some ideas for you.
After a week of short-track racing on dirt-covered Bristol Motor Speedway, it's back to short-track action on pavement this weekend for the NASCAR Cup Series.
The venue is a familiar one, .526-mile Martinsville Speedway — the oldest track in NASCAR and the shortest track that hosts a points-paying race for NASCAR's premier division.
Before the green flag waves on Sunday's NOCO 400 at the historic facility, here are half a dozen drivers with a realistic chance to leave Martinsville with one of the track's coveted grandfather clock winner's trophies in tow.
6. Bubba Wallace
No track on the NASCAR Cup Series tour has been kinder to Bubba Wallace than Martinsville, the place where he made history in the fall of 2013 by becoming the first African American driver to win a NASCAR national series race since Wendell Scott nearly 50 years earlier.
Wallace, who went to Victory Lane at Martinsville in the NASCAR Craftsman Truck Series, prevailed for the second time at the Virginia short track one year later — once again in a truck — and led nearly half the race from the pole.
Wallace hasn't been nearly as successful at Martinsville in his 10 Cup Series starts at the paperclip-shaped oval, finishing in the top 10 just once. But that top 10 came in his most recent Martinsville outing, held last fall, when he came home eighth in his 23XI Racing Toyota.
5. Brad Keselowski
A two-time NASCAR Cup Series race winner at Martinsville, Brad Keselowski certainly knows his way around this notoriously flat, tight race track in rural Ridgeway, Virginia. However, both of his Martinsville wins came with his former team at Team Penske, the organization he departed on his own accord after the 2021 campaign.
Keselowski, now in his second season as an owner/driver for Roush Fenway Keselowski Racing, enjoyed one of his best outings of 2022 last fall at Martinsville but had a top-five finish taken away by NASCAR when his car flunked post-race inspection.
Keselowski has been a bit more competitive overall in Year Two with RFKR, so perhaps it won't be long before he ends his prolonged absence from Victory Lane that dates back nearly two years. Based on his past success, count Martinsville among the tracks where Keselowski seems the most likely to end his drought.
4. Denny Hamlin
With a league-leading five wins at Martinsville Speedway, Denny Hamlin seems like he should be the favorite to go to Victory Lane on Sunday. The only potential problem? Hamlin just hasn't been that good in 2023.
After eight races, he's still in search of his first top-five finish, and it seems as though the Joe Gibbs Racing driver — who turned 42 in November — has officially entered the twilight of his career. Even so, Hamlin's abilities to navigate Martinsville's unique paperclip configuration shouldn't be overlooked or taken lightly.
He used to rule Martinsville Speedway, and it won't come as a surprise to anyone if he regains his throne, at least for a weekend.
3. Christopher Bell
Christopher Bell became NASCAR's new "Mr. Clutch" in last year's playoffs, capturing not one but two playoff elimination race victories in must-win situations. The second of those triumphs came at Martinsville, in the season's penultimate race, when the Joe Gibbs Racing driver led 150 of 500 laps and took the checkered flag running P1 to punch a ticket to the Championship 4.
Although Bell ultimately came up short in his title bid, he's been nothing but impressive since then and comes into the weekend having finished sixth or better in six of the eight races contested in 2023 — including last weekend's event on the Bristol dirt, where he went to Victory Lane for the first time since his Martinsville triumph in October.
So, this weekend, Bell will look to make it two wins in a row overall and two wins in a row at Martinsville. Will it happen? Don't bet against it.
2. William Byron
The only driver with a pair of wins in 2023, William Byron has been a bit up and down since going to Victory Lane on consecutive weekends at Las Vegas and Phoenix in the first half of March. 
But despite posting just one top-10 finish in his last four outings, the Hendrick Motorsports driver is still a favorite at Martinsville, where one year ago, he won both the Cup Series race and the NASCAR Craftsman Truck Series race in a rare Truck Series appearance.
Byron has clearly learned how to be consistently fast at Martinsville, having finished eighth or better in six of his last seven starts at the fabled short track. So, if there's any track where Byron is apt to regain his March mojo, it's probably this one.
1. Martin Truex Jr.
No one has been harder to beat at Martinsville in recent years than Martin Truex Jr., who's been to Victory Lane here three times since the fall of 2019 and most recently in the spring of 2021.
Although the Joe Gibbs Racing driver didn't fare particularly well at Martinsville last year in the first two races held at this track with the Next Generation Cup Series car, Truex won this year's preseason Busch Light Clash at the LA Coliseum — a makeshift quarter-mile track that bears some striking similarities to Martinsville.
That victory, in combination with winning three times in his last seven Martinsville starts, makes Truex the favorite to prevail on Sunday — albeit probably not in overwhelming fashion.