Hendrick Motorsports Has the Potential to Dominate the 2023 Cup Series Season but Likely Won't
Riding high into the Arizona desert this weekend after a dominating effort last Sunday at Las Vegas Motor Speedway, Hendrick Motorsports has a lot of reasons to feel confident and optimistic not just about Sunday's event at Phoenix Raceway but the 2023 NASCAR Cup Series season as a whole.
But will the Hendrick organization — winners of a record 292 races all-time in NASCAR's top division — turn the 2023 season into a Hendrick romp, or are others poised to step up and put a stop to any possibility of an all-out Hendrick assault in the weeks and months to come?
Hendrick Motorsports stole the show in Vegas despite Chase Elliott being unavailable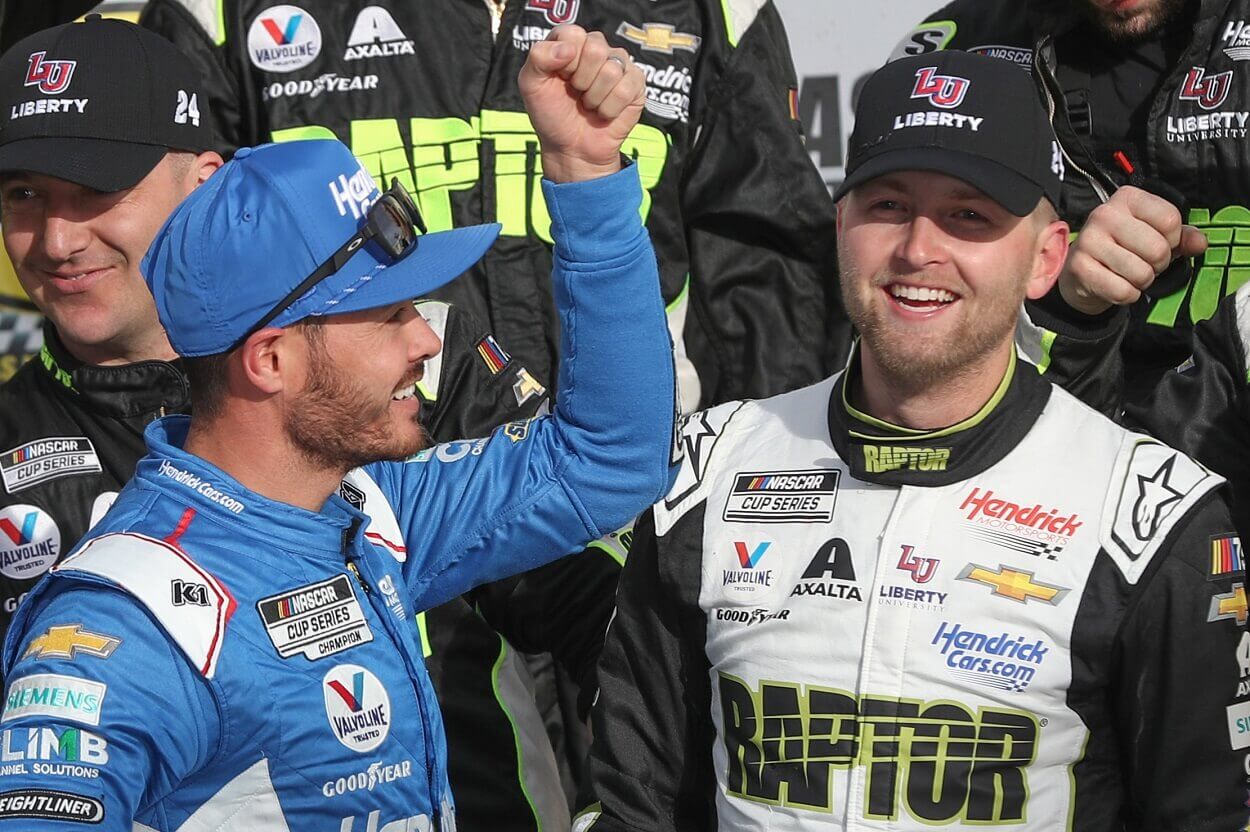 If there was ever a "statement" race, Hendrick Motorsports had one this past weekend in Las Vegas.
After being unable to win either of the season's first two events, Team Hendrick ended the day in Sin City with a 1-2-3 sweep of the top finishing positions. Leading the charge was William Byron, who won for the first time in nearly a year, followed by teammates Kyle Larson and Alex Bowman.
The Hendrick contingent managed to pace the field for a combined 241 of 271 laps (88.9% of all laps run), with Byron alone holding the top spot for a race-high 176 laps.
The Hendrick stranglehold of the top three finishing positions marked the third time in team history that the organization's drivers have finished at least 1-2-3. It happened previously at the 1997 Daytona 500, where Jeff Gordon won, Terry Labonte finished second, and Ricky Craven placed third. And it happened most recently in 2021 at Dover, where Bowman won, Larson ran second, Chase Elliott came home third, and Byron took fourth.
Hendrick Motorsports is the only organization to put at least one driver in the top five in all three races this season. Bowman finished fifth at Daytona, Elliott ran second at Auto Club Speedway in Week 2, and the Byron-Larson-Bowman trio claimed the top three spots at Las Vegas. Elliott — who the team announced just prior to the Vegas race weekend would miss the event due to a leg injury suffered in a skiing accident — is expected to be out for several more weeks.
However, the absence of the 2020 Cup Series champion didn't slow down his teammates at Las Vegas, and it likely won't this weekend at Phoenix, either.
"I'm really proud of all of our cars and the effort that's gone into our cars and race teams in the off-season," Hendrick Motorsports president and general manager Jeff Andrews said in a recorded press conference after the Las Vegas race.
"Certainly felt like last week (at Auto Club Speedway) we had good cars and capable of something similar, but various issues and things kind of took us out last week, so very gratifying to come back this week and be able to execute like we did today, and, obviously, we're very proud of Rudy (Fugle, crew chief) and William and the job they did today. Dominated that race for the most part, and we're glad to see them get the win at the end."
Byron was impressed by how the whole organization responded in the absence of Elliott, who led the Cup Series in wins last season and has qualified for the Championship 4 each of the last three seasons.
"I think I speak for everyone in the fact that we miss Chase out here," Byron said during a recorded post-race press conference. "He's a big contributor to feedback and our debriefs, and he's a great race car driver. Has a lot to offer there.
"I think there was a void there, but I think we were able to fill it with just kind of coming together as a team. … It was an important day. I felt that, for sure. I texted Mr. H. (team owner Rick Hendrick) after practice and felt really good about the car and just wanted to reassure that we're going to go out there and try to win for him because it was a tough week. It just shows the strength of our team to be able to come together."
Hendrick will be hard-pressed to clobber the competition despite potential
While Hendrick Motorsports' stellar day in Las Vegas could signal that this will be a season where the organization is head and shoulders above the competition as it has been in many seasons past, that's not likely to happen — for more than one reason.
First, Chase Elliott's indefinite absence from competition gives the organization one less car capable of challenging for wins over the next several weeks. Sure, Hendrick has two capable fill-ins lined up in NASCAR Xfinity Series driver Josh Berry (who subbed for Elliott at Las Vegas) and sports car veteran Jordan Taylor. But to think either is going to go to Victory Lane or come anywhere close to it is simply wishful thinking.
Berry struggled mightily at Vegas in his first start in Elliott's No. 9 Chevrolet, despite being one of the Xfinity Series' best and most consistent drivers. It's simply too much to ask Berry or Taylor to win a race as Elliott's sub. Their job is merely to keep the seat warm and try to stay out of trouble, even if Hendrick Motorsports would never admit it.
Elliott being sidelined isn't the only object standing in the way of Hendrick steamrolling everyone else, though. There's also the matter of parity, which seems to be the way of the world in the Cup Series since last year's introduction of the Next Generation race car.
In 2022, a record-tying 19 different drivers went to Victory Lane — and five of them were first-time winners. This season, though still young, has produced three different winners in as many races.
So, while the Hendrick boys might be the ones to beat this year when it's all said and done, they're not going to throttle their opponents every single weekend or even most weekends.
Other top-tier organizations — most notably, Joe Gibbs Racing and Team Penske — are too good to let that happen, and parity seems almost destined to reign supreme for the second year in a row. Even so, the performance of the Hendrick cars and drivers last weekend in Las Vegas made it crystal clear that the organization is poised for a big year. 
Just how big? Well, you'll have to stay tuned.