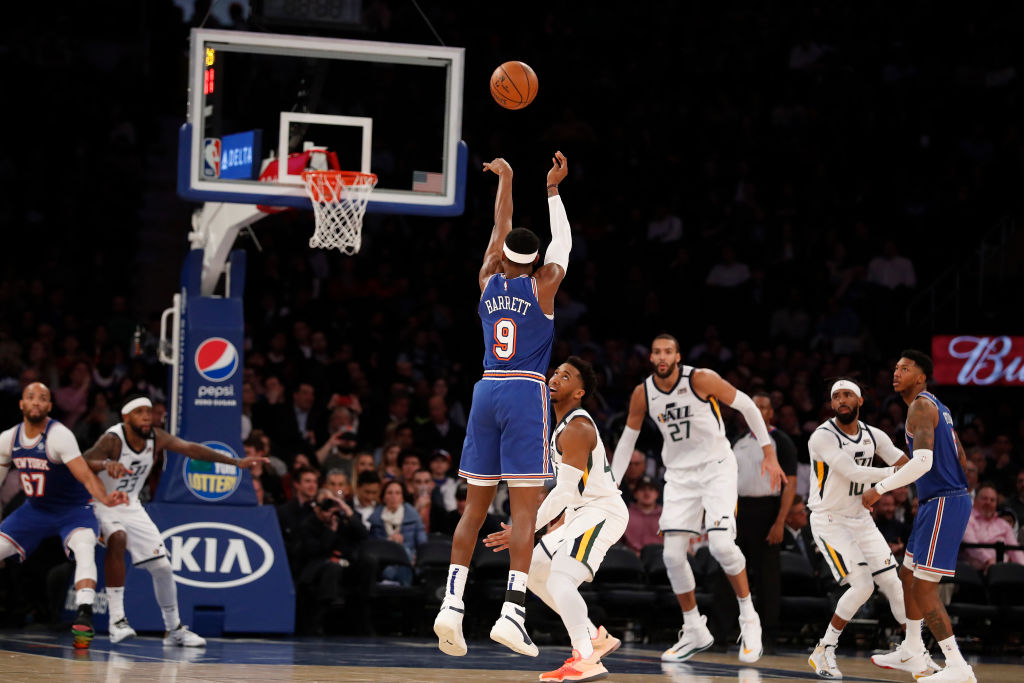 Can RJ Barrett Live Up to Spike Lee and the New York Knicks' Expectations?
RJ Barrett has struggled during his first season in the NBA. Can the guard live up to the New York Knicks and Spike Lee's expectations?
While the NBA season might be suspended until further notice, roughly three-quarters of the games are in the books. Although it's never ideal to draw conclusions from an incomplete sample, we can safely draw one conclusion: the New York Knicks are still a mess. On the court, RJ Barrett hasn't been able to change the franchise's fortunes; off the court, the club seems to be sorting out their front office, but still can't seem to avoid unnecessary drama, like a recent beef with Spike Lee.
Despite that immediate reality, RJ. Barrett is still a third-overall pick. Will he be able to live up to that status and match Spike Lee's expectations? Or is he doomed to be another disappointing chapter in New York Knicks history?
The Knicks had high hopes for RJ Barrett
Heading into the 2019 NBA draft, the New York Knicks were hoping to land Zion Williamson. While the club might have had good odds to win of winning, the ping pong balls didn't bounce their way.
Williamson, of course, went first overall to the New Orleans Pelicans; the Memphis Grizzlies ended up with the second pick and selected Ja Morant. The Knicks came next, picking RJ Barrett from Duke.
While there was initially some disappointment around the lottery—Zion appeared to be the latest savior to slip through the Knicks' fingers—the mood on draft night was optimistic. If nothing else, Spike Lee was confident that the club got their man. "We got the guy we need," Lee said at the time. "After I got over not getting Zion. That took a week. Look, you never know. People forget Michael Jordan was the third pick, so you don't know what's going to happen."
Life in the NBA, however, hasn't been easy
While Zion Williamson might have stolen the show at Duke, RJ Barrett still put together a solid freshman campaign. The guard averaged 22.6 points, 7.6 rebounds, and 4.6 assists during his one year in Durham; life in the NBA, however, has been different.
At the pro level, Barrett is yet to find his stride. Through the first 56 games of his rookie campaign, the guard is averaging 14.3 points, five rebounds, and 2.6 assists per outing. While those numbers are far from ideal, the bigger issue has been Barrett's efficiency.
Whether you believe he's shooting with the proper hand or not, Barrett hasn't found his touch this season. He's converting an ugly 40.2% of his shots from the floor; when he steps beyond the three-point line, however, that number plummets to 32%. While there are plenty of mitigating circumstances—the guard is a rookie and playing for the New York Knicks, after all—those numbers don't suggest Barrett will be a dominant scorer at the NBA level.
Can RJ Barrett live up to Spike Lee and the Knicks' expectations?
While the Knicks and Spike Lee haven't directly stated any expectations for RJ Barrett, it's safe to assume they want the guard to develop into a franchise player. Can he live up to those expectations?
If you trust what the experts are saying, there's still reason to believe. Steve Nash, who is admittedly Barrett's godfather, things greatness will come with time.  "He's an incredibly talented, well-rounded basketball player," Nash told The New York Daily News. "He does a bit of everything. I think he will evolve into a great playmaker because that's a natural ability for him that he doesn't necessarily get to shine in at this stage of his career and on this stage of this team."
Scouts and executives seem to see the same thing. While he's far from the finished package, Barrett has already shown an ability to contribute at the professional level; even if his game isn't clicking on the offensive end, he's willing to go to work on defense. "We all talk about his shot, but I think that will come because, by all accounts, he's a worker," a Western Conference executive told SNY's Ian Begley. "So I think there's a lot to build on."
This season hasn't given Spike Lee and New York Knicks fans a great deal to cheer about. While RJ Barrett hasn't done much to lift anyone's spirits, it's too early to give up on the rookie guard.