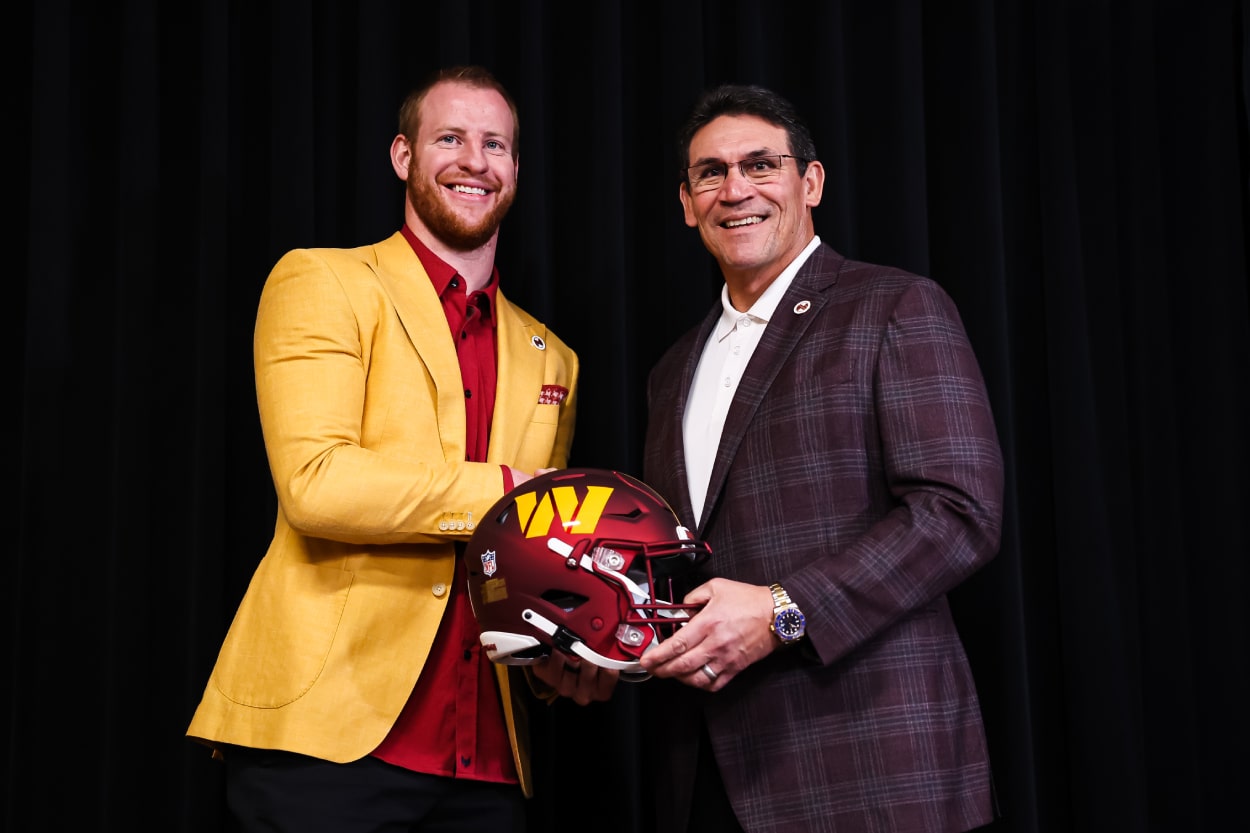 Carson Wentz's Former Colts Teammates Unknowingly Helped Validate His Trade to the Commanders
Carson Wentz is on his third team in as many seasons, and his former Indianapolis Colts teammates unknowingly helped validate his trade to the Washington Commanders.
Carson Wentz is getting one more chance.
Anyone with eyes can see Wentz's potential as an NFL quarterback. He has a big arm and is uber-athletic. Those traits helped him have an MVP-caliber year with the Philadelphia Eagles in 2017 (and he may have won it had he not suffered a season-ending injury in Week 14).
However, the QB's sporadic play has also made watching him feel like your emotions are on the world's most unpredictable roller coaster. One minute, he will make a throw that looks Patrick Mahomes-esque. The next, he will risk his body and/or the ball and possibly turn the pigskin over in a way only he can (his name has become a verb for whenever quarterbacks make silly decisions).
So, when it became clear that the Indianapolis Colts were ready to move on from the 29-year-old earlier this year, it was hard to imagine any team being interested. That was until the Washington Commanders stepped in and made a deal for the QB. And while Commanders fans were probably (and still are) skeptical of the move, Wentz's Indy teammates unknowingly helped validate it for head coach Ron Rivera.
Carson Wentz's former Colts teammates helped Ron Rivera feel even better about the recent trade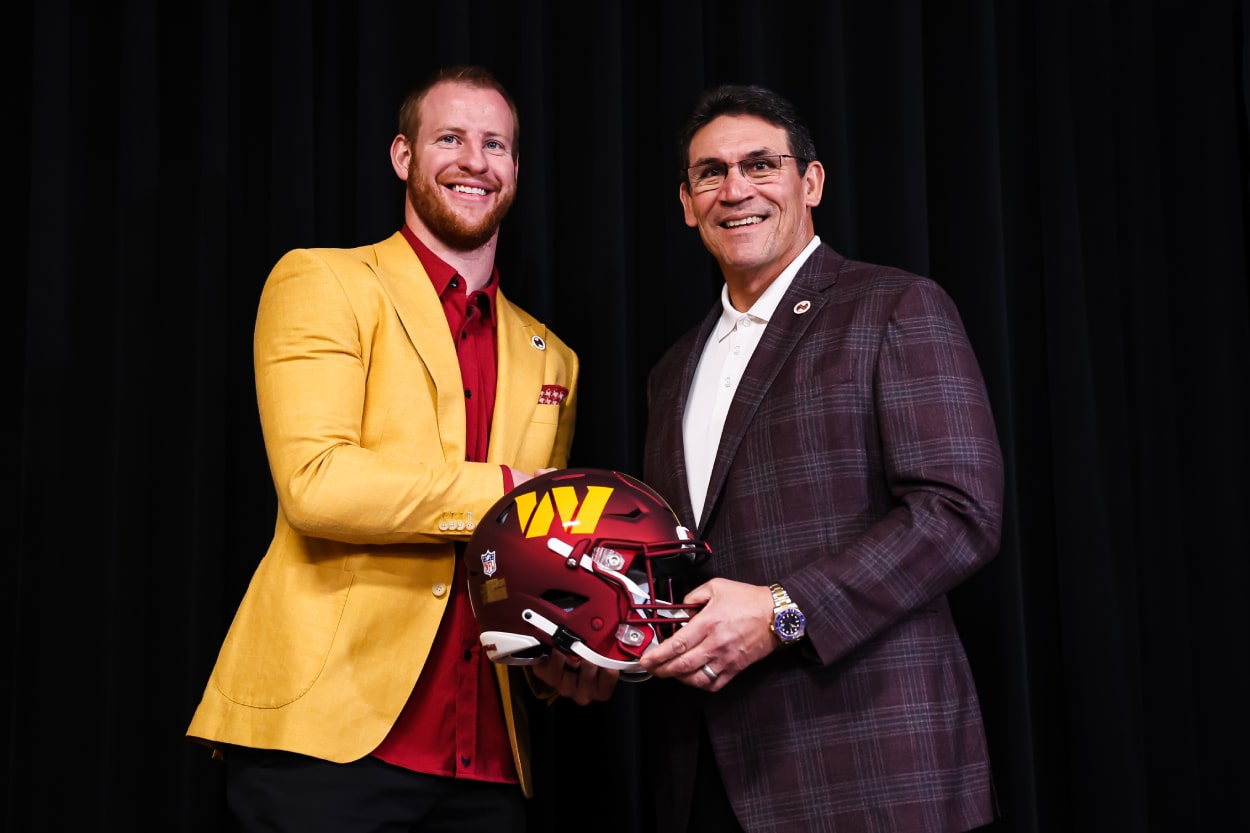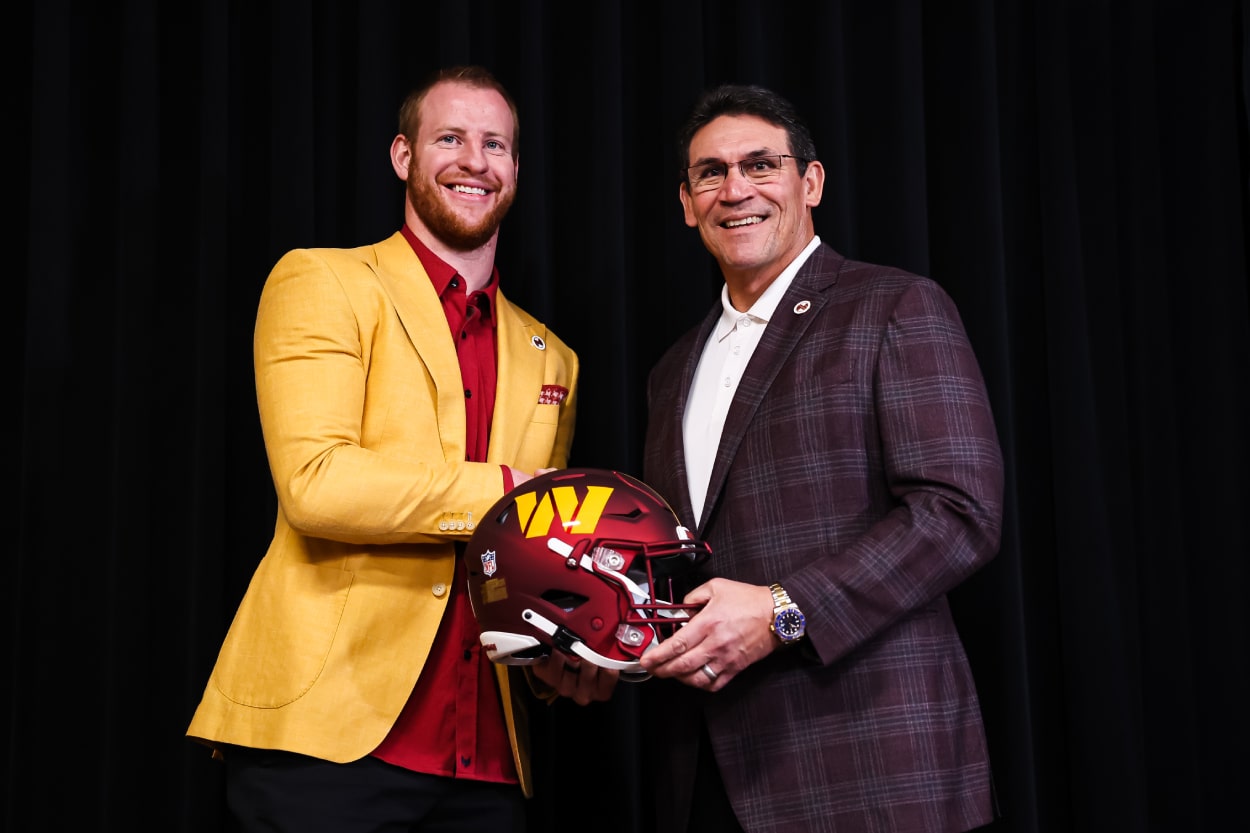 The Colts essentially made their plans to move on from Carson Wentz clear. Neither head coach Frank Reich nor general manager Chris Ballard gave him their endorsement following his 2021 collapse. And owner Jim Irsay made his desire for Indy to contend evident.
Questions of Wentz's leadership style then naturally bubbled to the surface. Had he been someone who could lead a franchise, the Colts wouldn't have choked away their nearly guaranteed playoff berth.
But after trade rumors swirled around quicker than Indy's 2021 season down the toilet and the move between the Colts and Commanders became official, Wentz's former teammates stood up for him to a degree.
"I'm definitely sad to see Carson go," star running back Jonathan Taylor said, per the New York Post. "He was amazing in the locker room and on the field as well. You look at some of the plays he made on the field, but off the field he was an amazing guy always. He made sure to get in contact with everyone on the team."
Linebacker Darius Leonard tweeted: "Here we go again! About to be 5 years with the Colts and 5 different QBs! Thank you Carson for everything this year my guy! Wish you nothing but the best!"
According to Sports Illustrated's Albert Breer, comments like those essentially helped validate the trade for Ron Rivera.
"Those quotes came out," Rivera said to Breer, "And you were like, OK, there's more to the story."
Breer and Rivera then looked at examples of Wentz already showing excellent leadership qualities in D.C. so far. But whether the Commanders feel good about their future with Wentz or not, Carson has a lot to prove in 2022.
Carson Wentz is entering a make-or-break year in 2022
Since that 2017 campaign, Carson Wentz's play has been pretty underwhelming. He led the NFL in interceptions in 2020. And while his stats have been OK in other seasons (only seven interceptions in 2018, 2019, and 2021), the North Dakota State product is an inconsistent passer, only recording a 62.6% career completion percentage.
Wentz often looked past his check-down receivers last year and would almost always go for big plays, even if it meant risking a potential turnover.
If he wants to succeed with the Commanders, he must realize he doesn't always have to look for big-play opportunities. Throwing the ball away is OK, and so is dumping it down to his running backs.
Carson Wentz has a lot to improve if he wants to turn his career around in the nation's capital. If he doesn't learn from his past mistakes, those comments from his former teammates won't mean much, and his time as a starter could be over.
Stats courtesy of Pro Football Reference