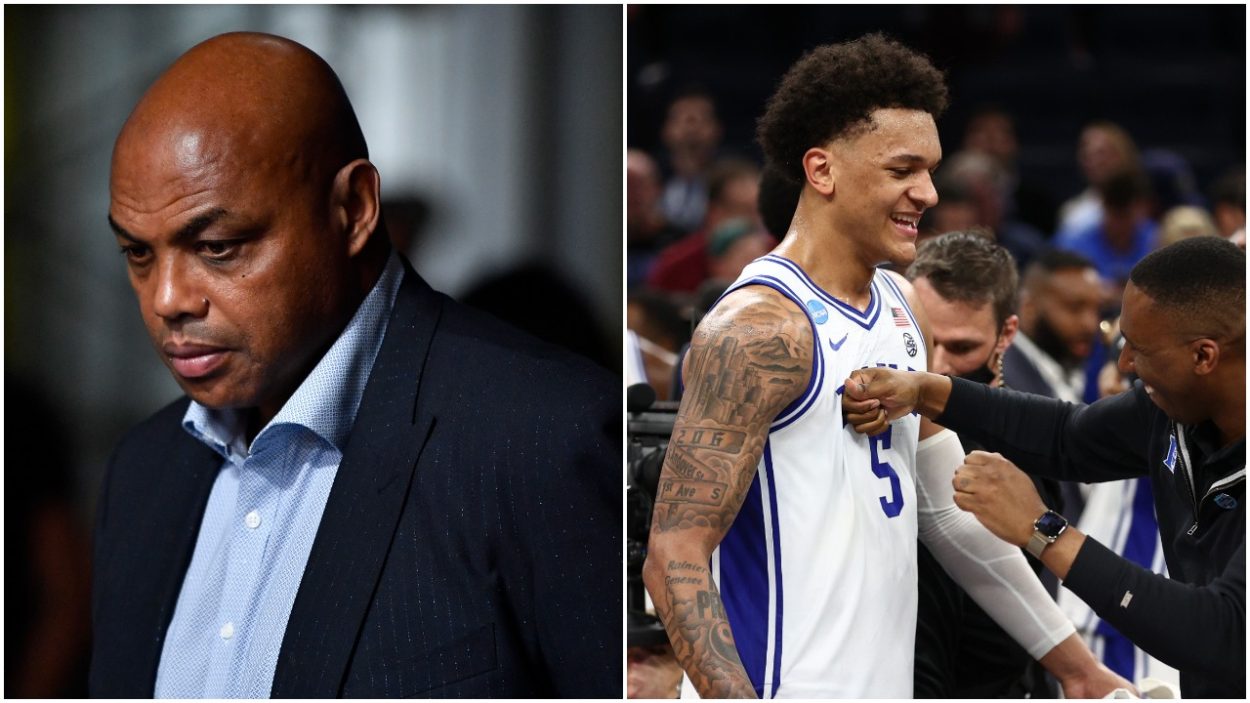 Charles Barkley Shockingly Backs Paolo Banchero Over Auburn's Jabari Smith in the 2022 NBA Draft
Charles Barkley might have attended Auburn, but he's going with a Dukie as his No. 1 overall NBA draft pick.
Those who have watched coverage of the NCAA Tournament understand some favoritism tends to come into play for Charles Barkley and Kenny Smith. The Inside the NBA stalwarts make no bones about their fan tendencies in March Madness, with Chuck pulling for his Auburn Tigers and The Jet rooting for the North Carolina Tar Heels.
Despite his love for Auburn, however, Barkley does not believe current Tigers star Jabari Smith has a chance at being the No. 1 overall pick in the 2022 NBA Draft. No, he feels that honor should go to a Duke Blue Devil.
Duke freshman Paolo Banchero has long been projected as a top pick this summer and is a significant reason for the team's run to the Final Four. Despite his love for Auburn and Smith, Barkley sees no reason why Banchero shouldn't go No. 1 overall.
Charles Barkley emphatically endorses Paolo Banchero over Jabari Smith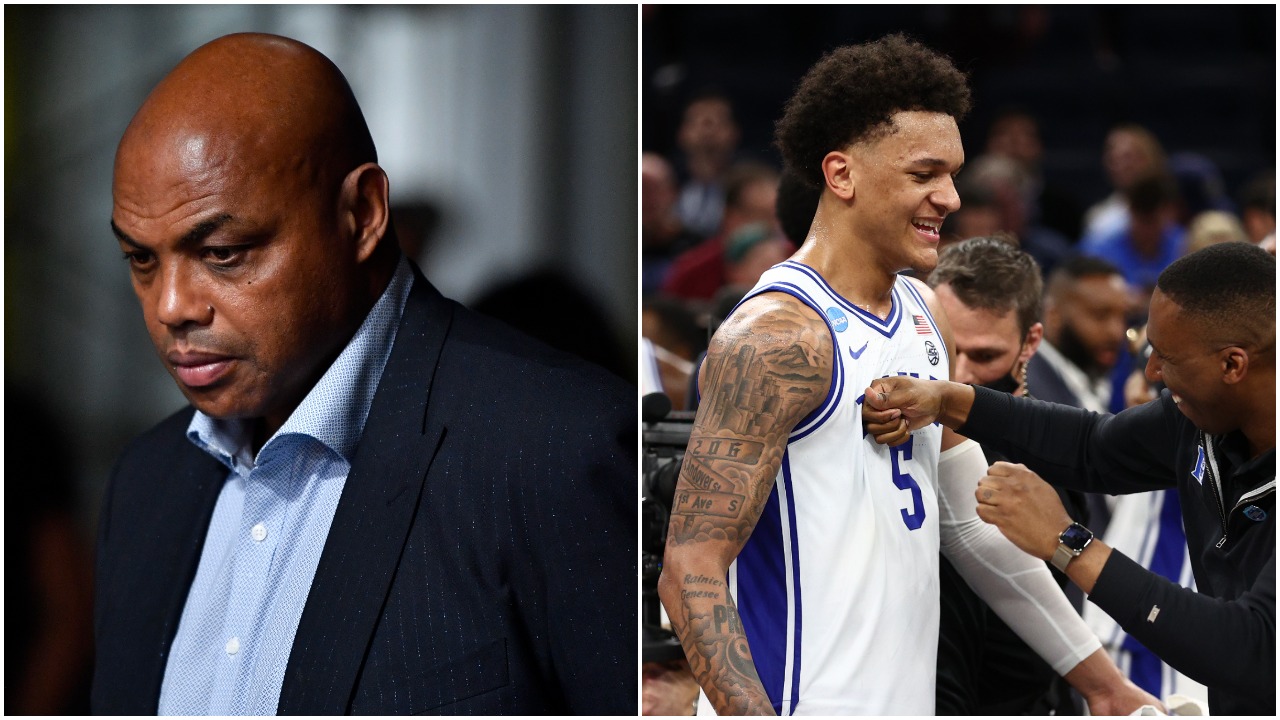 Barkley's Auburn colors run deep. It would hardly have been a surprise to hear him stump for Smith as the No. 1 overall pick in the 2022 NBA Draft.
Despite the Tigers' early exit, Smith has consistently been mocked at or near the top of the upcoming draft. He boasts three-level scoring ability, dynamic athleticism, and exceptional length.
However, Barkley believes that Banchero has to be the No. 1 pick.
Chuck said (h/t the Montgomery Advertiser) he initially felt, coming into the NCAA Tournament, that a few different guys all had equal claims to the top spot. However, he's seen enough from Banchero to make an endorsement.
"I'm talking to all these NBA coaches and general managers, because I been looking at a lot of tape for the last couple months on college. Coming in, I said, 'Yo' man, there are two or three different guys you can take with the No. 1 pick in the draft.' Blah, blah, blah, blah, blah — hell no. You taking this dude (Banchero) right here. Watching him play on tape and then watching him play the last few games — Kenny (Smith) just said it — his ability to shoot, put it on the dribble, and I didn't know he could pass the ball like he can."

–Charles Barkley on Duke's Paolo Banchero and the 2022 NBA Draft
Barkley said he has "love" for Smith and Gonzaga big man Chet Holmgren, another outstanding prospect who could hear his name called first. However, the Round Mound of Rebound insisted that Banchero should be off the board immediately.
Is Chuck right?
Evaluating Banchero and Smith
Charles Barkley believes this NCAA Tournament has solidified Paolo Banchero's spot atop the 2022 NBA Draft class. But player evaluation runs deeper than that.
Banchero has indeed been terrific during March Madness, just as he has all season. He's a 6-foot-10 forward who can handle the rock and pull up over smaller defenders with ease. The Seattle native has displayed tremendous footwork and maneuvering on dribble drives in late-clock situations as well, especially in wins over Michigan State and Texas Tech.
Additionally, Banchero dazzles with his passing ability. He's averaging 3.1 assists through 38 contests and has tallied at least three dimes in every tournament game. The Blue Devils freshman throws perfectly weighted lobs and dump-ins to Duke center Mark Williams and has the vision to make the right basketball play when defenses cut off straight-line drives.
But although Barkley didn't have as much of a chance to scout Jabari Smith during March Madness, the Tigers star's scoring and upside are evident.
Unlike Banchero, Smith struggled during Auburn's brief NCAA Tournament stay. He shot a woeful 3-of-16 in a second-round loss to the Miami Hurricanes, including 1-of-8 from beyond the arc. Still, even then, Smith showed some positive signs.
The SEC Rookie of the Year looked engaged as a playmaker, making good reads and tallying four assists to go along with 15 rebounds. He also showed off some switchability against Miami's quick guards on the perimeter.
Smith's length is a central selling point, as is his shot creation. He made 42% of his three-pointers this season, with plenty coming off step-back looks to create space. But the Tigers star is every bit as capable of getting into the lane and finishing through contact.
Ultimately, it might not matter where Banchero or Smith are drafted. Like Barkley, both youngsters have franchise-altering talent as members of a deep class.
The top of the 2022 NBA Draft is loaded
Charles Barkley clearly hinted at feeling like Paolo Banchero, Jabari Smith, and Chet Holmgren are the top players in the upcoming NBA draft. But this class is loaded with talent on the whole.
Purdue Boilermakers combo guard Jaden Ivey had a rough outing against tournament darlings Saint Peter's in the Sweet 16. But he's made colossal gains as a playmaker and three-level scorer while having explosive athleticism and end-to-end speed in transition. He could ultimately end up as the best player in the class.
Iowa Hawkeyes star Keegan Murray has a similar body to Smith and projects well as a 4-man capable of stretching the floor and making plays on the break. Banchero's teammate, AJ Griffin, is one of the best pure shooters in the group and has shown more juice off the bounce in recent weeks. Wisconsin guard Johnny Davis carried the Badgers with his creation, while Arizona standout Bennedict Mathurin's playmaking and length are notable.
Numerous NBA franchises have real opportunities to improve their teams this summer. That said, Banchero and Smith might be the two headliners. Can Banchero prove Barkley right and cement himself as the top pick by winning Most Outstanding Player honors in New Orleans?
Stats courtesy of CBB Reference.