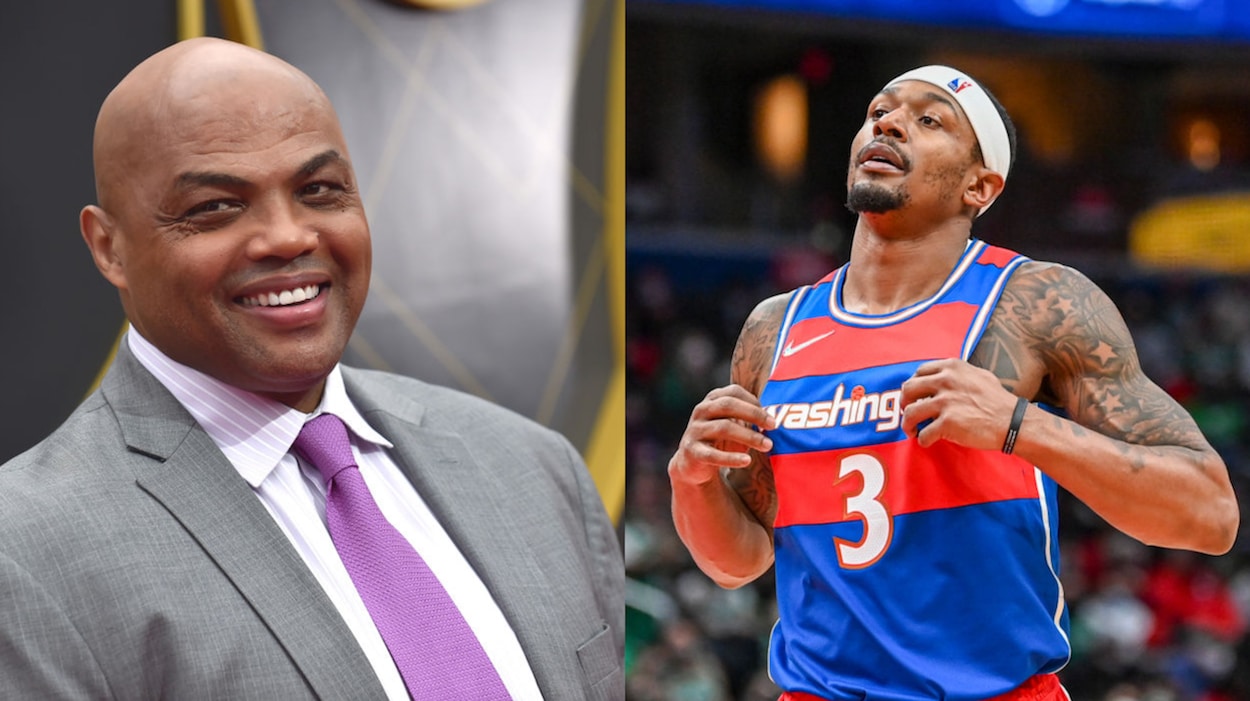 Charles Barkley Deserves Some Credit for Refusing to Be a 'Get Off My Lawn Guy' About Bradley Beal's $251 Million Contract
Charles Barkley has been known to drop some hot takes, but he was remarkably reasonable on the subject of Bradley Beal's contract.
Charles Barkley, for better or worse, can be a divisive figure. As a player, his talent was countered by some questionable choices, both on and off the court. Since moving into the media, Sir Charles has toed a similar line. While some feel he plays a key role in making Inside the NBA entertaining, others take issue with his hot takes and lack of overall NBA knowledge.
In that context, it's important to give Chuck credit where it's due. While he can sometimes put his foot in his mouth, the former forward actually approached Bradley Beal's extension with some nuance.
Charles Barkley doesn't take issue with Bradley Beal signing a big-money contract
Recently, we've seen some former players, like Shaquille O'Neal, take issue with modern players signing massive (and theoretically undeserved) contracts. Bradley Beal's $251 million contract extension, based on previous precedents, would rub NBA veterans the wrong way.
For all of his quirks and questionable takes, though, Charles Barkley has no problem with that deal. While he might seem grumpy on TNT, he actively wants to avoid being the old-timer who's taking issue with today's game.
"Wow," Barkley explained on the Washington Football Talk Podcast. "Let me tell you something. My mom, I love my mom, she passed away a few years ago. Every time I see one of those contracts, I want to drive to the graveyard and just snatch her up and say, 'Why couldn't you just wait a couple more years to have me? Just a couple more years.'"
While that comment may sound somewhat in the vein of Chuck's recent comments about killing a relative for money, he did follow it up with a remarkably reasonable point.
"You know what? Bless these young guys," Sir Charles continued. "You know, Bradley's a hell of a player. I don't ever want to be the old 'get off my lawn' guy. I made more money than Bill Russell, he's a much better player than me. I made more money than Kareem, he's a much, much better player than me. Hey, God bless them. It's good work if you can get it."
Without going overboard on the praise, Barkley does deserve some credit for that take. As human beings, let alone pro athletes with egos, it's easy to get defensive when someone one-ups you. Chuck, however, wasn't petty or bitter. Instead, he recognized his place in NBA history.
As the cliches goes, we're all standing on the shoulders of those who have come before us. While that could lead to jealousy — why does this generation get to reap the rewards of my success? — there's also an element of privilege and perspective. If you realize, as Barkley seemingly has, that you're part of a greater continuum of success, it becomes less about individual accomplishments and more about doing your part for the collective.
That's not always the easiest concept to grasp, but Sir Charles seems to have nailed in. If we're going to rip him for his various faux pas, then it's only fair to praise him for getting this one right.
Like Sportscasting on Facebook. Follow us on Twitter @sportscasting19 and subscribe to our YouTube channel.