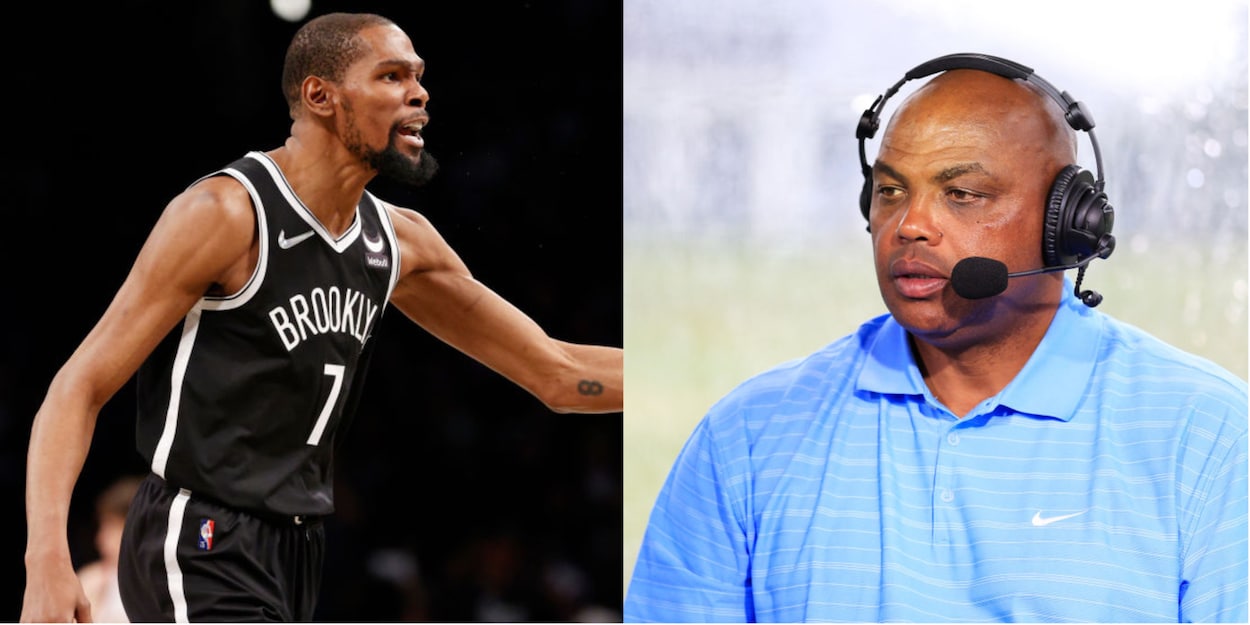 Kevin Durant Takes to Twitter and Rips Charles Barkley as a 'Hatin Old Head'
The NBA season may be over, but Charles Barkley is still talking about Kevin Durant and his legacy. Now, KD has fired back.
In the world of sports, you'll hear plenty of talk about matchups. When it comes to an argument, though, it's tough to think of a more combustible pair than Charles Barkley and Kevin Durant. The former man makes the rounds on the media circuit and has no problem saying whatever's on his mind; the latter has been known to take things a bit personally on social media and call out anyone who he feels has crossed the line.
Ever since the Brooklyn Nets crashed out of the playoffs, Chuck has been talking about KD's legacy. Without rehashing every single comment, the TNT analyst has essentially said that, without winning a championship as the "bus driver" of a team, Durant won't be seen as a historical great by his peers.
As you might expect, that sentiment hasn't sat too well with the Brooklyn Nets' star. On Monday, June 20, he took to Twitter and fired back at Sir Charles.
Kevin Durant rips Charles Barkley for his repeated 'bus driver' comments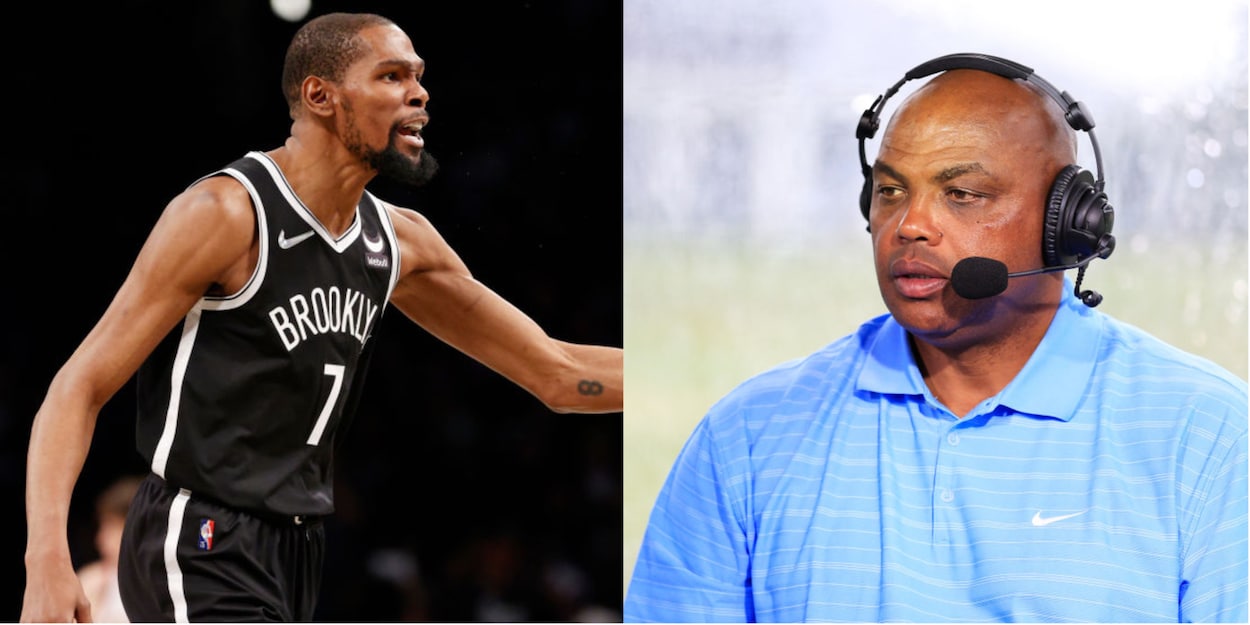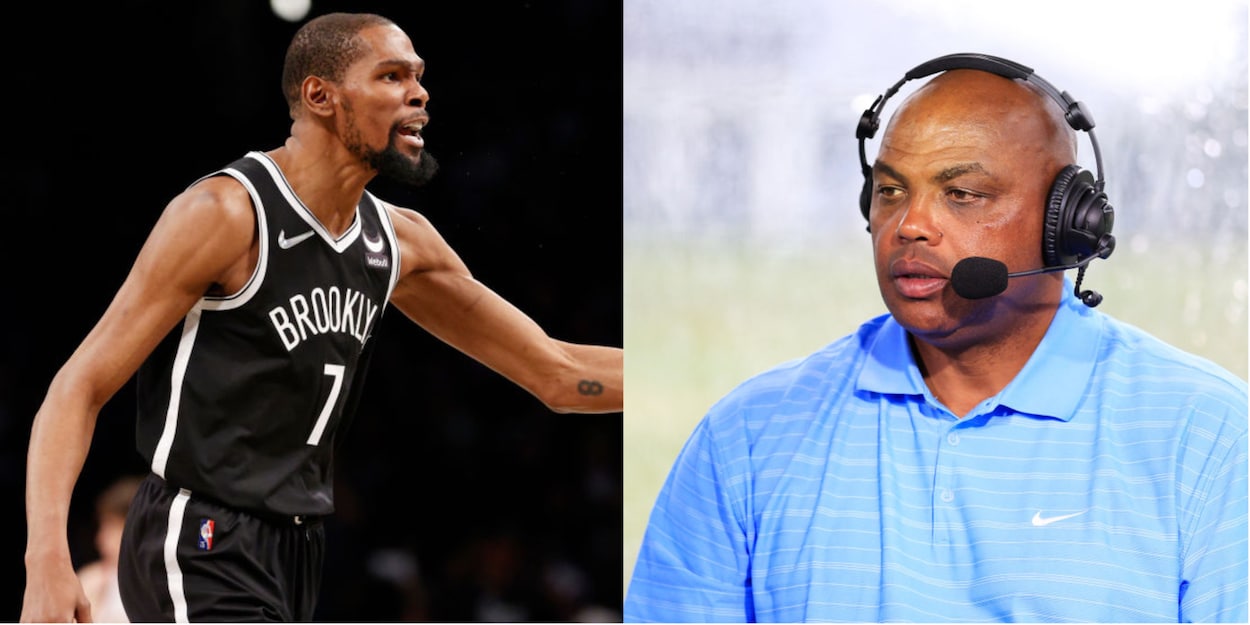 For better or worse, social media is somewhat made for sharing controversial clips and hot takes. As you might imagine, that means Charles Barkley's KD comments make frequent appearances on Twitter. A recent one, however, appears to be the straw that broke the camel's back.
On a recent episode of ESPN's Get Up, a clip of Barkley making a slightly new variation on those same comments played before CJ McCollum was asked to respond. The Pelicans guard actually disagreed with Sir Charles, saying that Durant did drive the bus in Golden State and had a blemish-free resume.
While you might think that praise would have grabbed the majority of Durant's attention, he apparently couldn't overlook another barb from Barkley.
"All this s*** is nasty, another terrible analogy from a hatin old head that can't accept that we making more bread than them," Durant wrote in a quote-tweet of the clip. "It's just timing Chucky, don't hate the playa."
While we can't speak to the validity of the jealousy aspect, Durant does make a valid point. When you watch Barkley's latest comments, he even said that the NBA "old heads" aren't going to give KD the respect he deserves until he's the main man on a championship team. That part rings especially hollow, given Barkley's status in the NBA space. If he feels like Durant deserves more respect, he should be saying it rather than making negative comments on every outlet imaginable. Sir Charles is arguably the biggest name when it comes to NBA studio shows, not some anonymous fan who's powerless to change the prevailing consensus.
At this point, though, it doesn't seem like either side will admit defeat. Kevin Durant is confident in his own resume, and Charles Barkley has clearly hitched his wagon to the bus driver/passenger analogy. Getting called out on Twitter isn't going to change that.
Depending on your preference, it will either be a long and exciting summer of social media drama or time to get off Twitter for a bit.
Like Sportscasting on Facebook. Follow us on Twitter @sportscasting19 and subscribe to our YouTube channel.