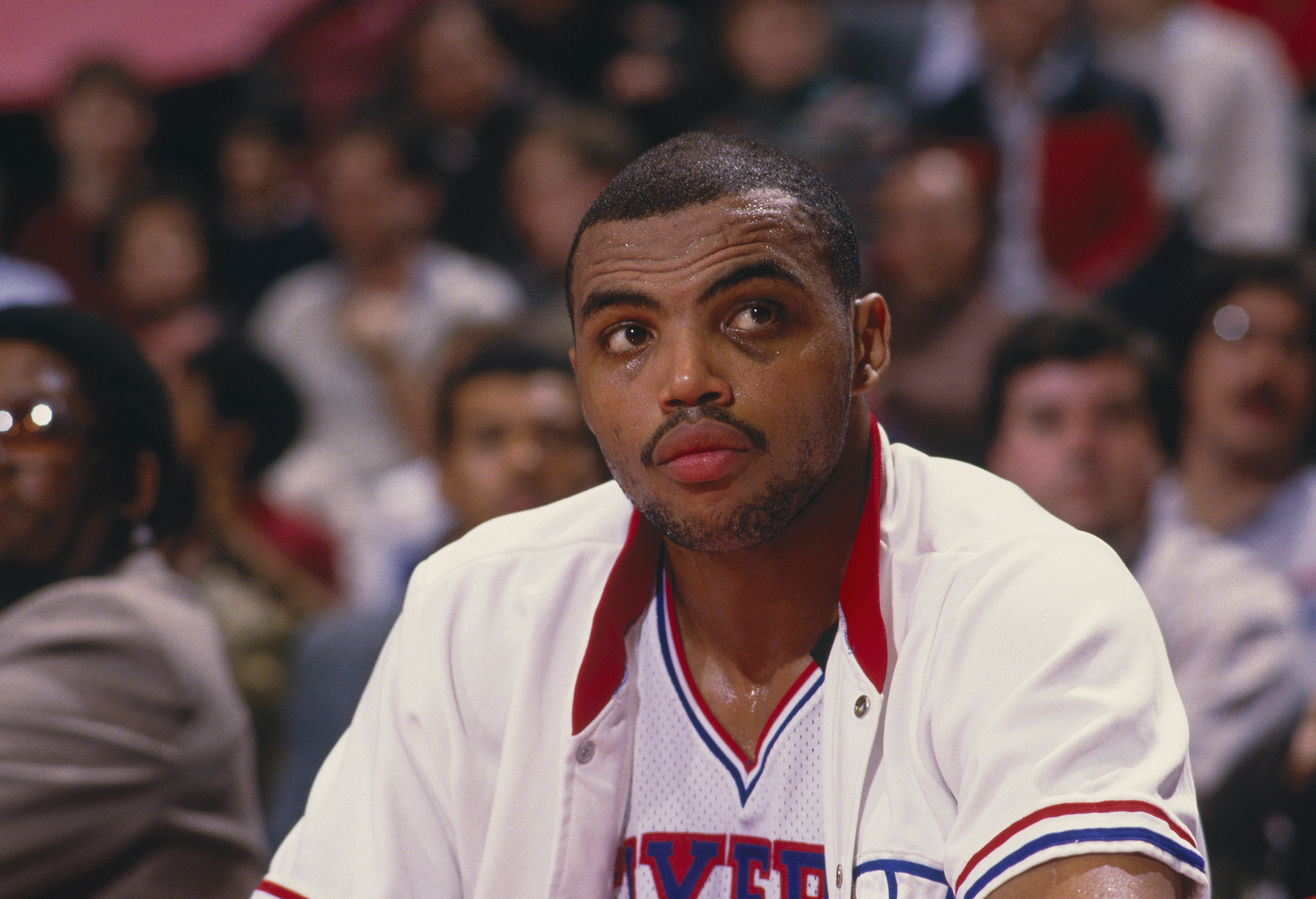 Charles Barkley's NBA Hazing Included '12 Bags,' Warm Milk, and Delivering Dr. J's Newspaper: 'They Really Pissed Me Off'
Charles Barkley may have found fame and fortune in the NBA, but, as a rookie, he still had to endure some hazing.
These days, Charles Barkley stands tall as an established veteran on the NBA scene. The forward's playing career ended more than 20 years ago, and he's since become a key part of TNT's basketball coverage, where he has no problem pontificating about the state of today's game. Sir Charles wasn't always the big man on campus, though.
In fact, when Barkley first joined the Philadelphia 76ers, things were quite a bit different. The forward faced plenty of rookie hazing and had to do everything from carrying luggage to delivering newspapers and warm milk. Unsurprisingly, he didn't enjoy the experience.
Charles Barkley joined the Philadelphia 76ers in 1984, despite his best efforts
During the course of his professional career, Barkley suited up for a few different NBA teams. His first professional gig, however, came in the City of Brotherly Love with the 76ers.
Chuck made a name for himself in college, where he led Auburn to their first NCAA Tournament appearance in program history. After three seasons on campus, he had built up enough of a resume to enter into the 1984 NBA draft. That's when a potential issue surfaced.
While the 76ers seemed like the leading candidate to draft Barkley, their salary cap situation meant they could only offer the rookie a one-year contract. That didn't sit well with Sir Charles, so he decided to do what he could to tip the scales in his favor.
Knowing that Philadelphia hoped he could trim his weight to under 275 pounds, the forward took things into his own hands. After 48 hours of meals at Denny's, a cafeteria buffet, and a steakhouse, Barkley clocked in at 302 pounds. The 76ers, understandably, weren't pleased.
At the end of the day, though, Chuck's eating efforts were in vain. Philadelphia still selected him with the fifth overall pick of the 1984 draft. Barkley was on his way to Pennsylvania on a $75,000 contract.
Acting as the 76ers' delivery man as part of his rookie hazing
While Barkley didn't really want to be a 76er, he did have the good fortune of joining a talented roster in Philly. Dr. J and Moses Malone may have been reaching the end of their respective careers, but they still had more than enough star status to call the shots.
"You gotta haze people," Barkley once explained on The Dan Patrick Show. "I'm a big believer. When I say hazing, I don't mean some of the stuff I see, these crazy high school kids. Back in the day, you had Dr. J and Moses Malone, they had me… You walked to the airport with 12 bags on your neck. Andrew Toney, [I] had to take him warm milk."
Barkley's delivery services weren't limited to luggage and milk, though. The rookie was also called into action as the veteran's paperboy.
"I had to take them guys newspapers first thing in the morning, like seven o'clock," Sir Charles continued. "Like, dude, I'm not up at seven. 'Well, you're up now.' … This was my rookie season. I had to take them newspapers at like seven o'clock in the morning. I had to get out of bed to take them guys newspapers. They really pissed me off."
Moses Malone didn't just haze Charles Barkley, he changed his entire NBA career
While Malone and Dr. J. put Barkley through his paces as a rookie, the current TNT analyst insisted that the veterans "were great." Based on another story we know about Sir Charles, he has an additional reason to appreciate their efforts.
During his early days in Philadelphia, Barkley struggled to make much of an impact and approached Malone for some advice. The veteran forward explained that the rookie couldn't earn playing time if he wasn't in shape, and he challenged Sir Charles to join him for extra workouts to lose some weight.
By the time the two men were done working together, the young forward had earned a regular place in the Sixers' lineup. Barkley ended up securing a place on the NBA All-Rookie Team and went on to have an impressive career.
"I saw [Malone] Friday night at the Hall of Fame," Barkley told ESPN's Jackie MacMullen in 2015. "I thanked him again for making me the player I became, like I always do."
The best teammates make those around them better. That's what Malone did for Barkley, even if there was some mild hazing along the way.