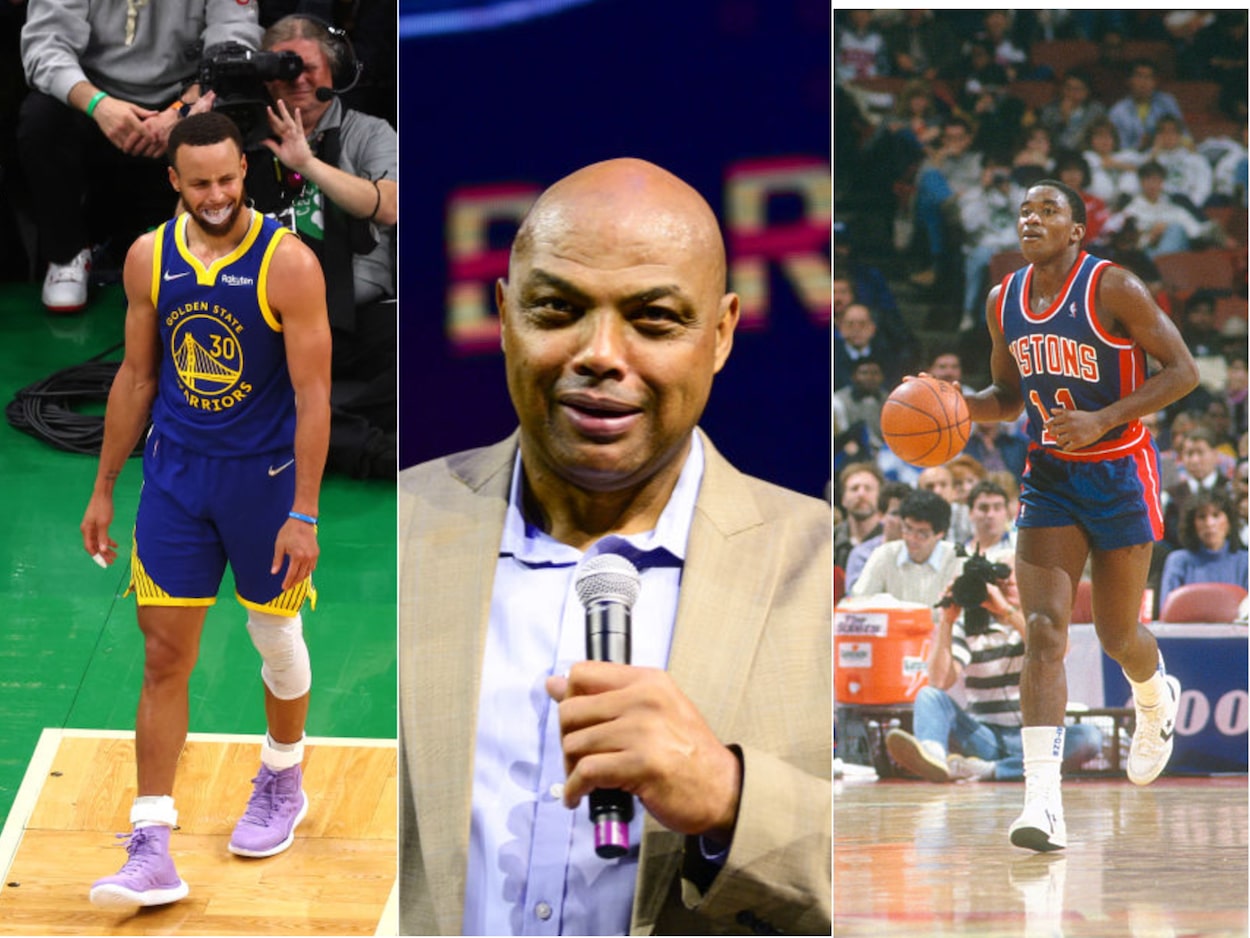 Charles Barkley Puts Stephen Curry Alongside Isiah Thomas as the Greatest NBA Little Man
Charles Barkley is never shy about saying what's on his mind, whether that means ripping a player or showering them with praise. In this case, it was the latter.
At this point in his career, it's not groundbreaking to say that Stephen Curry is a pretty good basketball player. After successfully dispatching the Boston Celtics, the Golden State guard now has four NBA championships and one NBA Finals MVP crown to his name. He's also at least partially responsible for literally changing the game and making long-range shooting an inescapable reality of modern basketball. Now, the only real debate is where he stacks up in the historical rankings.
If you take Charles Barkley at his word, Curry is pretty high on the list.
During a recent appearance on The Pat McAfee Show, Chuck even went as far as saying that the Warriors star now sits alongside Isiah Thomas as one of the greatest little men in NBA history. While that might sound a bit hyperbolic upon first blush, the numbers don't lie.
Steph Curry won his fourth NBA title and earned a high compliment from Charles Barkley
After the Golden State Warriors collectively suffered through some tough seasons, they returned to the NBA summit with an impressive run to the title. While Stephen Curry left the court with both the Larry O'Brien Trophy and the Bill Russell NBA Finals Most Valuable Player Award, he wasn't done there. He also received plenty of praise from those in the media.
Some of that praise came from Charles Barkley. During an appearance on The Pat McAfee Show, the former punter asked Chuck if he learned anything about Curry during the NBA Finals. Sir Charles didn't really answer that question, but he did respond with a high compliment.
"I think we can, Isiah Thomas can welcome Steph Curry to his table as the greatest little man to ever play in the NBA," Barkley said. "That's just my personal opinion. I think that Isiah's been the best little man forever, and I think with Steph winning this championship, cause you kind of have to handicap those two with Kevin Durant, so you put him winning his second, in my opinion, it puts him at the table with Isiah Thomas as the greatest point guards to ever play the game."
While there's a bit of ambiguity there — how do we define a "little man," and is it synonymous with point guard? — the implications are clear. In Sir Charles' mind, Steph Curry is a pretty special talent.
The numbers do give some credence to Sir Charles' praise for Curry
If you're a scholar of NBA history, putting Steph Curry alongside Isiah Thomas may seem like a big step. While the Pistons' guard didn't dominate the Association in the same way that Michael Jordan did, he's still widely regarded as an iconic player from an era of impressive basketball. Could the Warriors sharpshooter really sit at his table?
If you dig into the numbers, the answer is yes.
Going by counting numbers, Curry has the edge in points per game, rebounds per game, and, obviously, three-pointers made. Thomas, by contrast, really only has the edge in assists per contest. The former Piston does hold a few more slim advantages (like playing two additional minutes per night), but those are largely insignificant.
It is worth noting, though, Isiah has appeared in roughly 150 more games than Curry. Does that difference skew the results?
Not really.
Whether you look at the two guard's stats per 36 minutes or per 100 possessions, things are pretty static. Both give Curry the advantage in points and rebounds, with Isiah holding an edge when it comes to assists.
A few other metrics also support Steph's place at the greatest guard/little man table. When it comes to overall offensive rating, the Golden State star holds a 13-point edge (118 to 106); both have the same score (107) on the defensive side of the ball.
Curry also holds a clear edge in both win shares (120.2 compared to 80.7) and the related metric of Value over Replacement Player (VORP) by a 60.9 to 41.6 score. While those are a bit less intuitive than points, assists, and rebounds, the underlying theme is clear: the modern guard does more to help his team.
Those numbers are admittedly colored by some unavoidable differences. Guards in Thomas' era, for example, weren't expected to drain multiple three-pointers per contest. Isiah was primarily a facilitator, and his assist numbers do outshine Curry's. With that being said, though, Steph's overall body of work does speak for itself.
Historical comparisons are always a bit tricky, but Stephen Curry checks all the boxes. Whether you're going by championships, counting numbers, or more advanced stats, he's at least worthy of being in the conversation with Isiah Thomas. Beyond that, you can decide exactly who's at the head of the table.
Stats courtesy of Basketball-Reference.