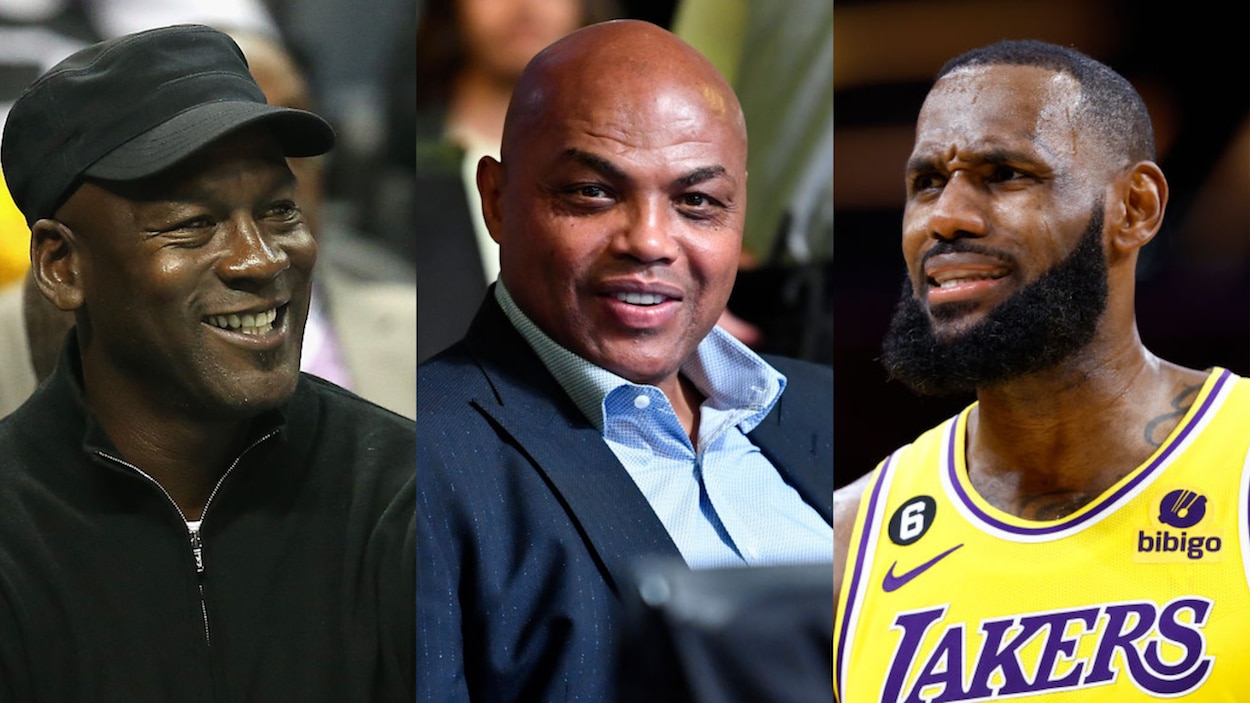 Charles Barkley Sounds Like a Hypocrite While Saying You Can't Compare LeBron James to Michael Jordan
Charles Barkley isn't shy about speaking his mind, but, in this case, he seems to be speaking out of both sides of his mouth.
No matter how you feel about Charles Barkley — some love him, and some hate him — one thing is a foregone conclusion: The former forward is always going to speak his mind. And while he does most of his talking on TNT, his candor isn't limited to television. Take, for example, an interview on The Bill Simmons Podcast.
During that discussion, the conversation turned to Michael Jordan, LeBron James, and the idea of chasing championships. At that point, Sir Charles said you simply can't compare James to His Airness, as the former changed teams in pursuit of a title.
On one hand, that's a reasonable take. On the other, though, Barkley sounded a bit hypocritical given his role in shaping the conversation.
Charles Barkley says you can't compare LeBron James to Michael Jordan
In the world of sports, championship rings are generally used as a shorthand indication of how special a player truly is. If you take Charles Barkley at his word, even the legendary Michael Jordan had to clear that hurdle.
"I'm with Michael Jordan in his prime, and they're like, 'Oh, he's a great, great player, but he can't win,'" Chuck recalled on The Bill Simmons Podcast. "Every great player, in the beginning, they make you a great player, then they change the rules. 'Oh, he's a great player, but he can't win.' Same thing, it happened to LeBron. Remember? Like, 'Oh, he's great. He's great. Oh, he can't win.' And LeBron is the person who changed the entire narrative. He's like, 'Oh, well let me go somewhere where I can win.'"
In Sir Charles' mind, that decision draws a line above James' name. Since he changed the game, he can't be compared to those who came before him.
"That's the reason I don't compare him to Michael Jordan," Barkley continued. "Michael Jordan says, 'There's a wall over there, I'm coming through that wall. I'm coming through the damn Pistons. I'm coming through the Celtics, I'm coming through the Pistons, I'm coming through Magic Johnson.' That's why I always differentiate when I try to compare LeBron to Michael. LeBron says, 'Yo, man. You guys are killing me on television.' Like, I've never given into a narrative that a guy had to win a championship because it's a team game."
That seems like a reasonable take, but there's 1 logical problem: Sir Charles clearly believes that championships matter
If this were the first time you'd heard Charles Barkley talk about championships, you'd think he's being pretty reasonable. When you consider the larger scope of his work, though, things fall apart.
On Inside the NBA, one of the show's fundamental conceits is that Barkley never won an NBA championship. When things get heated, or there's a disagreement at the desk, that lack of silverware is the ultimate trump card.
Furthermore, let's return to one of the major storylines from the 2021-22 season: Barkley saying that Kevin Durant was a passenger rather than a bus driver when he won two titles. For a man who apparently understands that basketball is a team game, Sir Charles seemed pretty intent on arguing that Durant's all-time greatness was dependent on being the main man on a championship-winning team.
At the time, Barkley insisted that standard was simply the reality among NBA players and not a creation of the media. He made a similar point on The Bill Simmons Podcast, noting how LeBron James and Kobe Bryant wanted to earn a ring away from Miami and without Shaquille O'Neal, respectively.
Again, that seems like a valid point, but things fall apart under scrutiny.
Even if the media isn't responsible for creating the bus driver/passenger dichotomy, they still play a big role in planting it into everyone's mind. We, by and large, don't know what LeBron and his peers are talking about. We do, however, get to hear Charles Barkley's thoughts at least twice a week. And, with all due respect to sports fans, we'll usually latch onto a narrative if we hear enough people repeat it enough times.
At the end of the day, part of the beauty of sports is that everyone can watch the games in different ways. You judge everyone's resume on their number of titles, while the person sitting next to you might be more concerned with more intangible things like aesthetics and enjoyment. Neither of those is inherently wrong, and that's the lesson Sir Charles should come away with.
If you want to argue that championships matter, go for it. Don't, however, say that basketball is a team game and then spend an entire TNT segment talking about bus drivers, passengers, and the prestige of a championship ring.
Have thoughts on this topic? Keep the conversation rolling in our comments section below.