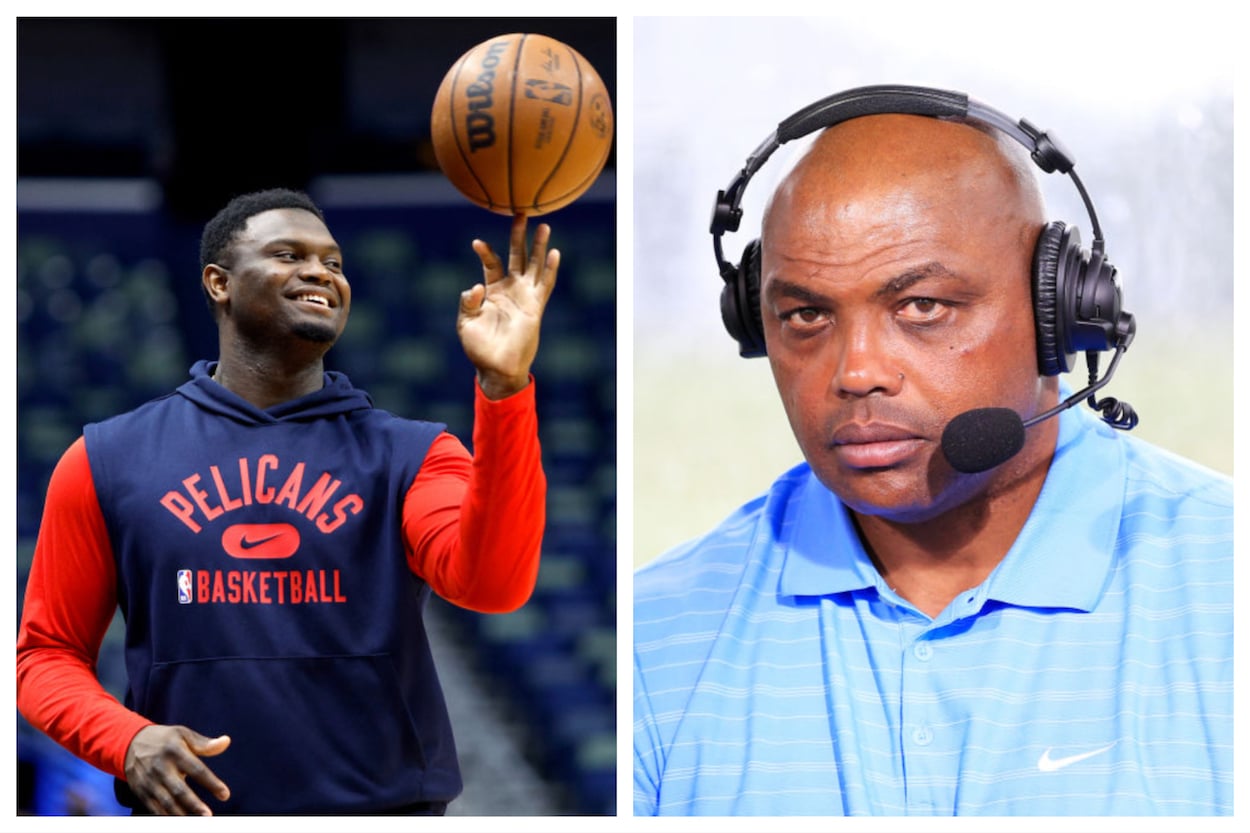 Charles Barkley Wouldn't Risk Giving Zion Williamson a Big-Money Contract Extension
With Zion Williamson's contract extension looming on the horizon, Charles Barkley isn't sure if he'd give the forward a big-time deal.
When he entered the NBA, Zion Williamson looked like a can't-miss prospect. While we've seen flashes of brilliance since then, the forward has never truly found his stride. Due to a combination of injuries, Zion has only played 85 games across three professional seasons. That reality, it seems, is now affecting his financial future.
Recently, word has surfaced that the New Orleans Pelicans are hesitant to offer their star player a fully guaranteed contract extension. While that might seem like quite the risk, Charles Barkley would probably take the same approach if he was running the show.
Charles Barkley wouldn't risk a big-money contract on Zion Williamson's health
While being a general manager can seem like an easy job when things are going well, every front office executive will eventually face some tough decisions. For Trajan Langdon and the Pelicans' brass, a potential Zion Williamson extension will be a make-or-break moment for the franchise.
Charles Barkley understands that challenge, and if he were calling the shots, he wouldn't be ready to back up the Brinks' truck.
"To give him $200 million, that's, to me, listen, that's the job you get paid to do," Chuck explained on The Dan Patrick Show. "And, would I give it to him? No, I would not because, Dan, he's never been healthy. And I'm not even talking about the NBA. I'm talking about high school, college, NBA. He's never been healthy. And he hasn't proven to me that he can control his weight … I'm not comparing myself to him, but it's the exact same situation. When I first got to the NBA, I weighed 300 pounds. And Moses Malone, the most important person in my career, made me lose 50 pounds and made me the great player I became. … I think Zion was in the exact same boat that I am."
After some technical difficulties, Barkley retold his Malone story and wondered if there was anyone in New Orleans capable of pushing Zion to realize his potential. At the end of the day, though, he boiled the decision down to one key factor.
"The problem is, if he leaves and turns into the player we think he can be, you get fired," Sir Charles continued. "And rightfully so. But you have to make that decision, what it comes down to [for] me, [is] 'Who's in that building every day?' What kind of kid do you think he is? You think he gonna get in shape? Or you think he's just gonna take that money and live happily ever after?"
As Barkley said, the Pelicans are caught between a rock and a hard place with Williamson
Although it can sometimes be easy to write Barkley off as someone who's only trying to generate a reaction, he does make a valid point regarding Williamson's contractual situation. No matter what happens, the Pelicans are taking the chance here.
Whether he stays in New Orleans or leaves town, Zion is going to get paid. He already has plenty of money in the bank and, based on potential alone, will be able to ink another contract. At the risk of acting like you can buy happiness, he's going to be just fine.
The Pelicans, however, are making a franchise-altering decision. If they hand Zion a contract that's worth almost $200 million and he's unable to play, then they've essentially burned a massive pile of money. While there's always room for some creative accounting, it'll be tough to build a contender when you have a chunk of your salary cap allotted for someone who isn't producing.
On the other hand, though, it's impossible to ignore Williamson's talent. If he's able to stay healthy and get on the court, he can completely change the course of the franchise. The Pelicans managed to pull together and reach the 2022 NBA Playoffs; imagine how much better they could have been with their star forward. As Barkley said, if you let him leave town and he pulls it all together, you're going to look like a fool.
Even the Pelicans' rumored preference of offering their star player a partially guaranteed contract might not be the perfect solution. While there is some precedent for that sort of deal — Joel Embiid previous inked one with the Sixers — it's possible that the offer could rub Zion the wrong way. If he's already (potentially) disinterested and turning his eyes elsewhere, will he take a lesser contract as the final slap in the face?
No matter which option the Pelicans choose, though, there's some unavoidable risk involved. That's why general managers and front office execs get paid the big bucks, though.
Like Sportscasting on Facebook. Follow us on Twitter @sportscasting19 and subscribe to our YouTube channel.