Charles Barkley's Football Career Only Lasted a Single Day: 'Coach, This Ain't For Me'
While he made plenty of headlines with his mouth, Charles Barkley shouldn't be reduced to a sideshow. During his time on the hardwood, the forward proved to be an incredible athlete. He might have looked a bit chubby — hence his many food-based nicknames — but Sir Charles could hang with the best of them, ripping down a rebound and running the floor with surprising speed. There were limits to that athleticism, though.
When you consider Chuck's blend of size and athleticism, it's easy to picture him finding a home on the gridiron. Well, Barkley did try his hand at football, but he only made it through one practice before hanging his helmet up for good.
Let's travel back to Leeds, Alabama, and revisit that day.
Charles Barkley loves football, but he wasn't much of a football player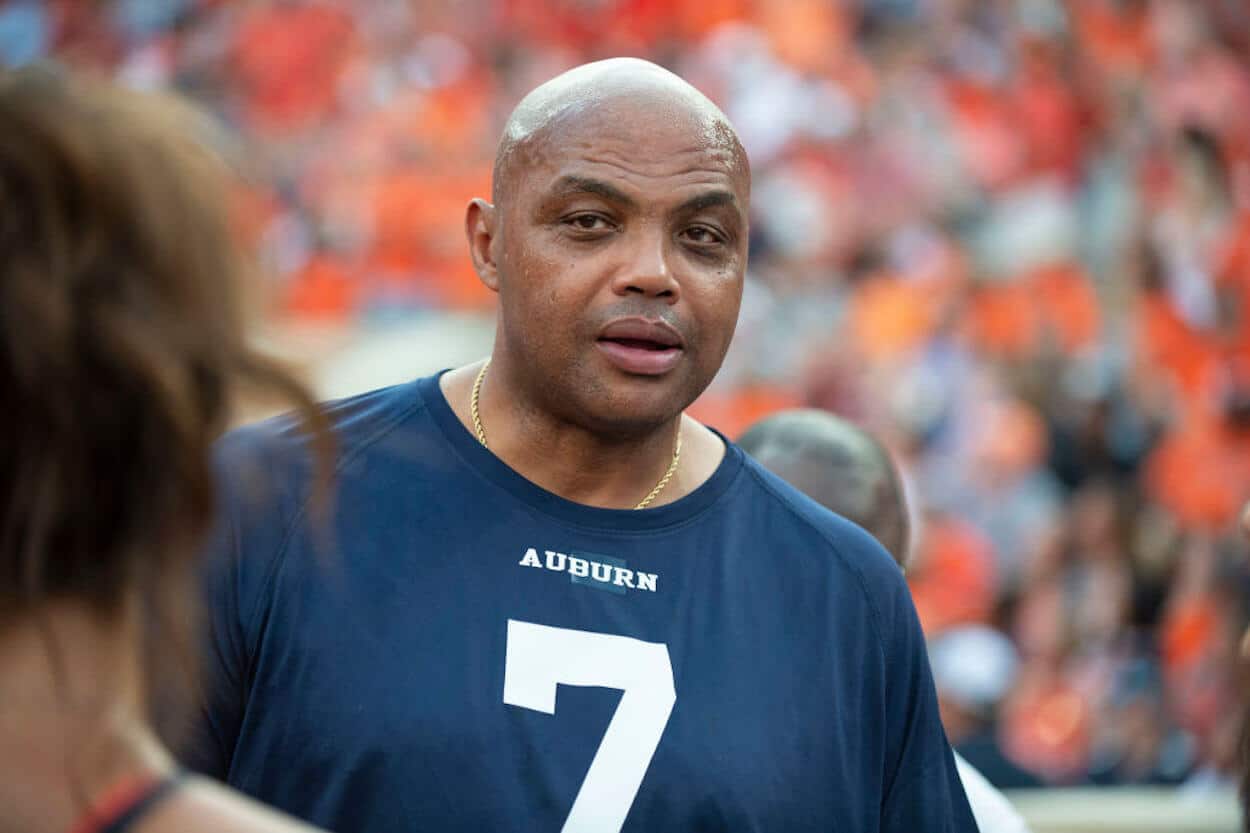 Over the years, guys like Bo Jackson and Deion Sanders proved to be incredible multi-sport athletes. Charles Barkley, however, couldn't last more than a single day as a football player.
"Boxing and football are my two favorite sports," Chuck explained during an appearance on All the Smoke. "Because, you know, I played football for one day … I did for one day. I was like, 'Nah, I'm not doing this s***.'"
While that's already a comical story — given what we know of Barkley's personality, it's pretty easy to imagine a young Charles realizing that he had reached his limits and verbally throwing in the towel — we got some additional details.
"I was sitting there bleeding," the NBA legend, who noted that he spent his one day of football as a defensive tackle, continued. "Hands all beat up. Everything hurts. … I'm sitting there, I'm exhausted. I'm bleeding, couple of places, head hurting. Coach says, 'I'll see y'all tomorrow.' 'I'm not doing this s*** tomorrow. I'm not doing this s*** tomorrow. No. Hell no.' And I was like, 'Coach.' So, I take my shower, fold my s*** up neat. I said, 'Coach, this ain't for me.'"
And with that, Barkley's football career ended. He made sure to mention, though, that he respects football players because of the courage it takes to play the game.
Barkley, of course, became a basketball star and still scratches his competitive itch on the golf course
Based on everything we know of Charles Barkley, it's easy to look back at his day on the gridiron and laugh. At the same time, though, that anecdote shouldn't color your perception of the forward, at least from a sporting perspective. While he wasn't cut out for the defensive line, he was still an incredible athlete and a fierce competitor.
On the hardwood, Chuck made an impact at both the NCAA and NBA levels. In college, he proved that his height — Barkley lined up at center despite standing 6-foot-6 — wasn't an issue, as he averaged 14.1 points and 9.6 rebounds per outing across three years with Auburn. Once he turned pro, though, things got even better.
While he infamously failed to win a championship, Sir Charles was a more than capable NBA talent. Across 16 seasons in the Association, he averaged 22.1 points, 11.7 rebounds, and 3.9 assists. Those numbers are impressive in their own right, but they look even better when you remember Barkley's size. He wasn't a towering center blessed with the ability to simply outreach his opponents; this was a man who, at Michael Jordan's height, outfought everyone to dominate the glass.
And, on a lighter note, Chuck did eventually find another athletic endeavor to sink his spare time into. While he couldn't be a two-sport athlete on both the gridiron and the hardwood, he did take up golf and spend plenty of time on the links. His swing has been a bit of a roller coaster over the years — we all remember what it looked like at its worst — but Barkley did get back on track and take part in The Match alongside Payton Manning, Phil Mickelson, and Steph Curry.
In the end, it's safe to say that everything worked out.