Chase Elliott's Job Is More Glamorous Than Yours, but the NASCAR Star Shares That Fear of Getting Fired
Article Highlights:
Chase Elliott, the 2020 NASCAR Cup Series champion, has taken an interest in dirt-track competition
Fellow Hendrick Motorsports driver Kyle Larson scored a $175,000 win at an Ohio dirt track last summer
Elliott is pointing toward a return to the Chili Bowl Nationals in January
Chase Elliott and Kyle Larson just completed 10 months together as teammates at Hendrick Motorsports, with Larson succeeding Elliott as the NASCAR Cup Series champion. Now, however, they are student and teacher.
Larson, a veteran of the dirt-track scene, is always excited at the prospect of driving anything with four wheels and an engine. Elliott, the son of a NASCAR legend, has been more discerning, sticking primarily with asphalt racing.
It helps explain why Elliott and Larson are now student and teacher.
Chase Elliott and Kyle Larson are keeping busy after the NASCAR season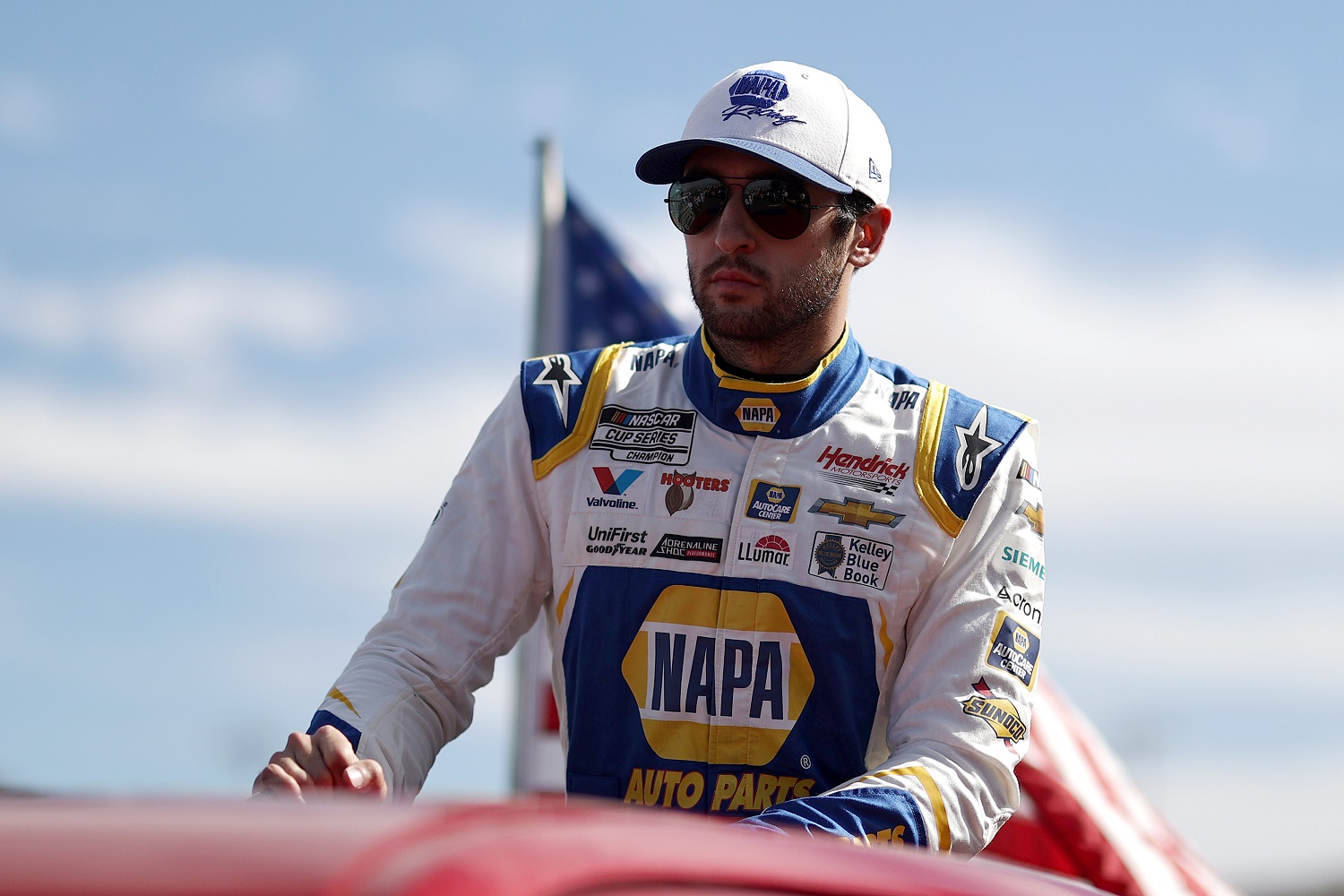 Though he missed defending his NASCAR Cup Series title, Chase Elliott did reach the Championship 4 at Phoenix Raceway, where Kyle Larson kept the crown in the Hendrick Motorsports family by winning his 10th points race of the season.
In between all those Cup series races, Larson found time to break away and compete on dirt tracks, even scoring a $175,000 payday in the 37th Kings Royal in mid-July at Eldora Speedway in Ohio. He flew to New Hampshire afterward and competed in the weekly Cup Series race the following day.
With NASCAR's season over, Larson continues to compete at the small tracks, and now Elliott has caught the dirt racing bug, too. Both will compete Tuesday and Wednesday in the Merced Midget Madness event at Merced Speedway in California. Promoters said Elliott, who made his midget racing debut last year in preparation for the Chili Bowl Nationals, will race a 360 sprint car. Larson will drive in both the midget and winged sprint car events.
Chase Elliott was a man of extremes last week
Chase Elliott was so eager to try the small tracks again that he took racing to the extremes last week. Following two days of Hendrick Motorsports participating in the Next Gen car tests at Charlotte Motor Speedway, he flew across the country Thursday night to Sacramento, California.
From there, he headed to Placerville Speedway, where his midget racer awaited. Kyle Larson and Brad Sweet, a three-time World of Outlaws sprint car champion, were there to help teach him the ropes.
"It's such a departure from anything I've ever done, but I really have enjoyed it," Elliott told NASCAR.com. "For me, it's really nothing more than just trying to better myself and get outside in an area that I've never been in before and do something different. I have always really respected the discipline and I've been a fan of it for a number of years."
A tough couple of days of learning for NASCAR's 2020 Cup Series champion
Chase Elliott says he's tentatively pointing toward his second appearance in the Chili Bowl Nationals after the holidays, but he recognizes he isn't striking fear into other dirt-track drivers' hearts.
"We're working on it. If they don't fire me, I'm supposed to do it," Elliott joked, "They've offered it up and I told them I would love to do it. So, we'll see. If they don't fire me by next Saturday, I'm planning on going."
Using a provisional berth offered because he missed a night of prelims while traveling after Next Gen testing, Elliott finished 20th in the feature race at Placerville Speedway. However, the experience was still a positive. He used downtime between races to consult with Kyle Larson and Brad Sweet. Larson is used to sharing intel with Larson in the week between NASCAR Cup Series races, but seeing him put the information to work from heat to heat was new.
"It's really neat to see how and kind of get a glimpse of how his brain works and how he processes how to drive a race car," Larson said told NASCAR.com. "I'm not a good coach, so it's been nice to have Brad Sweet here. He's really been helping Chase a lot. I pitch in some advice when I can, but like I said, my only advice is I feel like to anybody when they ask me what to do is to say, 'Run it harder.'"
Elliott appreciated the opportunity to learn and compete, saying, "I think it's really cool, I respect the discipline. I think you can learn some really good habits during this stuff."
Like Sportscasting on Facebook. Follow us on Twitter @sportscasting19.