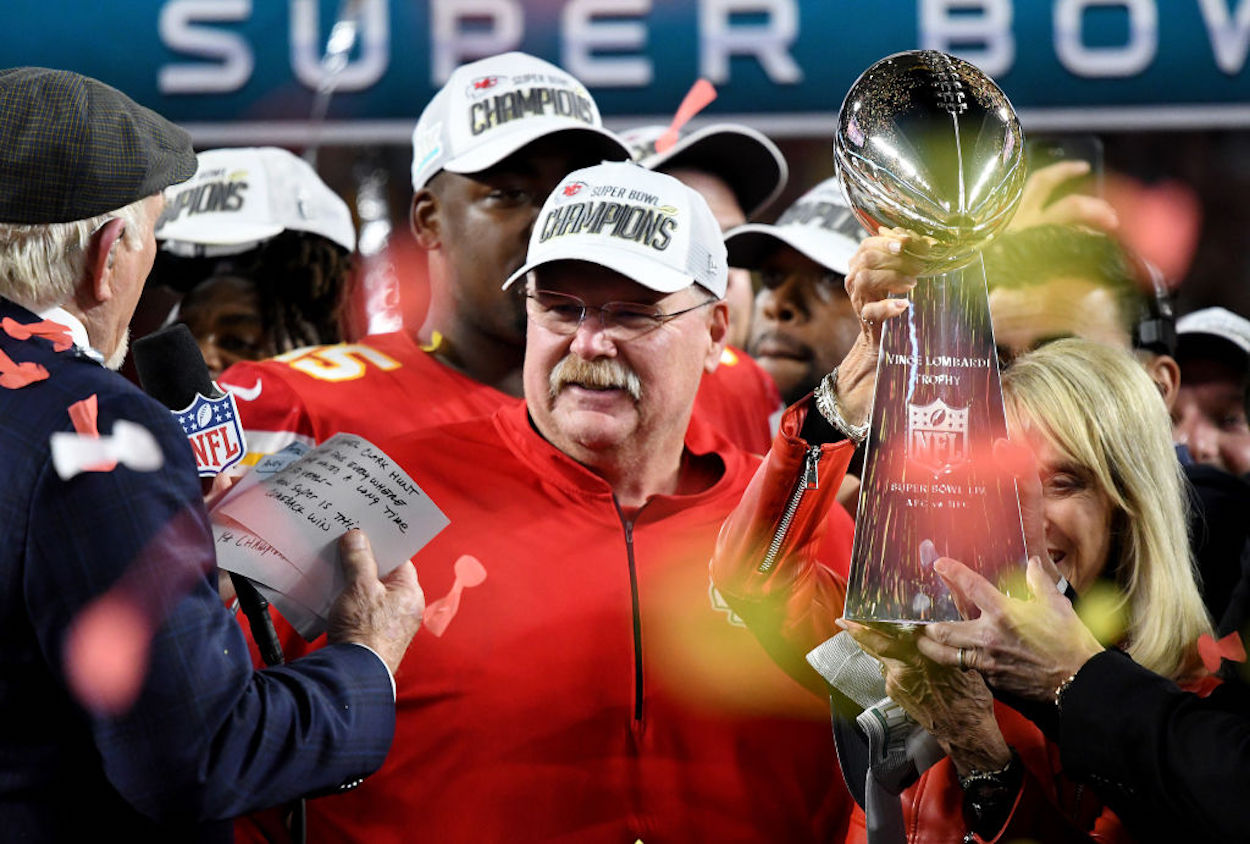 Chiefs Head Coach Andy Reid Already Has His Juicy Super Bowl Victory Meal Planned Out
Super Bowl 55 is still a few days away, but Kansas City Chiefs head coach Andy Reid already has a victory meal in mind.
It's no secret that Andy Reid loves food.
The future Hall-of-Fame head coach is always on the lookout for the best new barbecue joints in Kansas City, and he's made it a habit to enjoy the same juicy victory meal after every big game he wins with the Chiefs. This year will be no different if he triumphs in Super Bowl 55, but Reid will be sure to make it double if the Chiefs bring home their second straight Lombardi Trophy.
Andy Reid is a food connoisseur
Andy Reid is an expert in two things: football and food. When he isn't drawing up a gameplan for the Chiefs' next game, he can probably be found in downtown Kansas City indulging in the local barbecue joints or with his family cooking up a homemade dinner.
The stories about Reid and his love of cuisine are endless. When he was still with the Philadelphia Eagles, Reid once ordered three steaks at a dinner with team owner Jeffrey Lurie and other members of the front office. We'll let Lurie tell the story.
"I have so many, but I'll give you an early one, a really early one," Lurie told Bo Wulf of The Athletic in 2020. "It's the first, second time I think, I ever went out to dinner with Andy. So we order and, you know, go around the table and everyone orders their dish. But Andy asks for three. Three! It wasn't one. It was like, 'I'll have one steak,' or whatever it is. He asked for three. And it was like normal. So it was sort of like, 'OK!'"
In another meat-related instance, Reid devoured a 40-ounce steak in just 19 minutes back in the early 1990s. More recently, he appeared on Food Network's Diners, Drive-Ins, and Dives and treated Guy Fieri to an authentic, Kansas City barbecue dinner.
The longtime NFL head coach loves all kinds of food, but he keeps it simple for his postgame victory meal.
Reid's typical victory meal is a juicy cheeseburger
Over the past few years, Reid has celebrated his biggest wins the only way he knows how — with a big, juicy cheeseburger. After winning his first career Super Bowl last February against the San Francisco 49ers, Reid told Deion Sanders live on NFL Network exactly how he would be spending the night.
"I'm gonna go get the biggest cheeseburger you've ever seen!" Reid said.
Reid's postgame victory meals have led him to yet another Super Bowl appearance in 2021, so he won't be switching up his routine this time around.
Andy Reid already has his Super Bowl 55 victory meal planned out
Leading up to Super Bowl 55, Andy Reid spoke to reporters on Monday about the upcoming game. Most of the questions he fielded were in regards to the game itself, obviously, but one curious reporter wondered if another cheeseburger would be awaiting Reid if the Chiefs knock off the Buccaneers this Sunday.
"There is, yes," Reid responded. "I'll need a double cheeseburger if that happens."
Two patties for two Super Bowl rings. He'll surely deserve it.