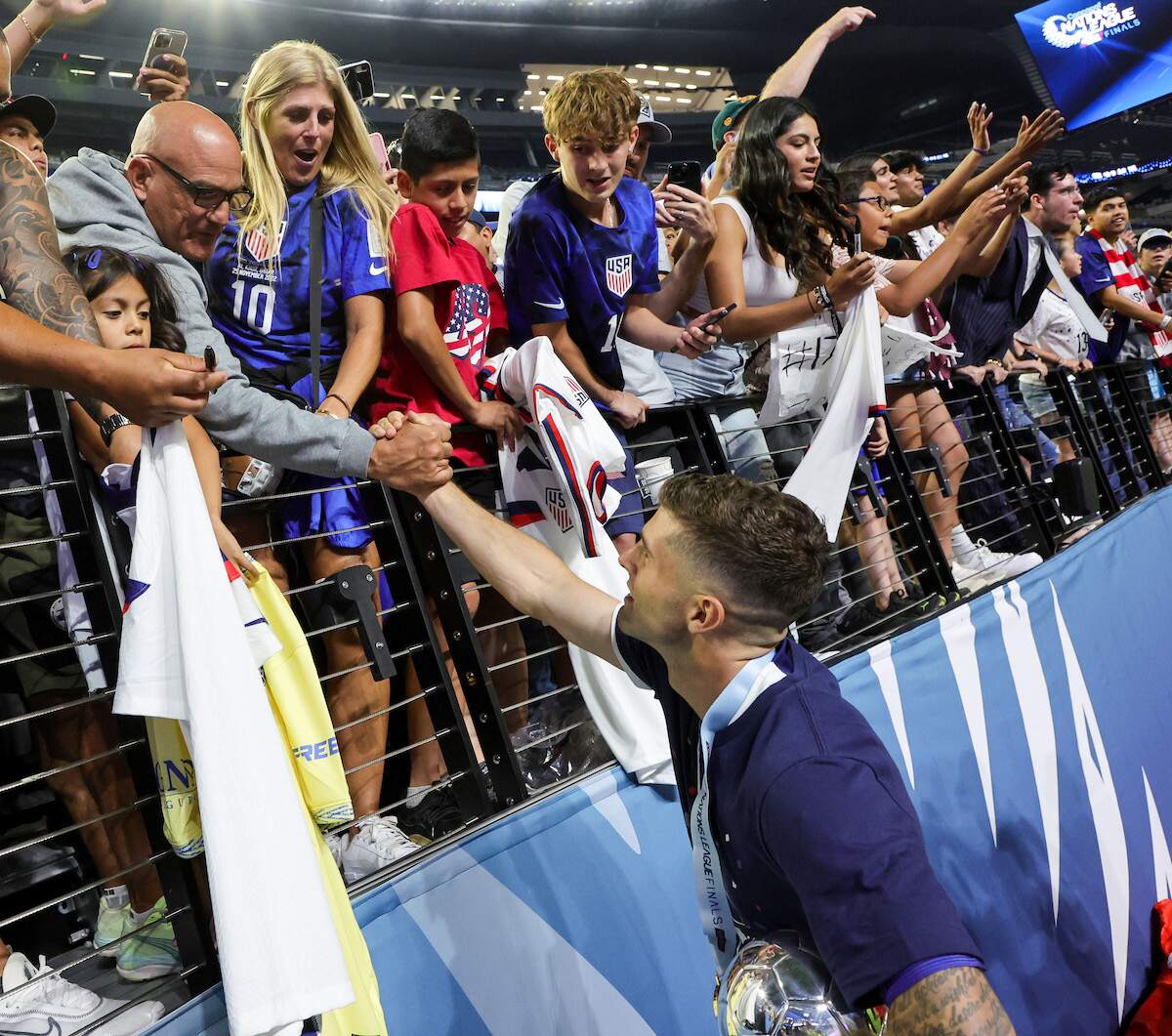 Christian Pulisic's Parents Saw Early Signs of Their Son's Talent, Focused on 'Confidence' as His Soccer Career Grew
Christian Pulisic's parents have shockingly athletic backgrounds, which must contribute to the soccer star's natural talents.
Soccer sensation Christian Pulisic developed a passion for the sport at a very young age. Determined to play professionally, he worked hard to perfect his talent, never giving up on his dream of becoming a world-class athlete.
Christian Pulisic's parents, who both played collegiate soccer, recognized his explosive speed and dribbling prowess but did not push him to become a star. Instead, they focused on their son's confidence in his abilities as his soccer career took off.
Now, at 25 years of age, Pulisic has become one of the most successful American soccer players in European football, capturing a $58 million deal in 2019 to play for the Premier League Chelsea club.
Where is Christian Pulisic from?
The soccer phenom, born in 1998, hails from the land of chocolate: Hershey, Pennsylvania. Before becoming known as "Captain America" in the European football league, Pulisic traveled to England, spending a year abroad with his family.
He was only seven years old when his mother accepted a temporary teaching position in Oxfordshire. He played in the youth division of Brackley Town Football Club in Northamptonshire, England.
The following year, the family moved back to the U.S. to live in Michigan, where his father took a general manager position with an indoor soccer team, the Detroit Ignition. Still in elementary school, Pulisic played for the local soccer team, the Michigan Rush.
When he was 10, the Pulisic family returned to their hometown of Hershey, where the rising star trained at the U.S. Soccer Development Academy Club and with the Harrisburg City Islanders, a local professional soccer club. His career started showing incredible promise. By the time he was 15, Pulisic was training with the U17 U.S. National team.
In 2013, his squad beat Brazil 4-1, and the world took notice of the American soccer player and his promising potential. 
Christian Pulisic parents and brother
Pulisic comes from an athletic upbringing. His cousin, Will, is a goalkeeper for Minnesota United's soccer team.
Both of Christian Pulisic's parents played Division 1 collegiate soccer at George Mason University in Virginia. Pulisic's father, Mark, is a member of the Men's Soccer Hall of Fame at the school. He went on to play eight years of professional indoor soccer for the Harrisburg Heat before becoming a coach.
His mom, Kelley, who played with U.S. soccer star Mia Hamm at the high school level, received a scholarship to play at George Mason and was a "standout defender" for the team from 1989-92. Mason Patriots head coach Hank Leung attributes Pulisic's success to his parents:
"Between the two of them, the boy has inherited the work ethic for sure. He is a blue-blood talent that works like hell. There is no question that comes from mom and dad. The kid came by his athleticism genetically, no question. But the fact that he is worked at, built something and done something with it is a credit to his parents for sure."
In addition to his parents, Pulisic finds inspiration from his autistic brother, Chase. The soccer sensation told the Daily Mail, "Chase has taught me to just enjoy life. The way I see him, he enjoys just doing the simple things. He doesn't have a care in the world and doesn't let anyone's judgment affect him. He inspires me every day. I wish I could be like that at times; how confident he is in himself, it's amazing to me."
The Chelsea striker learned about confidence at an early age. According to The 80 Percent Mental Blog, Christian Pulisic's parents "avoided the temptation to push too hard." As his skills developed and extraordinary talent became evident, they tried to encourage and guide their son. His father explained, "He was always playing up against older kids so I said there was only one thing you can never lose. You always have to play with confidence."
Christian Pulisic college
Pulisic did not take a traditional route, as he never played traditional high school soccer. At the age of 16, the Hershey native was able to obtain a Croatian passport due to his grandfather's heritage. This allowed him to join the Borussia Dortmund club, one of the most successful top-tier clubs in Europe. He moved to Germany and joined the U17 and U19 squads before going professional in the second half of the 2016-17 season.
At 17, he was the youngest American player to participate in a World Cup qualifier.
The young athlete also never played at the college level in the U.S. but once revealed in an interview with Chelsea FC USA, "I'm not sure if I would've wanted to go to college, but a lot of my friends go to Penn State, so I think that would have been a good one."
The Nittany Lions definitely missed out on having a star player represent their school.