Christopher Bell Could Continue to Follow in Kyle Larson's Footsteps in 2023
Christopher Bell has long been compared to Kyle Larson based on the drivers' similar backgrounds in dirt racing before they became stars in NASCAR, and now Bell has a chance to make that link even closer in 2023.
Bell, like Larson, began his racing career at a young age in midgets and sprint cars that raced on dirt tracks. He even replaced Larson as the driver for Keith Kunz Motorsports in the USAC Series in 2013.
Bell won the USAC championship that season, while Larson ran his first full NASCAR season in the Xfinity Series. Larson also won his first NASCAR event in 2013 with a victory over Joey Logano at Rockingham Speedway as a 20-year-old.
Larson finished eighth in the Xfinity Series standings in 2013 and made the jump to the Cup Series the following year. Bell, who is two years younger, shifted to asphalt racing for the 2014 season in a super late model car for Kyle Busch Motorsports.
Larson began to establish himself in the Cup Series with Chip Ganassi Racing but still jumped back to the Craftsman Truck Series occasionally to run its race at the Eldora Speedway dirt track. He finished second in 2013 and crashed out of the 2014 event, but he returned in 2016 and won the race.
Christopher Bell has won certain big dirt races ahead of Kyle Larson
Larson did not compete in the 2015 event at Eldora, but Bell won that race for his first career NASCAR victory. Bell also won the famed Chili Bowl dirt race in 2017, a feat Larson was unable to accomplish until 2020, although Larson then repeated as a back-to-back champion of the event the following year. The pair also made headlines this past December when they both decided to skip the 2023 Chili Bowl to protest the event's small purse.
Bell spent considerably more time in NASCAR's two developmental national series than Larson's one full-time Xfinity Series year. Bell ran two years each in the Truck Series and Xfinity Series before he debuted in the Cup Series in 2020 as the driver of the No. 95 car for the single-car operation of Leavine Family Racing.
Bell managed only two top-five finishes in his rookie season, but his 20th-place points finish was still the best season for any driver in the 10 years the organization competed in the Cup Series.
He moved to the No. 20 car at Joe Gibbs Racing the following year to replace Erik Jones and won his second start with the team in a convincing victory on the Daytona International Speedway road course after he passed Logano with two laps to go.
Larson, meanwhile, was about to embark on a season for the ages, as he moved to the No. 5 car for Hendrick Motorsports after a racial slur he said during an online race amid the COVID-19 pandemic in 2020 left him suspended by NASCAR and fired from CGR. 
Larson dominated the 2021 Cup Series season with a series- and career-high 10 wins and a record-setting 2,581 laps led on his way to his first career NASCAR championship.
Bell flourished in his third NASCAR Cup Series season in 2022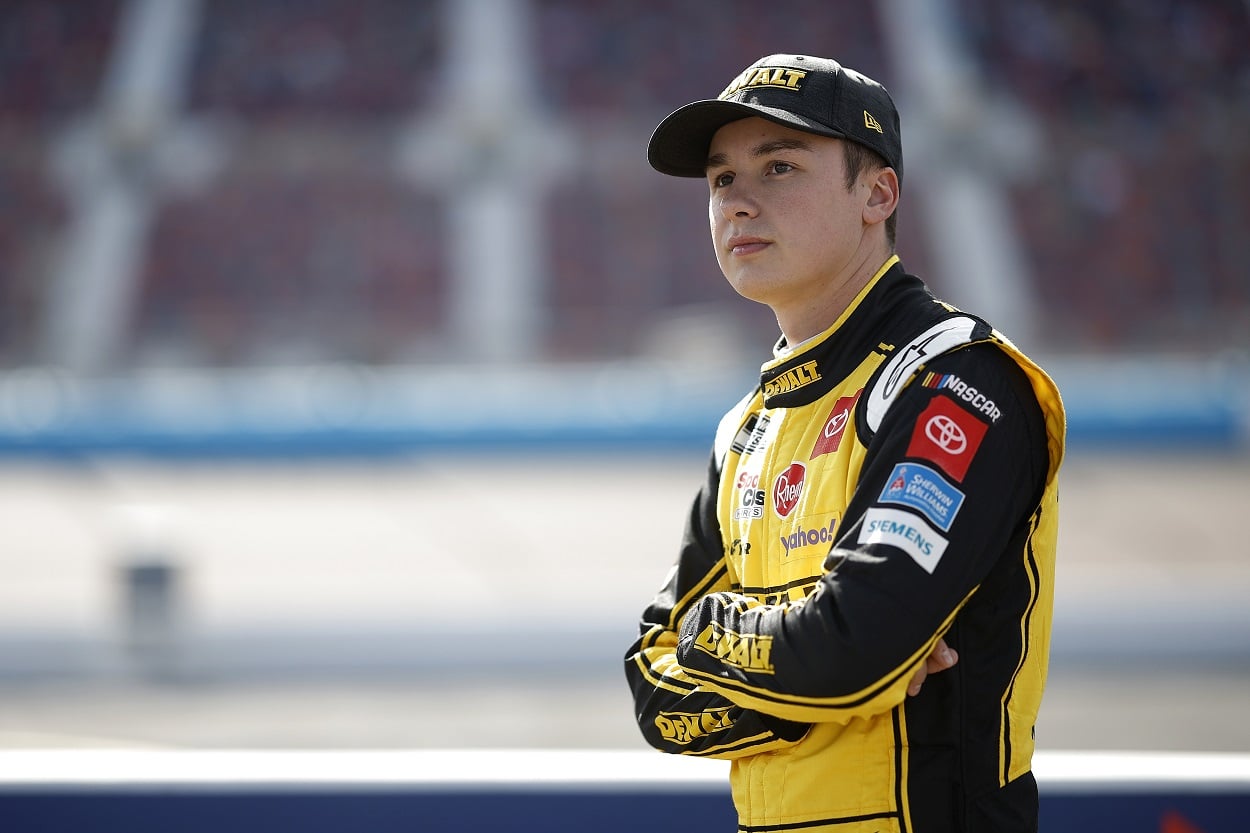 Christopher Bell made the playoffs and finished 12th that season, but his breakthrough campaign came in 2022. He won a career-high three races, including two elimination-race wins during the postseason to get him to his first Championship 4 opportunity.
He finished 10th in the championship race at Phoenix Raceway but showed so much potential that he heads into the 2023 season as one of the favorites to win the series title.
That would be fitting, given how similar his career has been to Larson's. Bell is about to enter his age-28 season, which is the same age Larson was when he opened his 2021 championship quest. It also happens to be the age of Logano when he won his first title in 2018 and Brad Keselowski when he triumphed in 2012.
Bell might have as much momentum as any driver from the end of last season, and he is potentially set to enter the prime of his career with one of the strongest organizations in the sport. He has proven he can win on a variety of tracks, with victories on two road courses, New Hampshire Motor Speedway, and Martinsville Speedway.
He also proved with his two playoff wins that he can rise to the occasion when the pressure is at its peak. If nothing else, Bell shouldn't face any pressure more intense than what he experienced last year unless he has a chance to win the championship late in the season finale at Phoenix.
That is actually a realistic scenario given Bell's potential and the success he has already proved he is capable of producing throughout his three years at the sport's highest level. It would also be quite fitting if the driver most similar to Larson won his first Cup Series championship at the same age.
He might even have to beat Larson himself to do it.