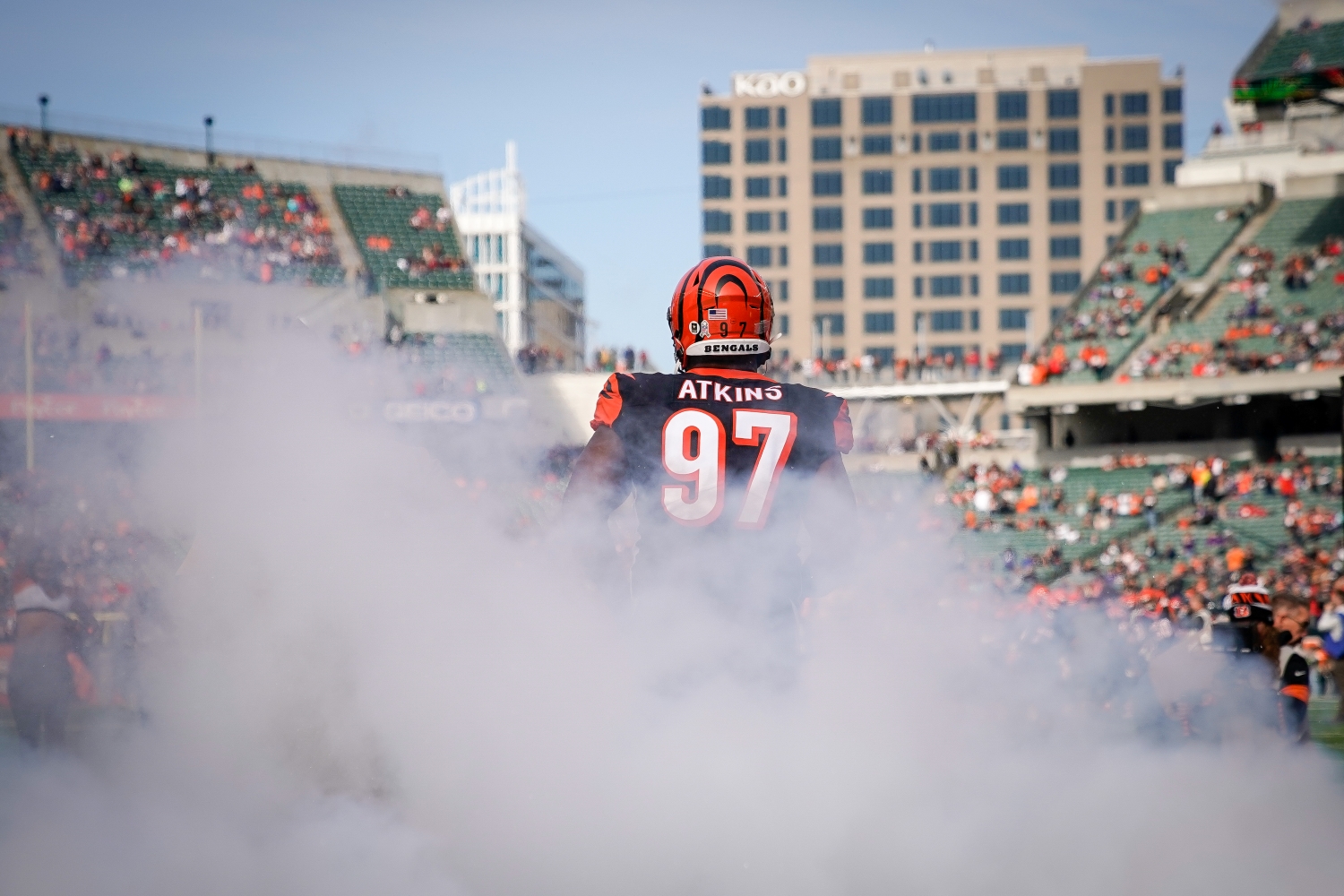 The Cincinnati Bengals Are Officially Parting Ways With a Beloved Icon and Future NFL Hall of Famer
The Bengals will continue their rebuilding effort by moving on from future NFL Hall of Famer Geno Atkins.
The NFL draft isn't an exact science. After all, plenty of future stars fall to the later rounds. And some even get passed over entirely. But for the Cincinnati Bengals, the 2010 NFL draft turned out to be a fine example of how smart scouting can pay off.
Unfortunately for fans of the AFC North franchise, after watching Geno Atkins blaze a path to the Pro Football Hall of Fame over the last decade, they will have to get used to seeing him in a different uniform.
Geno Atkins has far outplayed his NFL draft pedigree
Although he fell to the fourth round, Geno Atkins became one of the best players from the 2010 NFL draft. Despite entering the league with question marks about his build, the 6-foot-1, 300-pound defensive tackle used his leverage, power, and quickness to defeat offensive linemen with regularity during his prime.
After getting selected to the Pro Bowl in just his second NFL season, Atkins earned his first of two first-team All-Pro selections. His magical 2012 campaign included a career-high 12.5 sacks.
From 2015-18, the explosive interior pass rusher completely dominated opposing linemen. During that stretch, Atkins averaged roughly 10 sacks and 22 quarterback hits per season.
Ironically, both Ndamukong Suh and Gerald McCoy, who went second and third overall, respectively, remain well behind Atkins (the 120th overall pick) in terms of career sacks.
Though Suh does have a Super Bowl ring to his name, he falls 11 sacks shy of Atkins' 75.5. McCoy has racked up 59.5 in 139 games.
Needless to say, Cincinnati scored a big-time value hit by taking a chance on the talented defensive tackle.
The Bengals are officially parting ways with the future NFL Hall of Famer
Geno Atkins became a beloved icon in Cincinnati thanks to his strong play for the Bengals and his high character. However, the eight-time Pro Bowler and member of the NFL 2010s All-Decade Team will take his next snap for another franchise.
According to The Cincinnati Enquirer's Tyler Dragon, the Bengals have released Atkins in a move that saves the team $9.5 million. The decorated defender only played 119 snaps last season and did not record a sack.
The 32-year-old joins A.J. Green as a longtime fan favorite who no longer calls Cincinnati home. However, while the star wideout already signed a contract with the Arizona Cardinals, Atkins now faces an interesting journey into free agency.
Sure, his resume should land him a spot in Canton one day. But given his decline in production, age, and recent shoulder injury, he will likely have to settle for a one-year, incentive-laden deal.
Where should Atkins take his talents?
For Geno Atkins, the opportunity to choose his own fate has to be exciting. After all, he never came close to winning a Super Bowl title during his 11-year run in Cincinnati. But now that he's a free agent, he can find the best fit for his services.
So which NFL teams present intriguing potential landing spots for the decorated defensive tackle?
The Kansas City Chiefs could certainly use some help along the interior. A third-down package built around Atkins, Chris Jones, and Frank Clark could completely shut down opposing passing attacks.
Could the New England Patriots cap off their expensive spending spree by convincing Atkins to come chase a ring playing for Bill Belichick? After signing two run-stopping defensive tackles, it would make sense for the Patriots to add a pass-rushing presence to the position group.
In the NFC, the Dallas Cowboys stand out as an obvious fit. Ironically, Jerry Jones signed another member of Atkins' draft class last offseason. However, Gerald McCoy never played a down due to a torn quadriceps tendon. Could the Cowboys try again to fill a hole at defensive tackle by signing Atkins?
Ultimately, the future Hall of Famer will have to decide which franchise gives him the best opportunity to win a ring before he retires.
And even coming off a lost season, Geno Atkins still presents more than enough upside for a team to take a chance on him.
All statistics courtesy of Pro Football Reference.