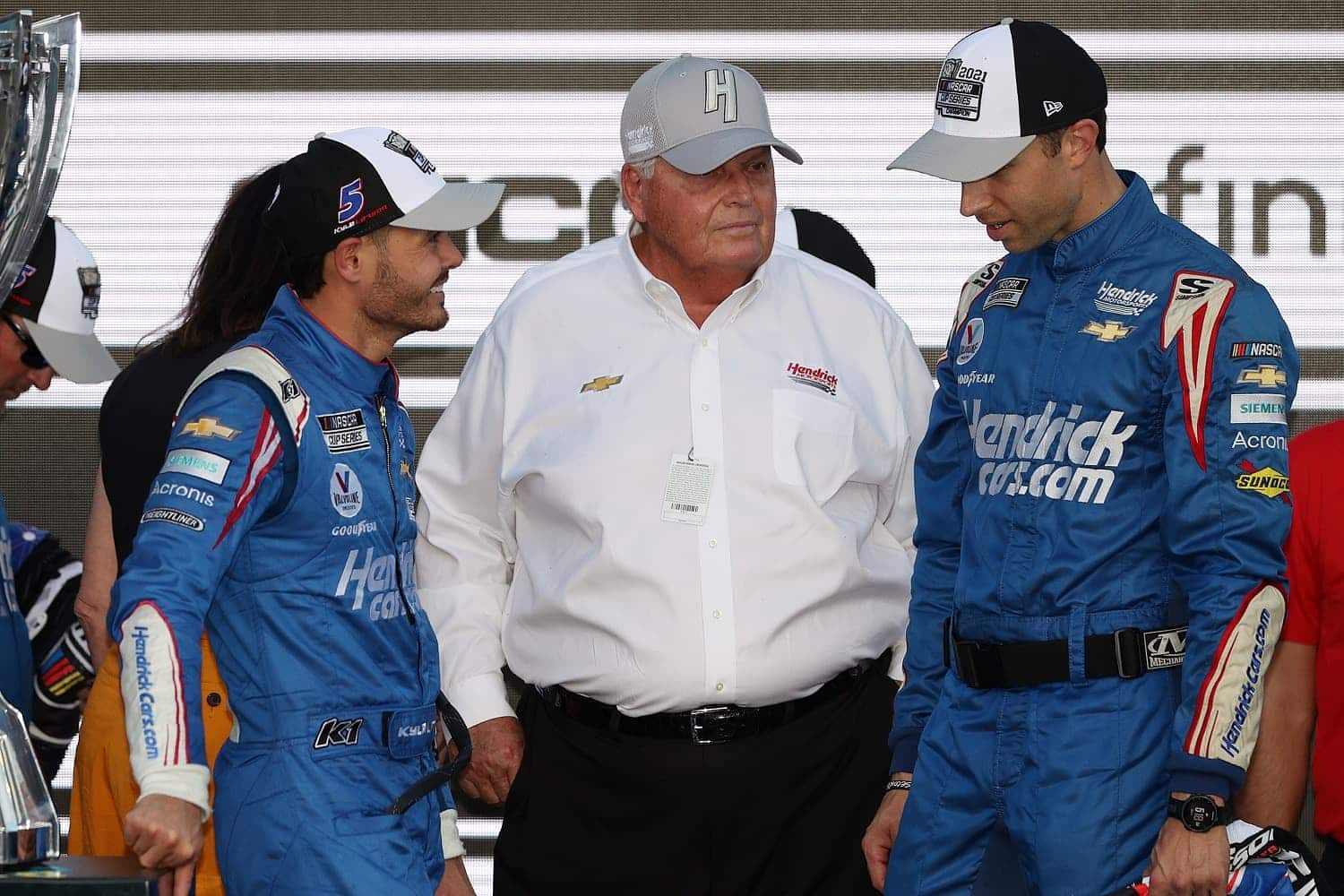 Cliff Daniels Warned Chevy About Ross Chastain, and It Was Just the Opening Salvo
Both Rick Hendrick and crew chief Cliff Daniels dropped mentions of Chevrolet into their comments Sunday as displeasure with Ross Chastain intensified.
Ross Chastain is the dog that chases cars in the street because his owner refuses to keep him leashed in the yard. It's only a matter of time before one of those cars gets him.
The odds suggest it'll be a Chevy that does it. If it's not the car itself, then it might be the manufacturer. Kyle Larson crew chief Cliff Daniels was the first to deliver that message on Sunday at Darlington Raceway, but he wasn't the last.
Cliff Daniels has had enough of Ross Chastain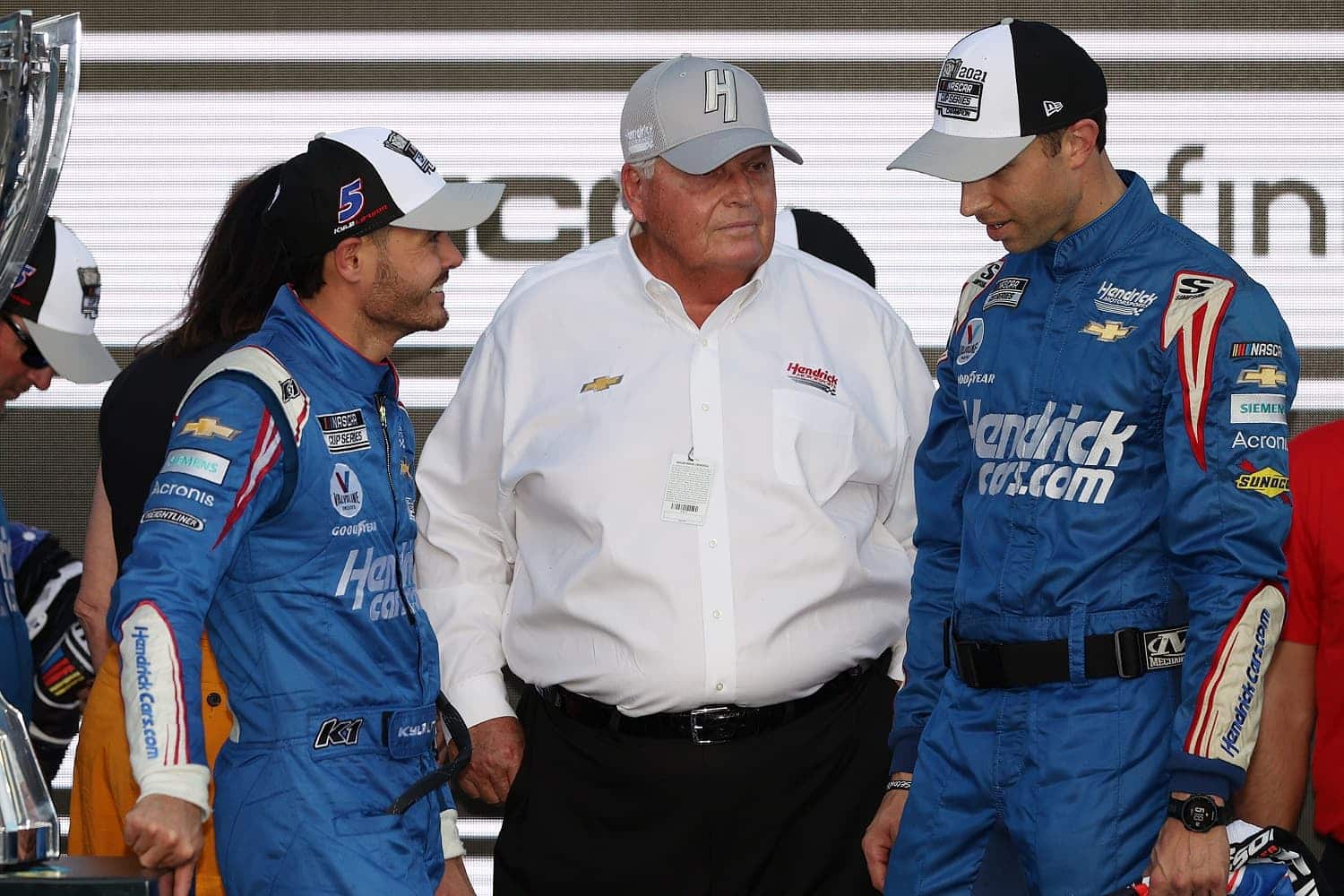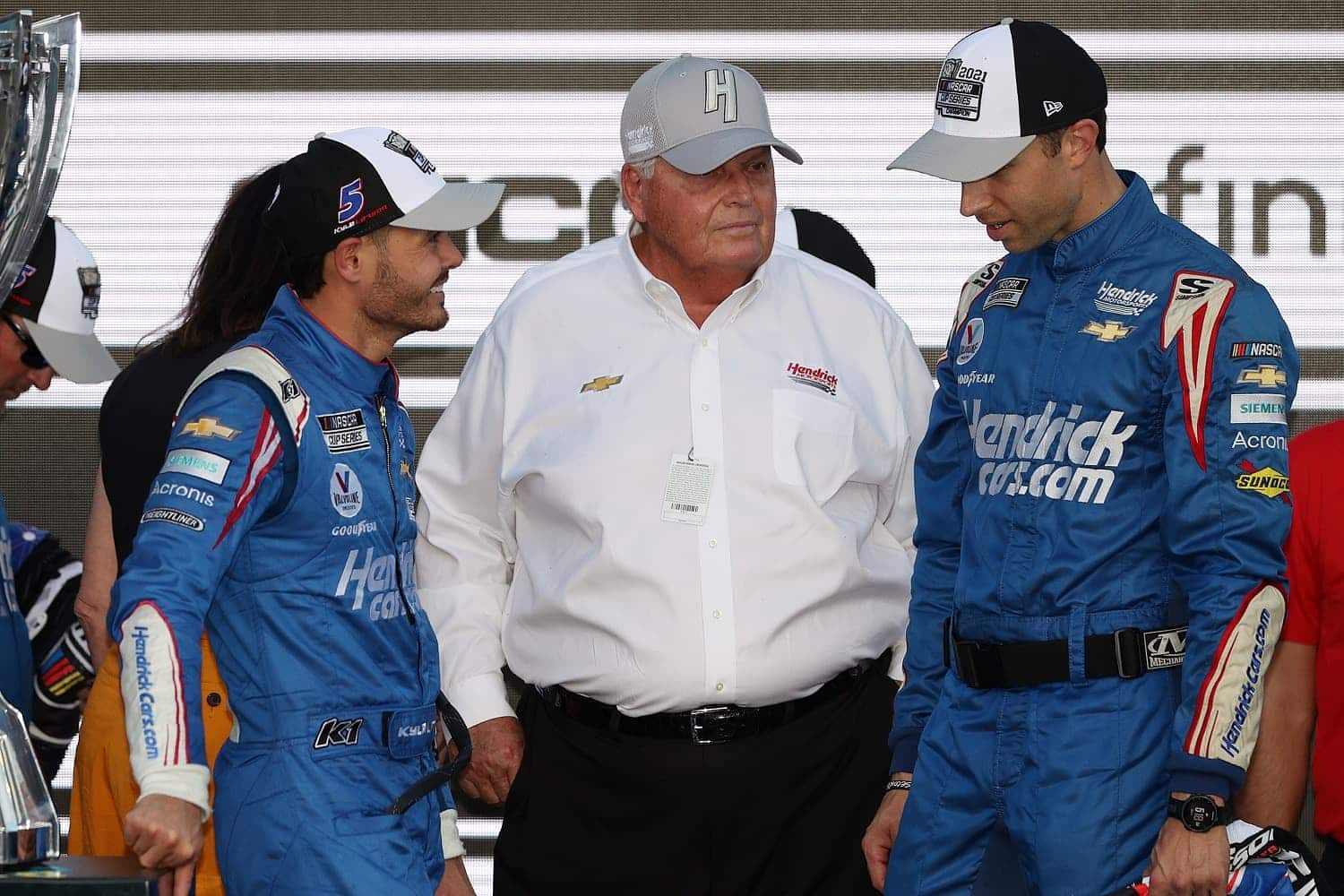 Kyle Larson was in command of the Goodyear 400 at Darlington Raceway when Ryan Newman brought out a caution flag on Lap 266 of the scheduled 293. Late cautions are both a common occurrence and a blight on the sport; they often negate the dominance of superior cars by bringing them back to the pack.
On the restart, Kyle Larson led the field to the green from the inside with Ross Chastain beside him and put the squeeze on the No. 1 Chevy, pinning him on the wall. The move went for naught, as Chastain held a slim lead an instant later when the caution flag waved for a multi-car incident behind the leaders.
On the next restart on Lap 288, it was Chastain's turn to lead from the bottom, and he tried the same move. However, Chastain was more aggressive while running Larson up the track and got the nose of his car too far out front. Consequently, the contact with the No. 5 Chevy turned the front of Chastain's car toward the wall.
The wreck took Chastain out of the race and Larson out of contention, and Hendrick Motorsports crew chief Cliff Daniels was furious.
"Why did he just run us right into the fence? How does that make any sense?" he blurted on the radio. "Make that three races he's taken us out of, Chevrolet. Good job. Good job. That's three races that that '1' car has taken us out of."
The fact that Daniels addressed his remarks to the car manufacturer rather than NASCAR was telling.
Hendrick Motorsports is taking its case to a higher court
It's apparent Ross Chastain would have to step out of his car at the start/finish line and assault a fellow driver with a tire iron in front of a national television audience for NASCAR to take action against him. Not all the incidents involving Chastain the past two seasons have been his fault, but he has caused several of them.
NASCAR has done nothing to Chastain and very little to anyone else. Denny Hamlin got away with intentionally putting the Trackhouse Racing star into the wall at Phoenix in March until he discussed it publicly. To some extent, NASCAR's indifference is understandable since there has been contact in stock car racing since Day 1.
However, Chastain's actions have ruined three recent races for Larson, and his Hendrick Motorsports team is fed up. Larson crew chief Cliff Daniels addressing his radioed remarks to Chevy, the supplier to both HMS and Trackhouse Racing, suggests the Hendrick camp was already contemplating a different approach. Then, the team owner doubled down.
"I don't care if he's driving a Chevrolet if he wrecks our cars," Rick Hendrick told reporters. "I don't care. I've told Chevrolet that. If you wreck us, you're going to get it back. If you don't do it, they'll run all over you.
"I'm loyal to Chevrolet, but when somebody runs over us, then I expect my guys to hold their ground. I'm not going to ask them to yield just because of Chevrolet."
Why Ross Chastain should worry Chevrolet
Eight NASCAR Cup Series teams drive Chevrolets, though Legacy Motor Club is leaving for Toyota. It's not – or at least it shouldn't be – a manufacturer's role to play favorites, but there is an expectation of cooperation and decorum among teams. They share race data each week, and crew chiefs frequently synchronize pit stops at drafting drafts like Talladega.
With four cars, Hendrick Motorsports is the largest Chevy Cup Series team. That and its vast success – a record 296 Cup victories – suggests HMS possesses added clout within Chevrolet Motorsports. If two office phones rang at the same time, Rick Hendrick's call would probably be the one that got answered first.
Ross Chastain is winless in his last 39 starts but is the season leader in points. On the other hand, Larson owns two wins, and Darlington could have been his third or fourth if not for Chastain.
If NASCAR won't stop Chastain from ruining races for Larson – it's happened at Talladega, Dover, and Darlington just since April 23 – then it may be up to Chevy to "suggest" to Trackhouse Racing owner Justin Marks that Chastain's aggressiveness is bad business.
There's already conjecture behind the scenes that Trackhouse and Chastain may be wrestling with an unrelated issue that could conceivably cost them money. The last thing their garage needs now is to add a frosty relationship with their supporting manufacturer to the list of worries.
Got a question or observation about racing? Sportscasting's John Moriello does a mailbag column each Friday. Write to him at [email protected]