A Longtime Co-Worker Credits Chase Elliott's Parents for the Hendrick Motorsports Star's Rapid Climb to Cup Series Stardom
Chase Elliott was no overnight sensation upon arriving in the NASCAR Cup Series. In fact, it took him 99 starts at Hendrick Motorsports to score his first victory. His 18 victories in the last 163 tries are an indication he's gotten the hang of the job.
Elliott is a prime candidate to spend his entire driving career at HMS. It's the sign of a job well done by the man who guided him through pivotal portions of his career. But Lance McGrew points to the driver's upbringing for giving him a great prospect to mentor.
Hendrick Motorsports veteran Lance McGrew just retired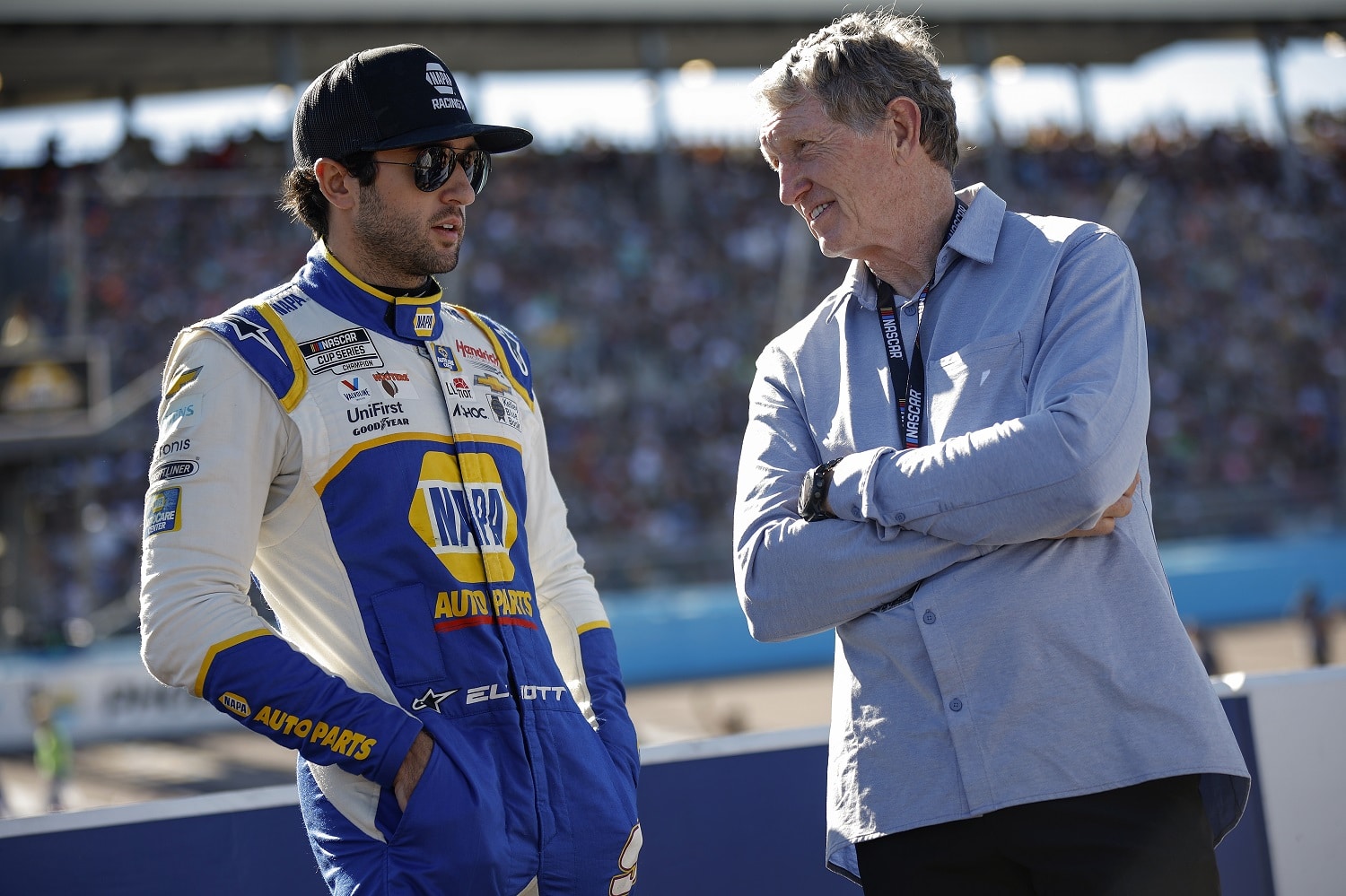 Kyle Busch's journey to a record 102 Xfinity Series began in 2004 with five victories alongside crew chief Lance McGrew. That season proved to be McGrew's springboard into the NASCAR Cup Series as a crew chief for Brian Vickers, Brad Keselowski, Dale Earnhardt Jr., and Mark Martin from 2005-11.
"Everybody brought something to the table," McGrew said on the Hendrick Motorsports website. "I enjoyed working with the younger guys and watching them grow up."
Those were the last Cup Series assignments for McGrew, who retired from Hendrick Motorsports this month after 23 years, but there was one more driver to guide to Victory Lane: Chase Elliott.
Elliott has proven to be one of McGrew's big success stories while working for the winningest Cup Series team in NASCAR history. The son of NASCAR great Bill Elliott has won 18 times in the sport's top series and possesses titles in the 2014 Xfinity Series and 2020 Cup Series.
Lance McGrew credits Chase Elliott's parents for the driver's success
After a slew of assignments as the crew chief for Hendrick Motorsports Cup Series drivers, Lance McGrew was asked to work with prospect Chase Elliott. The Georgia teen's father, known to a generation of fans as Awesome Bill from Dawsonville, was a Cup Series champion in 1988 and placed in the top four seven other seasons, and now Chase was following in his footsteps.
Elliott was 16 and had already raced parts of two seasons in the X-1R Pro Cup Series and one in the K&N Pro Series when HMS management assigned McGrew to work with him beginning with the 2012 ARCA Menards Series. He finished in the top five in half of his six starts and graduated to the 2013 Craftsman Truck Series. There, Elliott promptly recorded six straight top-six finishes, culminating in a win at Canadian Tire Motorsport Park over a field that included Bubba Wallace, Ross Chastain, and Ryan Blaney.
Even at Elliott's young age, McGrew identified him as a future Cup Series star.
"It wasn't just his driving ability. I have to pat Bill and Cindy (Elliott) on the back because he's just so mentally tough; he never got rattled. That mental toughness, especially when you are having a bad day, it's incredible that someone could be that focused and that skilled but still not on the ragged edge."

Lance McGrew
McGrew came off the road after the 2013 season and spent his final nine seasons in the HMS shop. Most recently, he was a production manager for the team's division responsible for selling race-ready cars to clients.
Chase Elliott wasn't Lance McGrew's favorite driver
For all the fun Lance McGrew had helping teach Chase Elliott the NASCAR ropes, it was a driver from more than a decade earlier who proved to be his favorite.
Not long after arriving at Hendrick Motorsports in 1999, McGrew became the crew chief for Ricky Hendrick, the son of the team owner. Hendrick scored his only NASCAR win in Kansas in the 2001 truck series, and McGrew remained alongside him in the following season's Xfinity Series before switching off to work with Brian Vickers on his way up to the Cup team.
"We were boys," McGrew said of Hendrick. "We hung out all the time and did stuff together outside of racing. He was probably my favorite one to work with."

The memories from those days were plentiful, but so many other drivers and co-workers came along in the ensuing two decades.
"The people that have come and gone," he said. "Places you've been to and seen outside of the racetrack. It's just too many good times to remember."
Got a question or observation about racing? Sportscasting's John Moriello does a mailbag column each Friday. Write to him at [email protected]