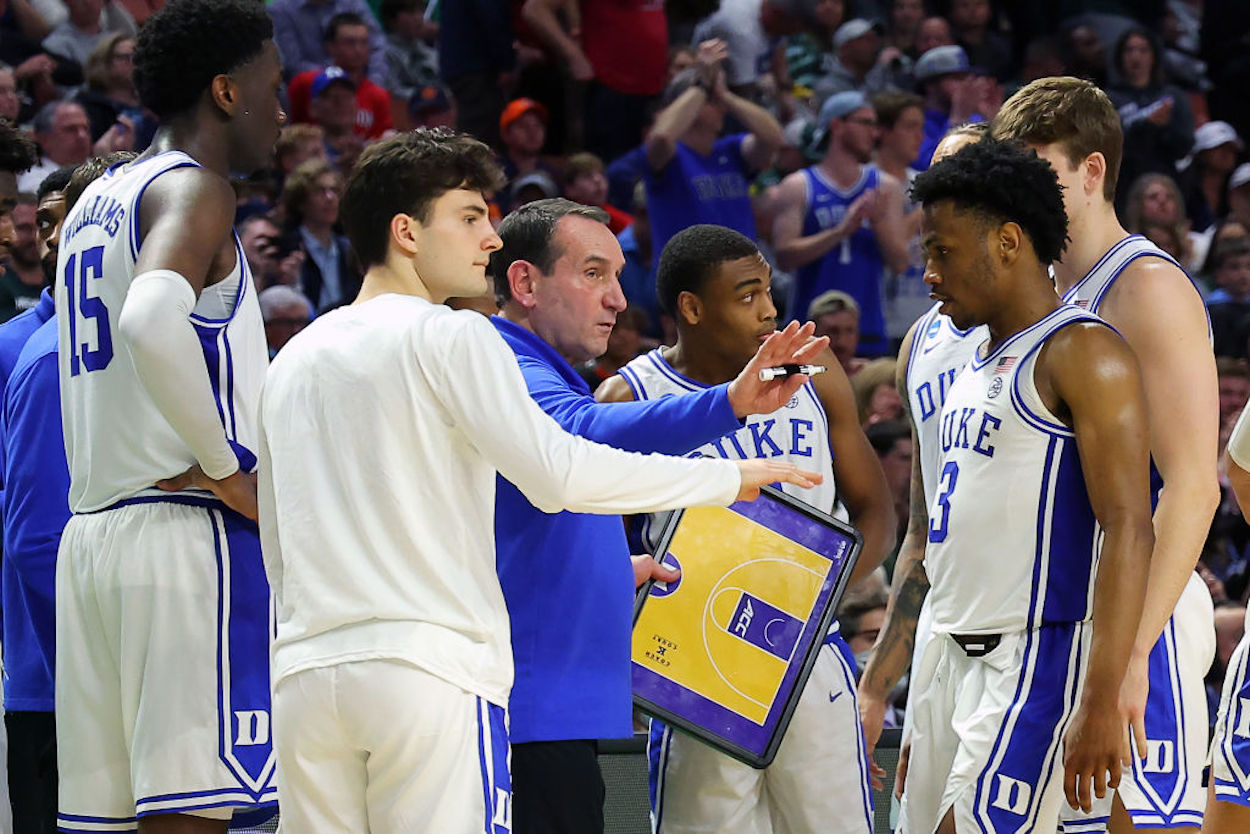 Coach K Is Using a Lesson from the Dream Team to Prepare for Duke's Final Four Date With UNC
With his career on the line, Coach K is going back into the history books and leaning on a lesson he learned from Chuck Daly as a member of the Dream Team.
At this point in his life, Coach K has taken charge of more than 1,500 games. It's possible, however, that the biggest moment of his career is still to come. On Saturday, April 2, his Duke Blue Devils will meet the UNC Tar Heels in the Final Four. Ahead of that meeting, though, Krzyzewski has no time for thoughts about rivalry or revenge.
With more than 40 years of experience under his belt, there are plenty of lessons the legendary leader can cite. Ahead of Saturday's clash, Coach K is digging deep into his memory banks and citing a conversation with Chuck Daly during their time with the Dream Team. While it has nothing to do with college basketball, it could hold the key to Duke's postseason success.
Duke's Final Four date with North Carolina feels like something out of a movie script
If you've ever watched a sports movie, you'll know there's usually somewhat of a formula. The team in question suffers a setback but uses it to grow together before a final rematch for all the marbles. Coach K's final Duke season seems to be following that script.
For those who haven't been following, Krzyzewski announced that he'd be retiring at the end of the 2021-22 campaign, resulting in a season-long celebration of his iconic career. The biggest tribute was expected to come after his final game in Cameron Indoor Stadium. There was only one problem: the UNC Tar Heels won that game, spoiling the party. Beyond the pain of losing to the school's arch-rival, it led to an awkward situation where Coach K had to apologize for his team's poor performance before receiving some gifts and making a speech of his own.
While the Blue Devils didn't immediately turn things around — they won some ugly games at the ACC Tournament before falling at the final hurdle — the young squad seems to have hit its collective stride. Thanks to strong performances against Texas Tech and Auburn, Duke is back in the Final Four and within touching distance of giving Krzyzewski a fairy tale send-off.
That's where the drama comes in.
As you surely know by now, Duke now has to play North Carolina next. It seems like something out of a cheesy movie, with the Blue Devils out for revenge and the Tar Heels looking to play spoiler and end Coach K's career. No matter which side you're on, it's quite possibly the biggest college basketball game ever.
Coach K is using a lesson Chuck Daly taught him as a member of the Dream Team's staff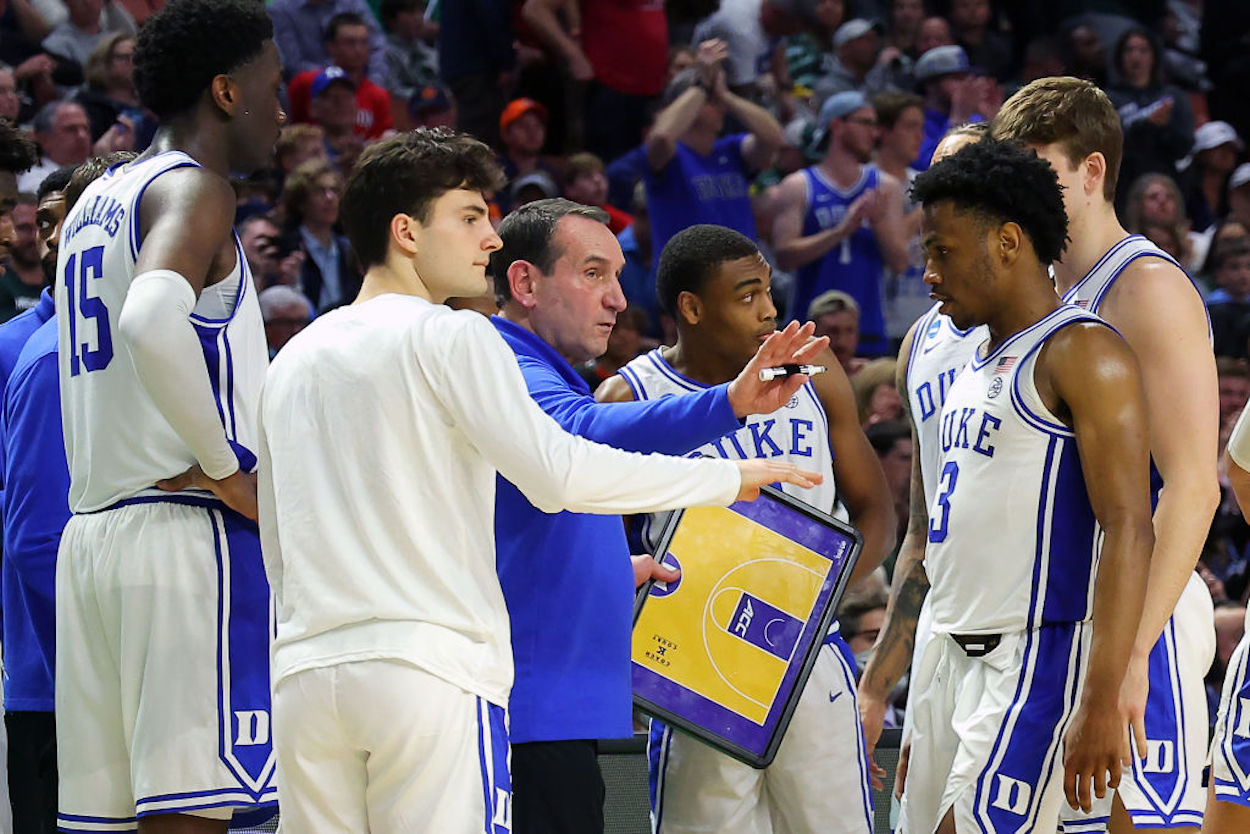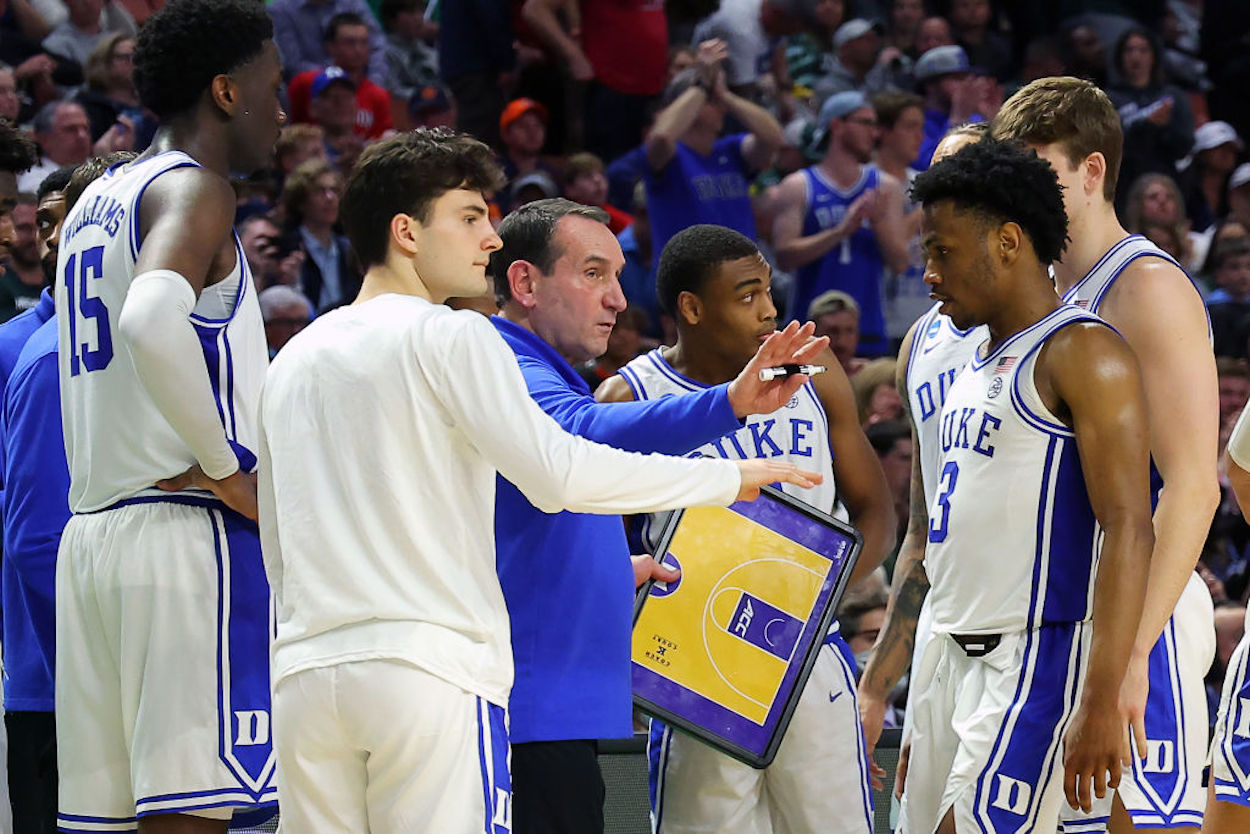 At this point in his career, Coach K has seen and done just about everything possible. As the Final Four approaches, though, he's leaning on a lesson he learned from someone else.
"Chuck Daly, God bless him, he was one of the great guys," Krzyzewski explained during his pre-Final Four press conference, as seen on Duke's official website. "And he gave me an opportunity, and P. J. [Carlesimo], to be assistants with Lenny Wilkens on the Dream Team. And I can remember, one of our first meetings, P.J. and I come in with notebooks and whatever, and he said, 'Cool it.'"
When they asked Daly what he meant, the head coach explained that his assistants needed to adopt a new mindset. As college coaches, Krzyzewski and Carlesimo were used to being hands-on and grappling with every single detail. On the sport's biggest stage, though, things worked differently.
"He said, 'You two guys, you need to embrace a word for the rest of the … you can embrace a bunch of words, but the one I want you to embrace is "ignore." Do not pay attention to everything,'" Coach K recalled. "The ability to ignore noise is a big thing."
While that might seem like a classic cliche used to avoid providing any bulletin board material, Duke's bench boss appears to be putting his money where his mouth is. Earlier in the press conference, he provided some context about the mindset the Blue Devils were adopting during their preparations.
"You can't go into the Final Four just thinking rivalry, payback, or any of those things," he explained. "You gotta go in and think, 'We want to win a championship.' … It's gotta be looked at as you're playing for, we got four teams playing for a national championship. And that's how I'm looking at it."
Coach K's experience could be Duke's biggest advantage in the Final Four
When you look at sports from afar, it's easy to reduce things to a tactical battle, with coaches making adjustments like a game of chess. In reality, though, the games are played by real human beings, complete with hopes, fears, and the full gamut of emotions. That's especially apparent in the NCAA ranks where, quite literally, many players have never 'been there, done that.'
On paper, that could seem like a disadvantage for Duke. They seemed unable to handle the pressure during the regular-season finale and have a younger roster than the Tar Heels. That, however, is where Coach K comes in.
At the most basic level, a coach's job is to bring the best out of their players. While that usually manifests in tactical choices — think installing a defensive system, running plays, and creating an overall game plan — things can also be a bit less tangible. For Krzyzewski and his squad, it will be about handling the moment. Don't get overwhelmed or caught up in the pageantry of the occasion; keep an even keel as both teams inevitably go on scoring runs.
The Blue Devils may be young and inexperienced, but they have arguably the greatest coach in NCAA history at the helm. As his Chuck Daly anecdote illustrates, he's quite literally done it all, ranging from working alongside Michael Jordan to navigating an ever-changing NCAA landscape. And, to cap things off, he's won more than 1,000 basketball games along the way.
Given the storylines around Saturday's game, it's going to be pretty tough for either program to completely ignore the noise. If anyone has the experience to do the impossible, though, it's Coach K.