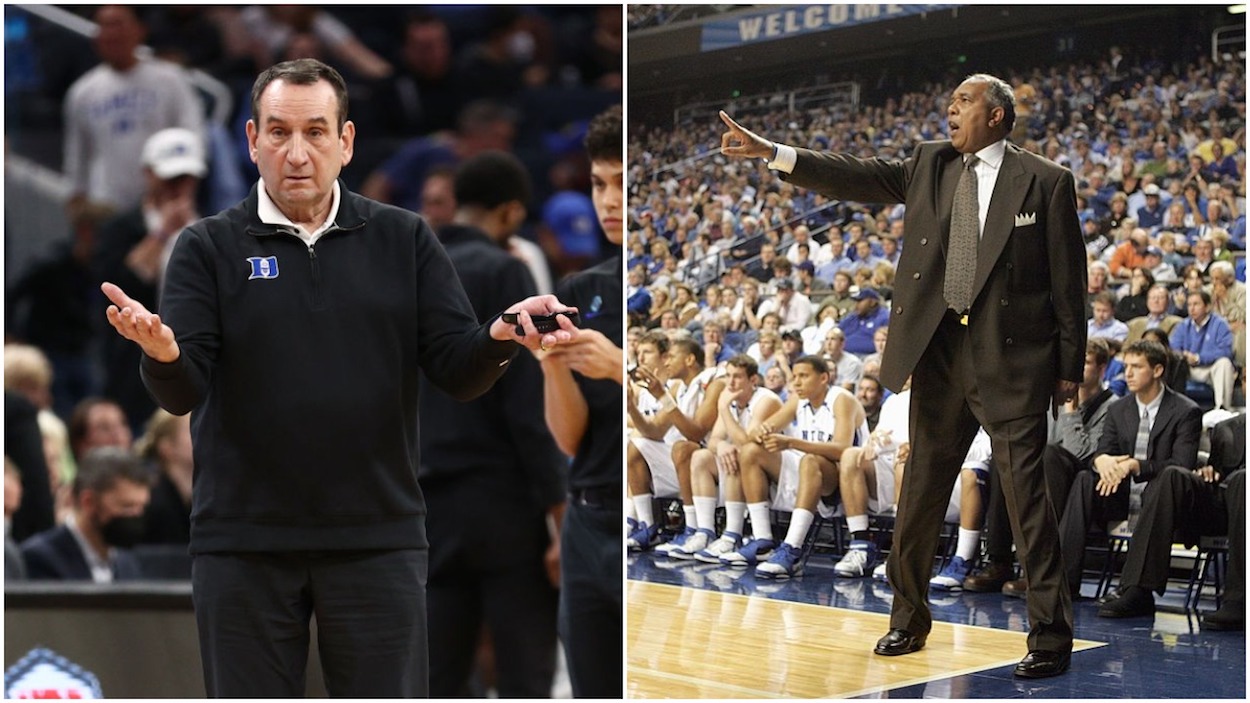 Coach K's Duke Career Could Look Quite Different Without an Accidental Assist from Tubby Smith
If Tubby Smith didn't accidentally drop the ball on the recruiting trail, Coach K's Duke career could have turned out much differently.
With his career coming to a close, Coach K's legendary resume will continue to be the talk of the college basketball world. With all respect to West Point, Krzyzewski's time with the Duke Blue Devils has put him near the top of any GOAT rankings. Even if you can't stand the sight of the 75-year-old, it's tough to argue with 5 NCAA titles, 13 trips to the Final Four, and more than 1,000 wins with a single program. One of those championships, however, owes an assist to the combination of fate and another college basketball coach.
During the run to the 2001 title, Duke was led by a young Jay Williams. The guard, however, could have been playing for the Kentucky Wildcats if Tubby Smith didn't drop the ball during a recruiting call.
Coach K benefited from Tubby Smith's mistake while recruiting Jay Williams
Although a motorcycle accident ruined his NBA career, Jay Williams proved to be a dominant player at the NCAA level. While he made a name for himself in Durham, the guard could have been playing his college ball in the SEC with Kentucky.
"I'm being recruited, and Tubby Smith is my guy," he explained during a recent appearance on ESPN Radio. "I'm like, 'Man, like, Kentucky wants me. This is crazy. I'm gonna go to Kentucky. I may go to Kentucky. This is insane.' And we're on a [recruiting call] with Tubby, and the conversation's going great for 35 minutes. And, I'm looking at my dad, I'm on one phone with the cord around the corner … and I'm like walking in, seeing my dad's face, he's smiling. I'm like, 'This may happen.'"
There was still time for there to be a bump in the road, though.
According to Williams, his father made sure to ask about the program's graduation rate before concluding the call. Smith said that he'd have to get back to him on that, which the teenager thought was a pretty good answer. His dad, however, was less than happy.
"And I watch my dad go from, like, 'This is gonna happen,' to, like, 'Ain't no way in hell this is gonna happen,'" the former guard recalled. "And then I don't go to Kentucky. So, that's how it happened."
Without that less-than-ideal answer, Coach K probably doesn't win the 2001 NCAA title
Sometimes, it can be tough to trace a chain of events outward from a single, hypothetical starting point. In the case of Jay Williams' recruitment, though, things seem pretty cut and dry. If he had ended up in Kentucky, Coach K probably would have four championship rings to his name rather than five.
As (somewhat) stated above, Williams is quite removed from his playing career. His last meaningful basketball came during a tough 2002-03 NBA season as the rookie tried to adjust to life with the Chicago Bulls. His lack of professional success, though, shouldn't overshadow just how good he was with the Duke Blue Devils.
Williams slotted right into Coach K's rotation as a freshman, averaging 14.5 points and 6.5 assists per outing. While those numbers were already impressive, the guard still had room to improve. During his second season on campus, he averaged 21.6 points and 6.1 assists per game as he led Duke to a title. The New Jersey native was truly a do-it-all guard, capable of driving, shooting, and assisting with equal ease.
Now, let's imagine what would have happened if Williams had committed to Kentucky. While the big-picture consequences are plain to see — it doesn't take elite basketball analysis to conclude that a team would be worse without the 2002 Naismith Award winner on the roster — the implications become even more significant when you look at the 2001 NCAA Tournament. (And, for the sake of ease, let's assume that only March Madness, not regular-season results or overall seeding, was affected by Williams playing for UK.)
That year, Duke found itself in the East region and cruised to the Final Four, comfortably defeating Monmouth, Missouri, UCLA, and USC en route to Minneapolis. While that might make Williams seem irrelevant — it's not like the Blue Devils were gutting out wins with the guard nailing game-winners — things probably would have been tougher without the young star averaging 25.6 points per contest during the tournament. Then, there's the rest of the bracket to consider.
By coincidence, the Wildcats were also in the East region but narrowly lost to USC in the Sweet 16. If they had the tournament's leading scorer on their roster, it's easy to imagine that they could have made up the four-point margin and advanced to an Elite 8 date with Duke.
If we take a further look at Kentucky's roster, Williams would have probably bumped Gerald Finch out of the starting rotation. While systems obviously affect the box score, J-Will averaged 12.7 points and 4.5 assists more per outing than his UK counterpart. It's also reasonable to assume that he probably would have helped Tayshaun Prince improve his stat line. In an alternate timeline, Williams and Prince could have been the SEC equivalent of Williams and Shane Battier.
If you bleed Duke blue, though, you could argue that the ACC squad possessed plenty of talent beyond Williams. Battier actually claimed the NCAA Tournament's Most Outstanding Player crown that March; perhaps he would been even more dominant if he was asked to be the top option. Carlos Boozer was also a capable big man, and a young Mike Dunleavy Jr. provided some inside-out offense.
While those are valid objections, it's tough to overstate just how good Williams was during his time in college. A single-elimination tournament also places added importance on having a player who could take over a game. If Duke and Kentucky met in that Elite 8 and the guard was at his best, no amount of Coach K game-planning would have made a difference.
Now, let's say that Duke did lose to the Wildcats. That would have meant Krzyzewski had blown golden opportunities to win championships in 1998, 1999, 2000, and 2001. Again, if we assume that there's no further butterfly effect, Coach K would have gone almost 20 years between his third and fourth titles. Maybe he's labeled a choker or, to borrow one of Mike Francesa's preferred phrases, "a compiler," meaning his success was more due to longevity than anything else.
Either way, though, his career probably looks quite a bit different without that 2001 ring. Who know, maybe a string of postseason failures would have been punishing enough to inspire the coach to look for greener pastures in 2004.
When he finally rides off into the sunset, Mike Krzyzewski will have plenty of people to thank for his success over the years. Based on Jay Williams' story, Tubby Smith deserves to be one of them.
Stats courtesy of Sports-Reference