College Football Fans Tell Danica Patrick to Stay In Her Lane After Ridiculous 'Analysis'
Retired NASCAR and IndyCar driver Danica Patrick made embarrassing gaffes in discussing Big Ten football teams on ESPN's 'College GameDay.'
You would think that Danica Patrick might have learned a little something about football during all that time hanging out with Aaron Rodgers, right?
Then again, she slyly picked Stanford to beat Cal. That means she may have at least read Rodgers' Wikipedia page and picked up a little football knowledge, even if she apparently can't tell the difference between the Big Ten and the Big Dipper.
ESPN put Danica Patrick on the air as a guest picker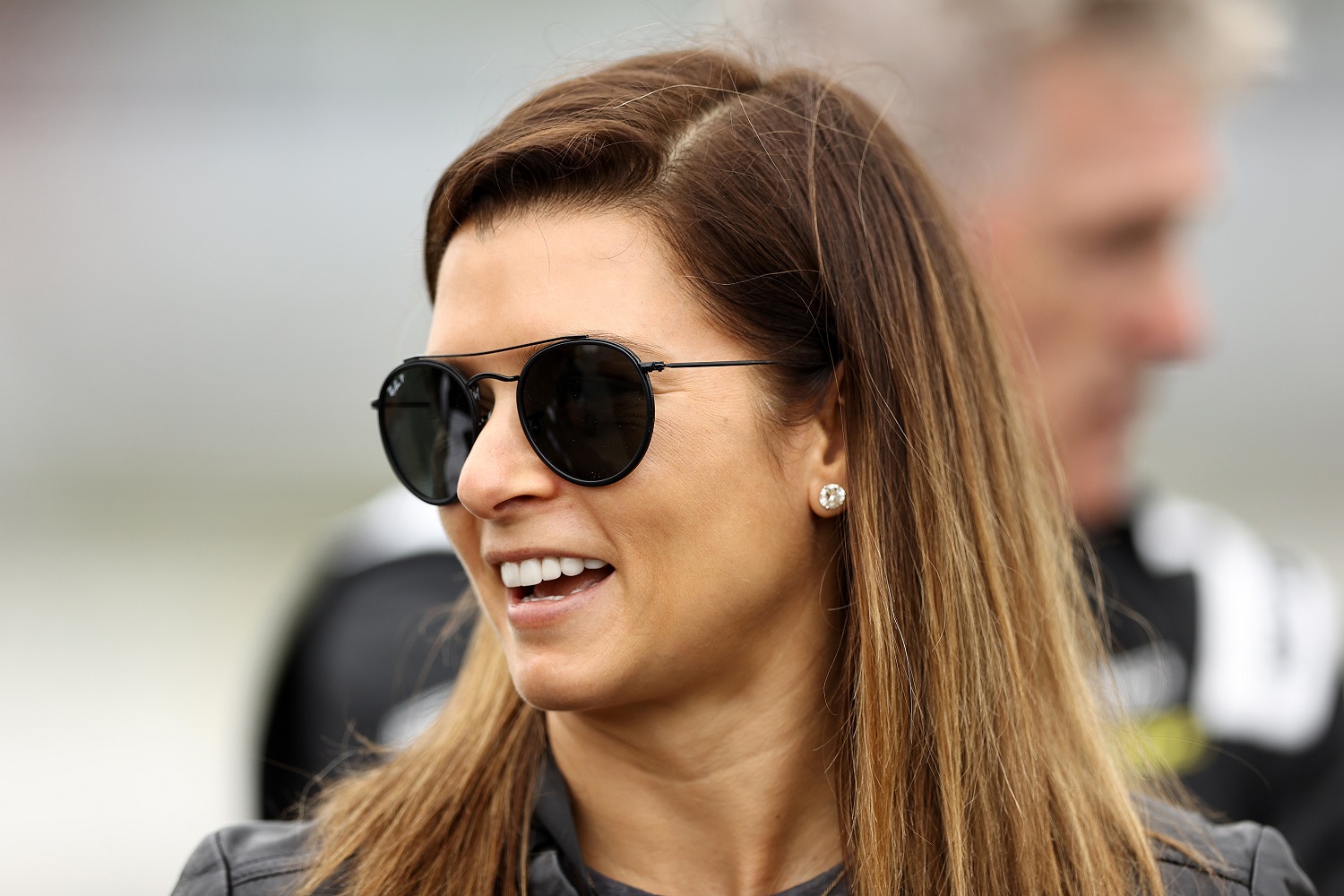 Retired IndyCar and NASCAR driver Danica Patrick turned up on ESPN on Saturday as the guest picker for the network's College GameDay show in Chicago ahead of the contest between Notre Dame and Wisconsin.
The celebrity picker segment is one of those gimmicky elements that the cable network uses in lieu of actually interesting and/or informative content. However, the pregame show gives ESPN another bit of programming to sell commercial time at a higher rate than for the American Cornhole League.
Actor Ashton Kutcher served as the guest picker two weeks earlier with the same level of connection (none) to college and pro football, save for the fact that he portrayed a retired semi-pro player on The Ranch, a Netflix series.
With College GameDay anchored at Penn State last weekend, ESPN made the reasonable choice of New York Giants running back Saquon Barkley, a former Nittany Lion, as the guest prognosticator.
College football fans tell Danica Patrick to stay in her lane
Danica Patrick's expertise in sports is in auto racing. She drove IndyCars from 2005-11 and in the NASCAR Xfinity and Cup Series from 2010-18. She won just one of 368 career starts on the three circuits.
That's not an impressive resume. Yet, she was better off sticking with driving cars than picking college football games. It's not so much that she botched predictions as it was her utter lack of familiarity with the fact that it's possible for states to have more than one major university.
Patrick showed her unfamiliarity with The Big Ten by confusing Michigan State with Michigan and talking about Ohio when she meant Ohio State, and Twitter lit her up for it.
A sampling of comments:
"I wouldn't have a problem with the choice if she had even a remote understanding of college football. It's embarrassing."
"Really disappointed with Danica Patrick. Zero value added to today's show. She said "I'm going with Michigan" for Michigan State. Who does that?"
"I knew she would be an irrelevant train wreck, but this is brutal."
Dating Packers quarterback Aaron Rodgers was her slim connection to football
Arguably the one redeeming aspect of Danica Patrick's appearance on College GameDay came when it was time to pick the winner of Stanford vs. UCLA.
"I can't tell you my reasons, but I really like Stanford to win today," Patrick said.
Maybe it wasn't her intent, but that came off sounding like a subtle shot at Green Bay Packers quarterback Aaron Rodgers, who played his Division I football in Berkeley at the University of California, the Cardinal's rival.
Patrick and Rodgers dated from 2018 to sometime in 2020. Rodgers is now engaged to actress Shailene Woodley, while Patrick is dating Carter Comstock, the co-founder of Freshly, Inc.
By the way, UCLA defeated Stanford, 35-24. So, if the pick was a shot at her ex, then Rodgers gets the last laugh.
All stats courtesy of Racing Reference.