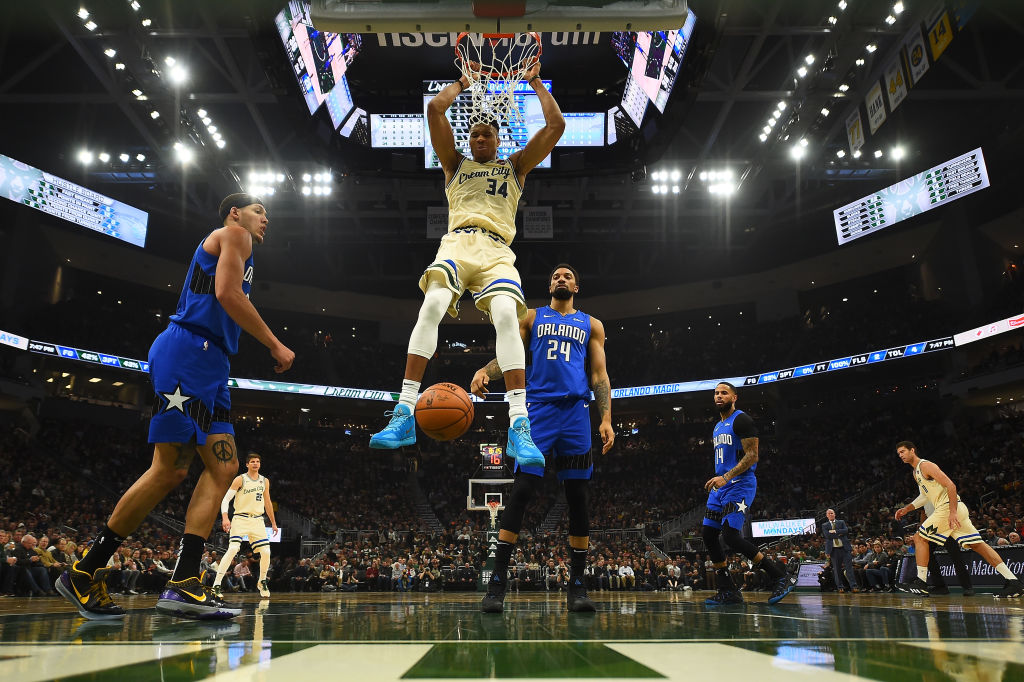 What Does David Blatt Mean for New York Knicks' Dream of Signing Giannis Antetokounmpo?
Every team in the NBA is hoping for a chance to land Giannis Antetokounmpo if he hits free agency. That includes the New York Knicks.
In the current NBA, the New York Knicks and Giannis Antetokounmpo exist on opposite ends of the spectrum. The former is a floundering franchise, seemingly unable to get out of its own way; the latter is one of the league's most dynamic players, who's capable of stuffing the scoresheet on any given night. While Giannis is way more exciting than the Knicks, the two could possibly join forces in the future.
While Mike Miller is currently on the sidelines for New York, former head coach David Blatt recently joined the team as a consultant. What could that addition mean for the Knicks' chances of luring Antetokounmpo to the Big Apple in free agency?
Using Jason Kidd to bring Giannis Antetokounmpo to New York
After firing David Fizdale in early December, the New York Knicks have been without a permanent head coach. Mike Miller has been doing as well as anyone possibly could in the interim, but he's probably not a long term solution.
While several names are circulating as a possible replacement, Stephen A. Smith reported that Jason Kidd, who's currently an assistant on the Los Angeles Lakers staff, was "potentially a preferred candidate." The former point guard would bring more than coaching ability, however; Kidd also has a strong relationship with Giannis Antetokounmpo and would theoretically help woo the young forward when he hit free agency.
Kidd, who coached the Bucks from 2014 through 2018, is credited with helping the Greek Freak acclimatize to the NBA; he also shifted Giannis into more of a ball-handling role, which unlocked his potential outside the paint. "He's a big part of my success in the league," Antetokounmpo said after Kidd was fired. "I'm loyal to the people I work with. I love him as a person. I care about him as a person."
David Blatt joins the Knicks, but not as a coach
On December 18, the New York Knicks announced that David Blatt would be joining the organization. He wouldn't be taking over as head coach but signing on as a consultant in the front office. While his arrival doesn't necessarily rule out a move for Jason Kidd, it's worth considering what the hiring says about the Knicks' overall direction.
Although bringing in a new consultant might suggest that the franchise is trying to repair its dysfunctional management, the move may actually suggest that the old boy's club is stronger than ever. Blatt played college basketball with Knicks president Steve Mills at Princeton; another one of their teammates, Craig Robinson, is the club's vice president of player development and minor league operations. Even if Mills loses power at the end of this season, his network will still be helping to guide the franchise.
From a coaching perspective, Blatt is also a bit of a mixed bag. While he has a wealth of European experience, his only North American job didn't end well. Despite strong on-court performances in Cleveland, he famously failed to click with LeBron James. The coach reportedly couldn't command the respect of any veteran in the locker room; while that shouldn't come into play as a consultant, it's still worth considering as part of the bigger picture.
Would Giannis Antetokounmpo and Jason Kidd actually join the Knicks?
In hard salary capped sports, big market teams can flex their financial muscle by spending big money on things other than players. The hiring of David Blatt, however, isn't going to attract anyone to New York. At best, he's an unglamorous front office hire; at worst, he's a member of the old boy's club with a past that would dissuade star players from joining the team. Neither option would make the franchise an attractive destination for Kidd or Antetokounmpo.
By all accounts, Jason Kidd is happy in Los Angeles, where he's able to work with one of the league's better teams without the pressure of being the main man. It's hard to imagine that he would give that up to work for the dysfunctional Knicks; even if Blatt stabilizes the front office, no one would join the organization specifically to work with him.
Similarly, no one, let alone a coach who famously failed to work with the NBA's biggest star, could make the Knicks an attractive prospect to Giannis right now. The current NBA is a far cry from days when you had to play in New York, Chicago, Boston, or Los Angeles to be a star; he'll be a star where ever he plays. It's like Kevin Durant said in the summer: having a storied past is all well and good, but prestige can't overcome the Knicks' dismal on-court realities.
At the end of the day, Giannis Antetokounmpo is going to change the course of whichever franchise he plays for. That franchise, however, isn't going to be the New York Knicks, even with David Blatt in the front office.