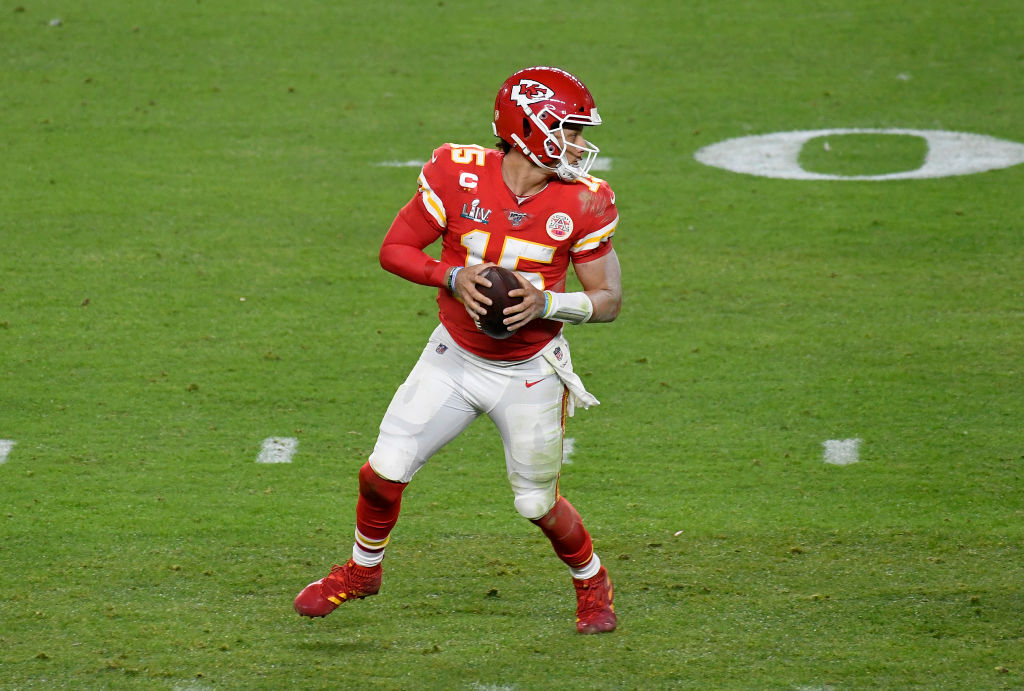 Could Patrick Mahomes Change the Structure of NFL Contracts Forever with His Next Deal?
On the field, Patrick Mahomes has already shaken up the NFL. Could his eventual contract extension also change the business side of football?
For years, the Kansas City Chiefs were a franchise who couldn't get over the hump. Whether they had a star running back or a dominant defense, the end result was always the same: something would go wrong down the stretch, and the season would end in disappointment. In a matter of seasons, though, Patrick Mahomes changed everything.
While the young quarterback has already changed the course of the Chiefs franchise, his NFL career is just getting started. Could Patrick Mahomes' next deal change the course of football contracts forever?
Patrick Mahomes' impending contract extension
During his first two seasons as an NFL starter, Patrick Mahomes has proved himself to be one of the league's most dynamic players. That reality sets him up for a massive contract extension in the near future.
This season, Mahomes will be entering the final year of his guaranteed contract. While the Chiefs can pick up a fifth-year option, they'll want to get the deal done sooner rather than later. Both sides seem to be on the same page, but, as far as anyone can tell, no deal is imminent.
Regardless of the finer details, Mahomes is due for a massive payday. His rookie deal comes with an average salary of $4,106,447, including bonuses. When everything is said and done, his extension should be worth at least $40 million per season; some have even speculated that it could reach a total value of $400 million over its term.
Could the Kansas City Chiefs try a new form of contract?
Most professional sports contracts follow the same general structure. Patrick Mahomes, however, could change everything.
While contracts pay an agreed-upon value each season—barring incentives that a player could meet or fail to achieve—Mike Florio of ProFootballTalk wondered about another option. The quarterback, he suggested, should ask to be paid a set percentage of the salary cap each season.
The league has historically discouraged teams from agreeing to those sorts of contracts, but Florio asserts that it could work for both parties. Mahomes would know that he'd receive a significant chunk of the club's salary in a given season, and the team would always have the same remaining percentage to use on the rest of the roster.
Could Patrick Mahomes change the structure of sports contracts forever?
On paper, signing a percentage-based contract seems like a way to ensure that a star player has talent around him. At the risk of supporting the status quo, however, they may be more trouble than they're worth.
Beyond the element of uncertainty—while the salary cap has been increasing, an unexpected downturn could suddenly mean a quarterback is earning less real money—changing contract structures could also open a Pandora's box. If Patrick Mahomes is worth 20% of the Kansas City Chiefs' total cap, what percent is Tyreek Hill worth? Before long, we'd probably be in the same place we are now, just swapping cash amounts for percentages.
When the Kansas City Chiefs and Patrick Mahomes work out a new contract, we can be sure of a couple of things: it will be expensive, and it will keep him at Arrowhead Stadium for quite a while. Beyond that, anything—even a percentage-based deal—is theoretically possible. When you have a special player, you do whatever it takes to keep him on the roster.