Country Music Star Sam Hunt Started at Quarterback in College and Nearly Upset Adrian Peterson and the Oklahoma Sooners
Long before they enjoyed his music, college football fans saw Sam Hunt take snaps under center.
That is not a misprint. Hunt, an American Music Award winner, played quarterback at two Division I programs in the mid-2000s. At one point, he nearly engineered a wild upset over Adrian Peterson, then a top running back prospect, and the Oklahoma Sooners.
Sam Hunt nearly upset Adrian Peterson and Oklahoma in 2006
A notable high school quarterback from Cedartown, Georgia, Sam Hunt originally signed with Middle Tennessee State University in 2003.
Hunt threw one pass in two years with the Blue Raiders and transferred to Alabama-Birmingham in 2005. After redshirting to start his UAB career, he saw action in seven games during the 2006 season.
Blazers fans may have been excited after watching Hunt in the season-opener, a trip to face Adrian Peterson and the No. 10 Oklahoma Sooners. He took over for Chris Williams in the first quarter and led the Blazers to a touchdown on his first drive.
UAB kept tight with Oklahoma throughout the game and even took a 17-14 lead with 4:16 left in the third quarter. Oklahoma immediately responded when Peterson turned a catch into a 69-yard receiving touchdown. The Sooners added a field goal early in the fourth quarter and won, 24-17.
Hunt completed nine of his 15 passes for 149 yards, a touchdown, and no interceptions. He also ran for 65 yards on 15 carries. Unfortunately for the Blazers, their strong showing in the opener wasn't a sign of things to come, and they went 3-9 in 2006.
Hunt later had a tryout with the Kansas City Chiefs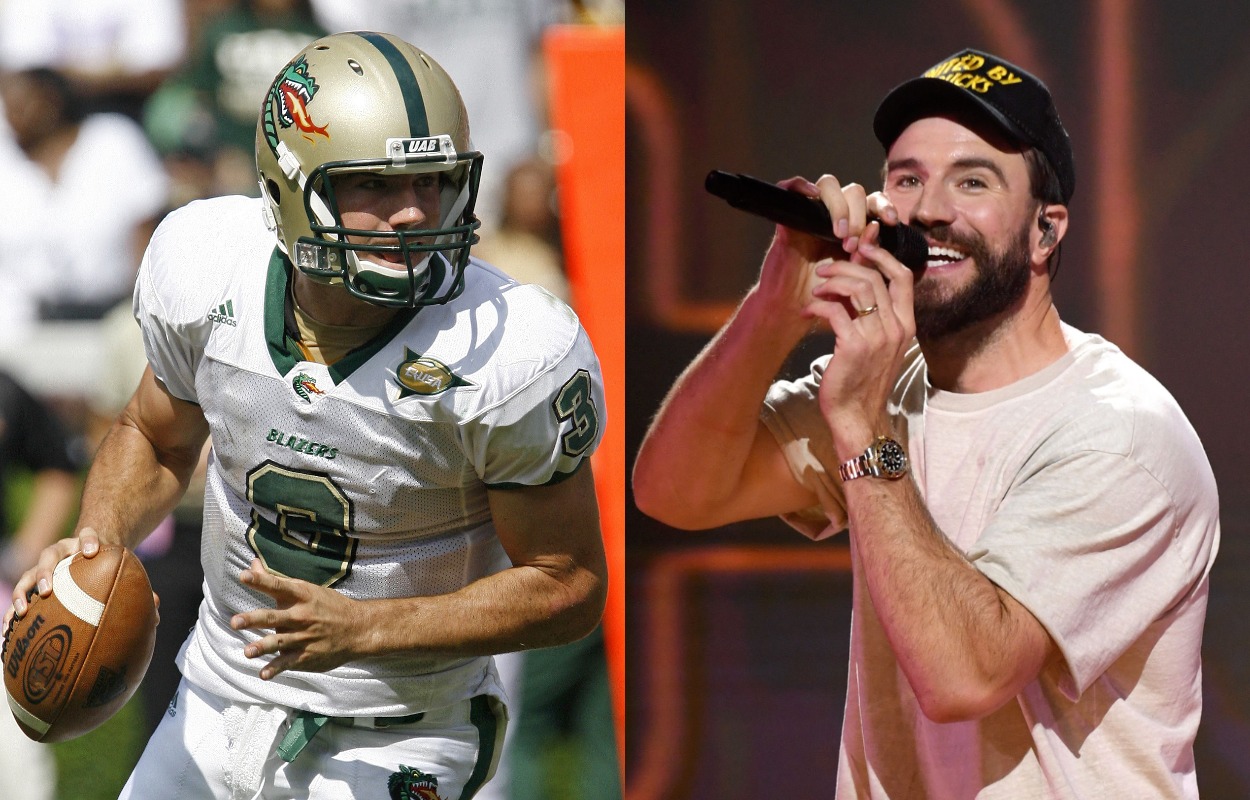 Hunt started at quarterback for most of the 2007 season, but the results weren't there during the Blazers' 2-10 campaign.
Hunt completed 46.8% of his passes for 1,905 yards, 10 touchdowns, and 14 interceptions. He also ran for 287 yards and two touchdowns.
His final college game in the fall of 2007 didn't spell the end for Hunt, however. He earned a tryout with the Kansas City Chiefs in the spring of 2008 after he went unselected in that year's NFL draft.
Hunt never made it into an NFL game with the Chiefs. Instead of trying to stick around and make it as a professional quarterback, he turned his attention to the music industry.
Hunt has had a successful country music career
With his football dreams behind him, Hunt focused on pursuing a country music career. 
While working on his own projects, Hunt also wrote songs for country stars Kenny Chesney and Keith Urban. His 2017 song "Body Like a Back Road" reached No. 6 on the US Billboard Hot 100 and earned him a Single Record of the Year Award from the Academy of Country Music Awards.
Hunt earned Grammy nominations in 2016 and 2018, including one for Best New Artist. As of May 2021, he has released two albums, and his most recent album, Southside, came out in April 2020. 
Like Sportscasting on Facebook. Follow us on Twitter @sportscasting19.