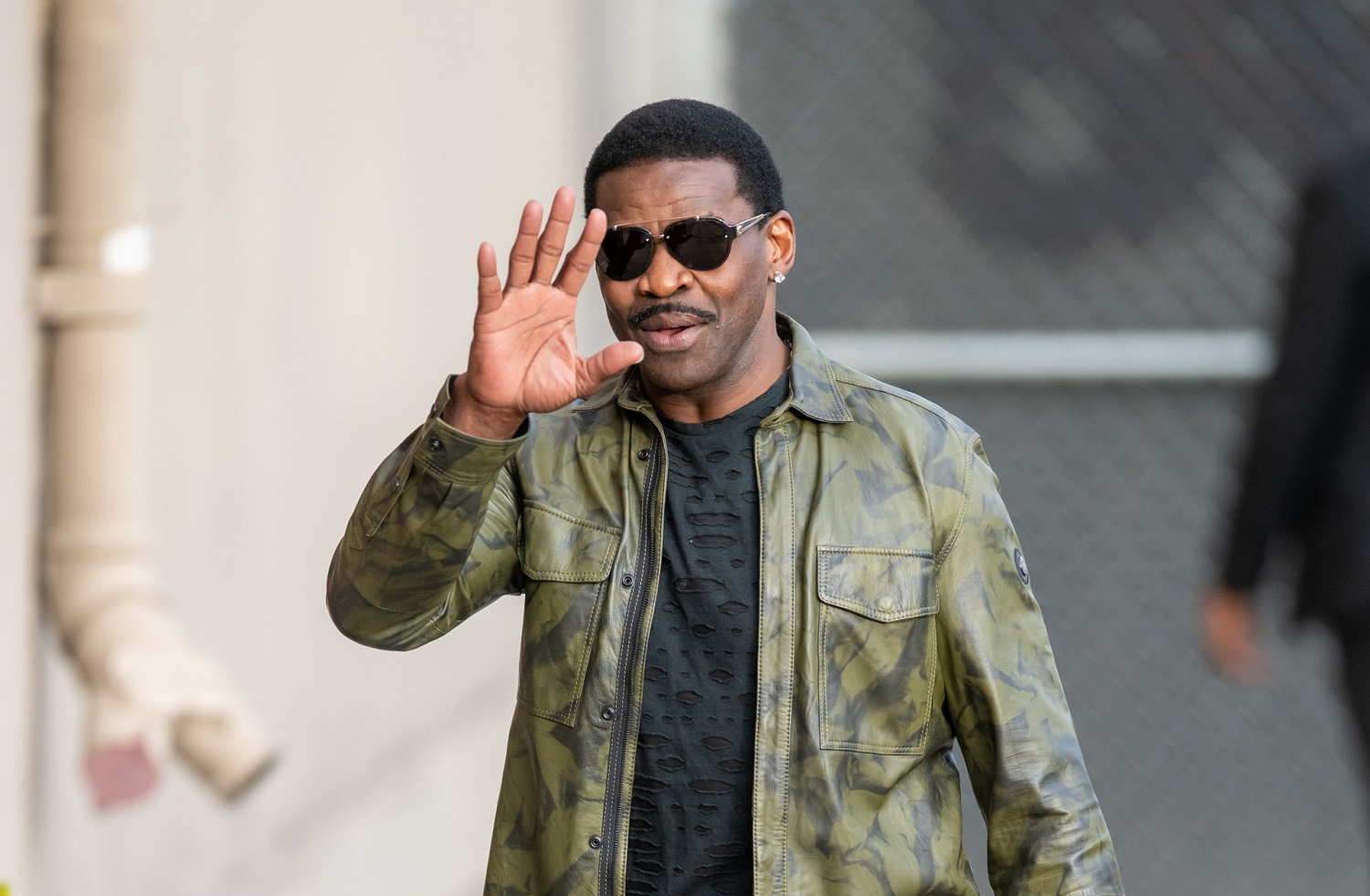 Why Cowboys Great Michael Irvin Says a Hotel Theft Was Heartbreaking
Former Dallas Cowboys Hall of Fame receiver Michael Irvin is heartbroken over the theft of a necklace in Miami with great sentimental value.
Michael Irvin returned to Coral Gables, Florida, to help his alma mater over the weekend when someone helped himself to one of the retired Dallas Cowboys star's most cherished possessions, one with extreme sentimental value.
Michael Irvin makes a plea for the return of stolen necklace
Taking a man's money is one thing, but stealing his memories is a different matter entirely. It's why Irvin is pleading for the return of a piece of jewelry of enormous personal value. Irvin said a thief grabbed it over the weekend after he was distracted while returning to his hotel in Miami.
"I have to come out of this depression," Irvin wrote on Twitter. "So I am sharing with ALL. This is my necklace that was in my bag. I designed it as a first down chain, holding an all diamond football, which is holding an all diamond cross.
"On each end of the cross are diamonds I acquired at the birth of my children Myesha, Chelsea, Michael and Elijah. It was a piece I built over my life that represents. Faith, Family and Football and my own sentimental way of praying to GOD please always protect my babies."
Chelsea, Michael, and Elijah are the children of the retired Dallas Cowboys receiver and Sandy Harrell, whom he married in 1990. Oldest daughter Myesha was born to a girlfriend before Irvin married.
TMZ reported that Irvin was offering a reward for the return of the necklace.
Irvin was in the Miami area to help out his old school
Irvin said he was returning to his hotel from a University of Miami event when he set his bag down to interact with some fans who had recognized him. He said a man grabbed the black Louis Vuitton bag containing the necklace and dashed off with it.
Irvin spoke as a featured alum at the annual Paradise Camp attended by about 300 teens in Coral Gables. The camp has become a substantial recruiting event for the Hurricanes coaching staff. The school scrapped it last summer because of the COVID-19 pandemic, so coach Manny Diaz was eager to bring the stars out in force.
Besides Irvin, the 'Canes brought back Lamar Thomas, Edgerrin James, Calais Campbell, Gregory Rousseau, Jaelan Phillips, Antrel Rolle, and a slew of others to run position drills and speak to prospective Hurricanes players.
"You come to 'The U' and you'll always have support. It's a deep thing. You will always have support," Irvin said. "All of us showing up all the time, it's important to show whatever kid is thinking about coming here … we want them to know, right here, buddy, you will always have that support. And I think that's very important …
"It's not like a family. We are a family."
The event was significant for the 'Canes since it was a last chance to work on recruits before the NCAA "dead period" kicked in on July 1. Miami has only four commitments thus far from the Class of 2022 and is counting on the camp to bring others in from off the fence.
The NFL great remains big in football circles and in Texas
Irvin last played an NFL snap in 1999, capping a 12-year career with the Dallas Cowboys, but he remains in demand. "The Playmaker," part of three Super Bowl-winning teams, is an analyst for the NFL Network.
His football stardom and enshrinement into the Pro Football Hall of Fame in 2007 keep Irvin in demand as a public speaker. This week, the National Independent Automobile Dealer Association announced that Irvin, 55, will present the keynote address at its 75th annual convention and expo running from Aug. 23-26 at the Henry B. Gonzalez Convention Center in San Antonio.
Like Sportscasting on Facebook. Follow us on Twitter @sportscasting19.
RELATED: Michael Irvin's 1 Rule While Playing Landed Him in the Hall of Fame