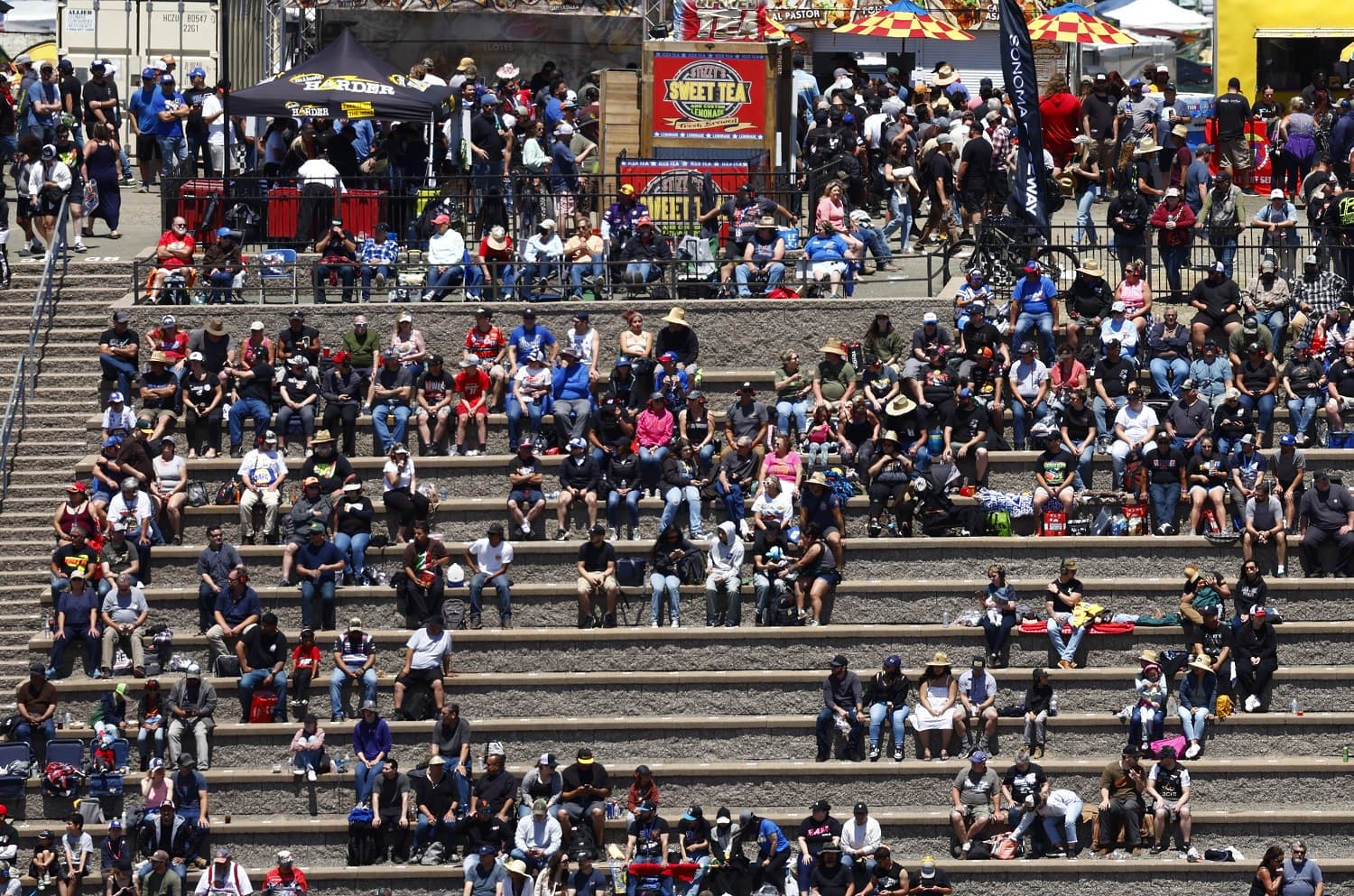 The Cup Series Playoffs Are Already Shaping up as a Disappointment Sending Fans Flocking to Football
The stands will likely be fuller than this for the playoff races, but will uninspired action on certain key tracks hold our attention?
Remember that New Year's Eve party two years ago that was so depressing that you made an excuse to turn down the invitation last year? NASCAR fans will endure the same experience this fall when the Cup Series playoffs arrive.
Unless NASCAR whips up solutions to problems it hasn't solved in the past year, the NFL will be picking up additional viewers soon.
Joey Logano: No track should host more than 1 race per year
Defending Cup Series champion Joey Logano made news last week with an interview in which he said NASCAR shouldn't stage more than one race a year at any track.
Logano was coming at it from the perspective of fans. With just 38 race dates per year, doubling up at Daytona, Talladega, Atlanta, and Charlotte clusters a chunk of the schedule in southeastern states. Phoenix, Las Vegas, Darlington, Kansas, Bristol, Richmond, and Martinsville also get two visits a year while fans in vast swaths of the country must travel great distances just to see one race.
"It is asking a lot for fans to travel a long ways away to go watch a race," Logano said. "If you have to travel three or four hours to go to a race, then there are hotel rooms and …. all of a sudden, it's expensive. Along with the race tickets and all of the other stuff that comes along with it, it's asking a lot."
Take it a step further, however, with respect to the tracks that host twice a year: If the first race is a dud, isn't it likely a lot of those fans won't come back for the second or even watch it on TV?
NASCAR has produced some dull racing at Cup Series playoffs tracks
It's indisputable that NASCAR has a short-track problem in the Next Gen era. Everything is mostly fine once the Cup Series gets to the intermediate tracks, but Bristol, Richmond, and Martinsville have given us a lot of uninspiring viewing in the first year and a half of the Next Gen car.
The Martinsville playoff race would have qualified as decent viewing even without Ross Chastain's mad dash to the finish, and the last two Richmond races have been respectable, too. But the others have largely underwhelmed.
Recall Martinsville this spring: Ryan Preece was crushing everyone for 135 laps, got sent to the back on a pit penalty, and was never heard from again because passing was so difficult.
And then there's Phoenix Raceway, the mile-long oval that is the venue for the Championship 4. Neither of last year's races there were compelling, and the 2023 spring race, in which there were just 10 lead changes and winner William Byron and teammate Kyle Larson led 265 of 317 laps, was additional evidence that the new car doesn't work there.
The Cup Series playoffs are destined to end with a collective yawn
With 10 winners thus far and Kevin Harvick and Ross Chastain piling up big points, we have a good sense of what 75% of the Cup Series playoff field will look like this fall. And, of course, we know 100% of the schedule since NASCAR locks that in before the start of the season.
That playoff schedule is worrisome. Seven of the 10 races are at tracks the Cup Series competes on during the regular season, and several are flawed for the reasons cited above. Worst of all, three pivotal races have the potential to backfire and send the more casual race fans scurrying for football games instead:
The first of three transfer races, which reduce the playoff field by four, is on Sept. 16 at Bristol, one of the short tracks that fare poorly in Next Gen action. There were only 12 lead changes in 500 laps last fall, and one of those was the result of a stage break. It's a Saturday night race, but there's always plenty of college football to watch if the racing action disappoints.
The third transfer race, which sets the field for the Championship 4, is at Martinsville on Oct. 29. A repeat of the spring, when one of the 10 lead changes again came on a stage break, won't do the sport any favors.
The Championship 4 at Phoenix on Nov. 5 continues to be a Cup Series mistake, one that NASCAR has already committed to making again in 2024. It's another track that hasn't been conducive to lead changes and drama out front.
Joey Logano dominated the 2022 Championship 4, and some of that may have had to do with the No. 22 Ford team having three weeks to prepare by virtue of locking in with a win at Las Vegas. Another playoff driver is likely to forge the same sort of edge this fall, and there's no reason to believe the result can't be similar.
Got a question or observation about racing? Sportscasting's John Moriello does a mailbag column each Friday. Write to him at [email protected].