Dak Prescott Embracing an Unselfish Mindset in Quest to Lead the Cowboys to Super Bowl Glory: 'I Don't Want to Throw for 6,000 Yards'
Dak Prescott was on a historic pace last season before a devastating ankle injury cost him a chance to etch his name in the NFL record books. With an extra game on the schedule and more time to gel with his weapons on the outside this year, the newly signed Dallas Cowboys quarterback could become the first player ever to throw for 6,000 yards in a single season.
But Prescott isn't interested in that.
He has much bigger goals in mind, and he doesn't think setting the passing record is the ticket there.
Dak Prescott was on his way to NFL history last season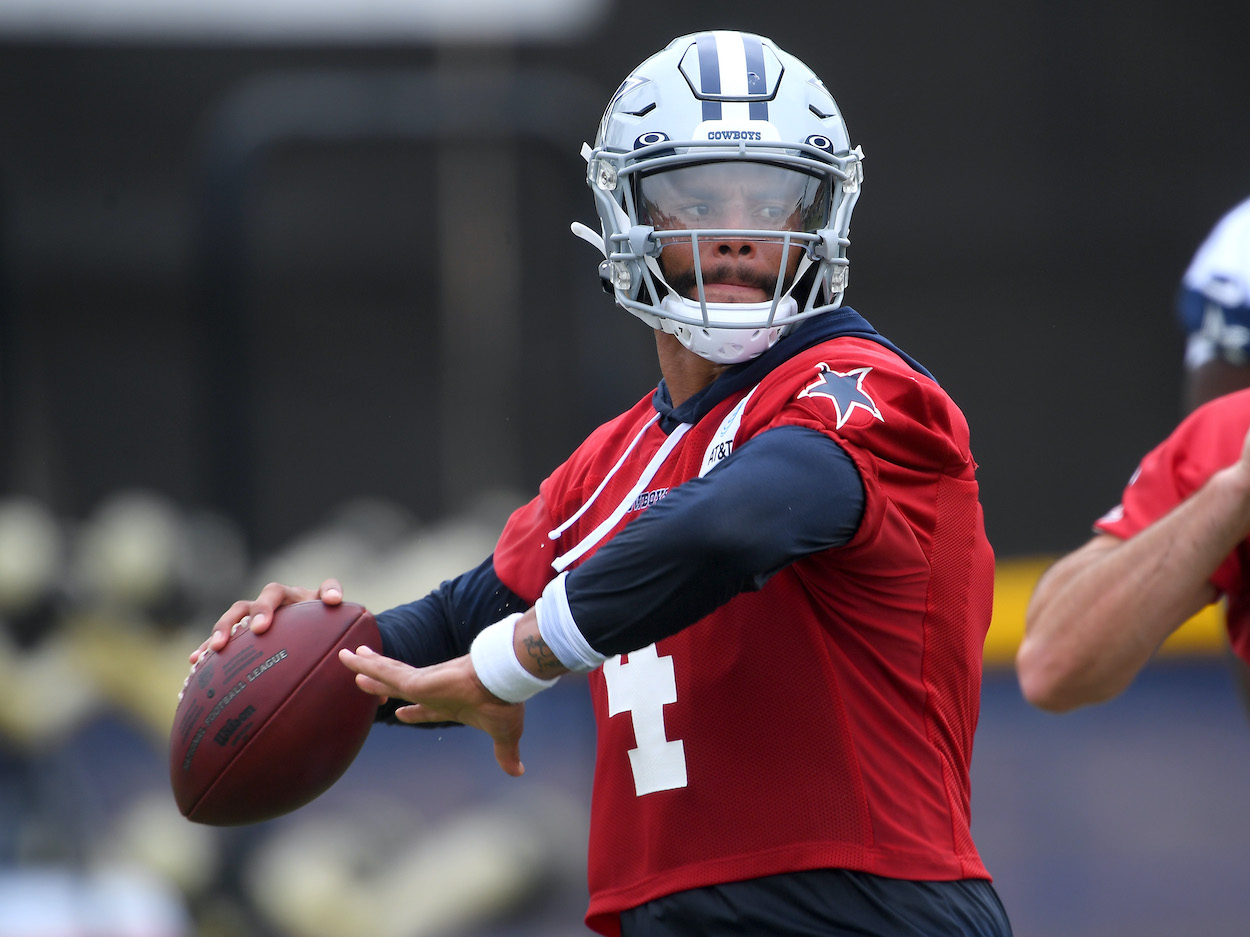 The Cowboys didn't exactly start off the 2020 NFL season the way they wanted. Dallas went 2-3 in the first five games on the schedule and gave up an absurd 36 points per game during that stretch.
Because the defense was acting as a touchdown E-ZPass station early in the season, Prescott had no choice but to air the ball out to bring the Cowboys back from major deficits. Over the first five games, the QB threw for 1,856 yards and nine touchdowns. That torrid start put him on pace for 5,939 passing yards, which would've shattered the NFL single-season record held by Peyton Manning (5,477).
Unfortunately for Prescott, a dislocated and fractured ankle crushed his chances of breaking Manning's record.
With Amari Cooper returning and CeeDee Lamb set to take a big leap in his sophomore season, Prescott could easily set the record during the upcoming 17-game season.
Prescott embracing a team-first approach for the Cowboys in 2021
Prescott was on pace to throw for nearly 6,000 yards last season in 16 games. His historic start also put him on pace for 6,310 yards over the course of a 17-game season, which will be the case this year.
The 6,000-yard threshold is finally in play for the first time in NFL history, and Prescott is a prime candidate to get there. However, the sixth-year QB would rather not for the sake of the team.
"I don't want to throw for 6,000 yards, to be honest with you," Prescott said this week, via Michael Gehlken of the Dallas Morning News. "That means we're not running the ball. That means we're not probably doing the things we need to do to be a balanced, winning team. Sure, it would be great to have those numbers and to break that or to have that record or whatever it is. But it's not something that I put in my head.
"As I said, I want to be the best offense in the NFL, and I think the best way we can do that is if I'm not throwing that many yards, and our run game is working, and we're playing complementary football, and we're winning a lot of games. And I think if that's the case, then hopefully I'm not playing as many fourth quarters trying to come back and do the two-minute drills we were doing in the first five games that got me a lot of those numbers."
Quite a mature and unselfish approach from the 28-year-old.
A mysterious shoulder injury might cost the Cowboys QB a chance at 6,000 yards
Even if Prescott says he doesn't want to surpass 6,000 yards passing this season, it's still a realistic possibility with the weapons he has around him and the team's poor defense on the other side of the ball. But for the QB to accomplish that historic feat, he'll have to play all 17 games.
That was looking like a strong possibility early in training camp, as Prescott seemed completely recovered from his ankle injury. However, he recently suffered a shoulder strain that's kept him off the practice field for more than a week. Prescott underwent an MRI that revealed no structural damage, but he's now planning on getting a second MRI this weekend as a precautionary measure.
It's a strange development for an injury the Cowboys didn't seem to be too concerned about at first, but maybe there's something more worrisome going on here. The second MRI should tell us more.