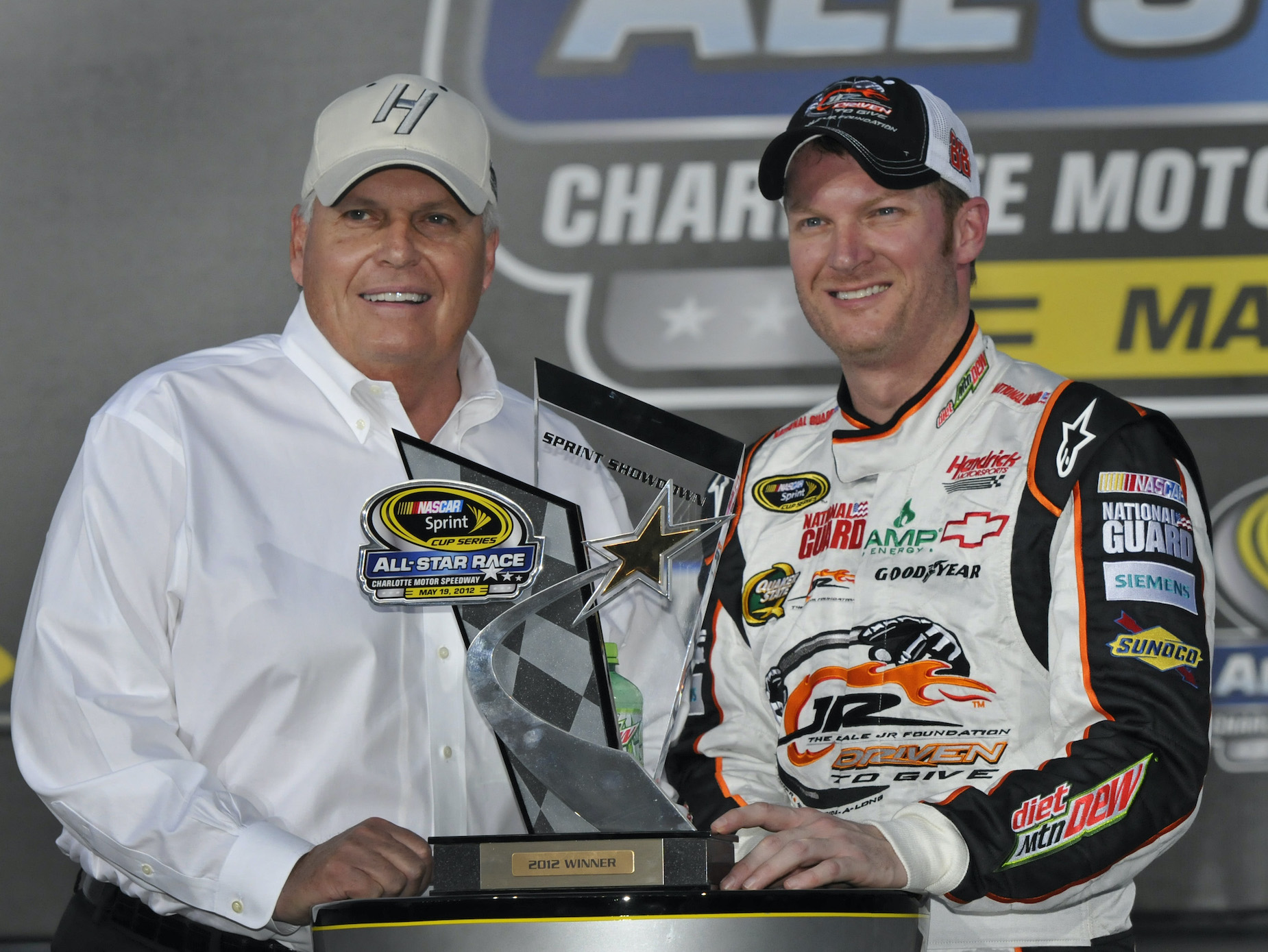 Dale Earnhardt Jr. Had the Greatest Night of His Career During the NASCAR All-Star Race, but He Isn't Afraid to Criticize the Event's Current Format
Dale Earnhardt Jr. isn't afraid to tell it how it is, even when it comes to the NASCAR All-Star Race.
During his time on the motorsports scene, Dale Earnhardt Jr. had plenty of iconic experiences. While every racing fan can debate his individual successes and failures until they're blue in the face, the driver doesn't have any doubt about his greatest moment on the track. In 2000, Dale Jr. claimed victory in the NASCAR All-Star Race. Although that win was historic in its own right, there was also something larger at play. Beyond the trophy and the big check, Junior also tangibly experienced his father's pride.
That memory won't keep Dale Junior from speaking his mind, though. In fact, he's already raised some questions about this year's NASCAR All-Star Race format.
Dale Earnhardt Jr. claimed an unforgettable win at the 2000 NASCAR All-Star Race
Looking at the grand scope of his career, Earnhardt Jr. put together somewhat of a mixed resume. On the one hand, he showed plenty of skill and earned 50 victories across both levels of NASCAR competition. On the other, Junior didn't quite live up to his famous father's standards and never won a Cup Series title. During the 2000 All-Star Race, though, he shone brightly as a legitimate star.
2000 was Junior's first full season on the Cup Series stage, and he didn't waste any time making an impact. He claimed two checkered flags, earned the Rookie of the Year crown, and, during the All-Star Race, secured a historic victory.
"Of all that I've accomplished in racing, winning the 2000 Winston All-Star Race was by far the greatest. It didn't award points – just a big paycheck – but it was special for other reasons," Junior explained on his official website. "One, we were a rookie team that had been running in the NASCAR Busch Series the previous two seasons, and although we won two Cup races right out of the gate, we were still trying to find our place in NASCAR's top series. This win validated us because we passed two of the best drivers in the sport's history – my dad and Dale Jarrett – to win. I became the first rookie to ever win The Winston All-Star Race."
There was more to the victory than just pride and a paycheck, though. Earnhardt Jr. also got to see a very obvious demonstration of his father's pride.
Sharing a sentimental moment with his father
As any competitor can confirm, there's no such thing as a bad victory. But, for Dale Jr., the 2000 NACAR All-Star Race was more than just an ordinary win.
"What made this night the greatest in my racing career, though, was not what I achieved, but who I shared it with. My dad finished third in the race, and as soon as he got out of his car, he hurriedly changed clothes and ran to Victory Lane to celebrate as the winning car owner and proud father," Junior continued. "He stayed the entire time, too — through the pictures, the hat dance, and the many cases of Budweiser sprayed in celebration. It was a great night made perfect by his presence. It will never be topped."
Beyond the sentimentality of the father-son moment, that celebration took on extra significance, given Dale Jr.'s relationship with the Intimidator.
"We just didn't have a relationship," the younger Earnhardt once told Graham Bensinger. "We didn't do a lot of hanging out. We didn't communicate much unless he was telling me where to stand or where to be or what to fix, or what to clean up. We didn't go hunting together, he didn't take me on trips. Like when he would go do things, I was never like an idea or a consideration."
Racing, however, gave the two a common ground, which became evident in pit row following the 2000 All-Star Race.
That sentimental moment hasn't prevented Dale Earnhardt Jr. from criticizing the current NASCAR All-Star Race format
Given his special memories of the 2000 NASCAR All-Star Race, it would be understandable if Earnhardt Jr. had a sentimental attachment to the event. While that may be true, it hasn't inspired him to bite his tongue.
While the event's format has changed over the years, the 2021 event is a bit more complicated. Beyond moving to the Texas Motor Speedway, this year's All-Star Race will feature multiple rounds of racing; the field will also be reorganized every round, based on a variety of different sorting methods.
Some fans have been left unhappy, if not outright confused, by those changes, and Earnhardt Jr. is no exception.
"I read a little bit about the format for the current one coming up in Texas, and I am lost," Junior said on an episode of The Dale Jr. Download. "No clue. I can't understand how they expect anybody to pay attention to all of that. It's awful."
Once things get down to brass tacks, though, all of that confusion will probably be forgotten once the All-Star Race gets underway. As Dale Junior can confirm, even a "meaningless" event can still create some special moment for those involved.