Dale Earnhardt Jr.'s Latest Revelation Wasn't Quite What Some of His NASCAR Fans Were Hoping to Hear
Article Highlights:
Dale Earnhardt Jr. has picked Martinsville as the venue for his 2022 NASCAR Xfinity Series appearance
JR Motorsports unveiled the paint scheme for the No. 88 Hellmann's Chevy Camaro on Tuesday
Earnhardt Jr. revealed that he contemplated switching to the No. 03 for the April race
December has already been a relatively busy news month in NASCAR. Teams are making disclosures about their 2022 plans that normally wouldn't be announced until after the holidays. Now, Dale Earnhardt Jr. has joined the crowd getting the word out before excitement over the Cup Series' Next Gen car starts dominating the headlines in January.
Earnhardt has revealed the last mystery leading up to his annual appearance in the NASCAR Xfinity Series. Along the way, he teased fans with what might have been.
NASCAR fans already knew that Dale Earnhardt Jr. is returning to Martinsville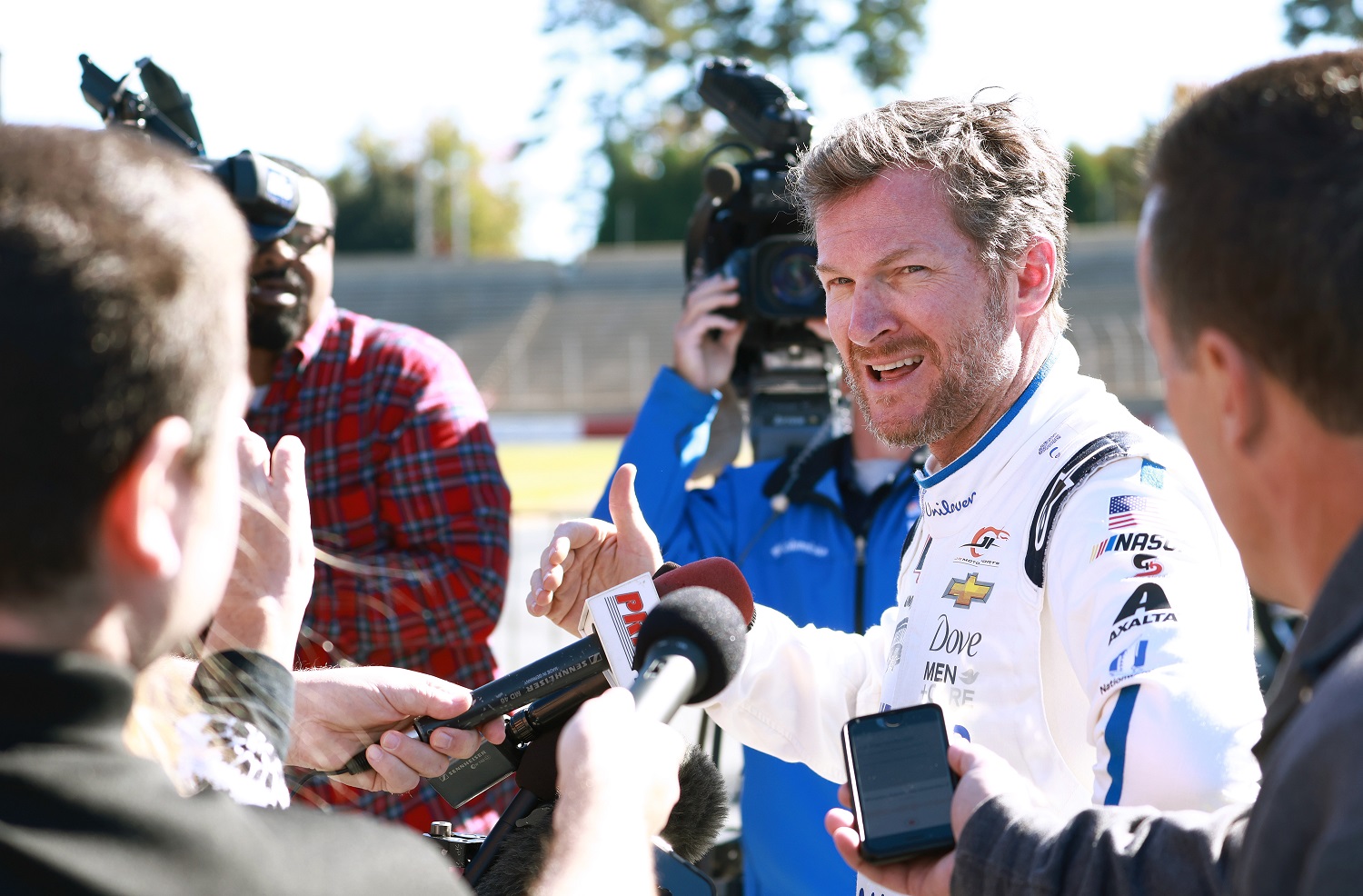 The 2021 NASCAR season wasn't even over yet when Dale Earnhardt Jr. made a big revelation about 2022. In late October, the retired Cup Series star said his next annual appearance in an Xfinity Series race would be at Martinsville Speedway under the lights on April 8.
Earnhardt retired from full-time racing in 2017, but the annual Xfinity appearance is something that both the driver and his passionate fans look forward to each season. Martinsville has always been one of Earnhardt's favorites, though he has never raced an Xfinity car there. The half-mile oval hosted two or three Xfinity Series annual dates from 1982-94 before falling off the schedule. It returned as a playoff venue in 2020 and landed a regular-season date for 2021.
Earnhardt, 47, won 26 Cup Series races and 24 more in Xfinity Series cars, twice capturing season championships in the latter. He's only been racing once a year since retiring from full-time racing, but he has typically performed well:
•          Fourth at Richmond in 2018.
•          Fifth at Darlington in 2019.
•          Fifth at Homestead in 2020.
Racing at Martinsville is sure to have him fired up and looking to get back into the top five.
NASCAR fans helped determine Dale Earnhardt Jr.'s 2022 paint scheme
One of the factors determining when Dale Earnhardt Jr. will race each season is how it fits into the marketing plans for Hellmann's, a longtime supporter of the driver and his JR Motorsports team.
They agreed on April's Martinsville race as the date and then decided to put the last remaining major decision into the hands of fans by letting them vote on the paint scheme.  
When the balloting was complete, they settled upon an option for the No. 88 Chevy Camaro developed by JR Motorsports graphic designer Ryan Williams. If the fans are happy with it, then the sponsor is likely ecstatic. It practically screams at you to go out and buy half a dozen jars of mayonnaise.
The team will stick with the No. 88, but another option was in play
Dale Earnhardt Jr. was consistently voted the most popular driver in NASCAR during his peak Cup Series years. Some of that stemmed from his success and how he generally kept his nose clean, serving as a good representative of the sport. However, it's undeniable that the popularity of his father, a seven-time champion in the big series, has had something to do with the fans' continuing admiration.
To that end, the No. 1 wish of a lot of Dale Jr. fans has long been to see him roll onto victory lane in his father's iconic No. 3 Chevy. Short of that, even just seeing him in the "3" would still qualify as a thrill.
In discussing the 2022 paint scheme Tuesday on Instagram Live, Earnhardt Jr. confided that slapping the No. 88 on the car wasn't always a given.
According to TobyChristie.com, the JR Motorsports team thought about running a different number. They went so far as to work up a rendering of the car with the No. 03 on it.
Earnhardt posted the mock-up to social media, but that's the closest that his fans will come to seeing him in that car … for now.
Like Sportscasting on Facebook. Follow us on Twitter @sportscasting19.