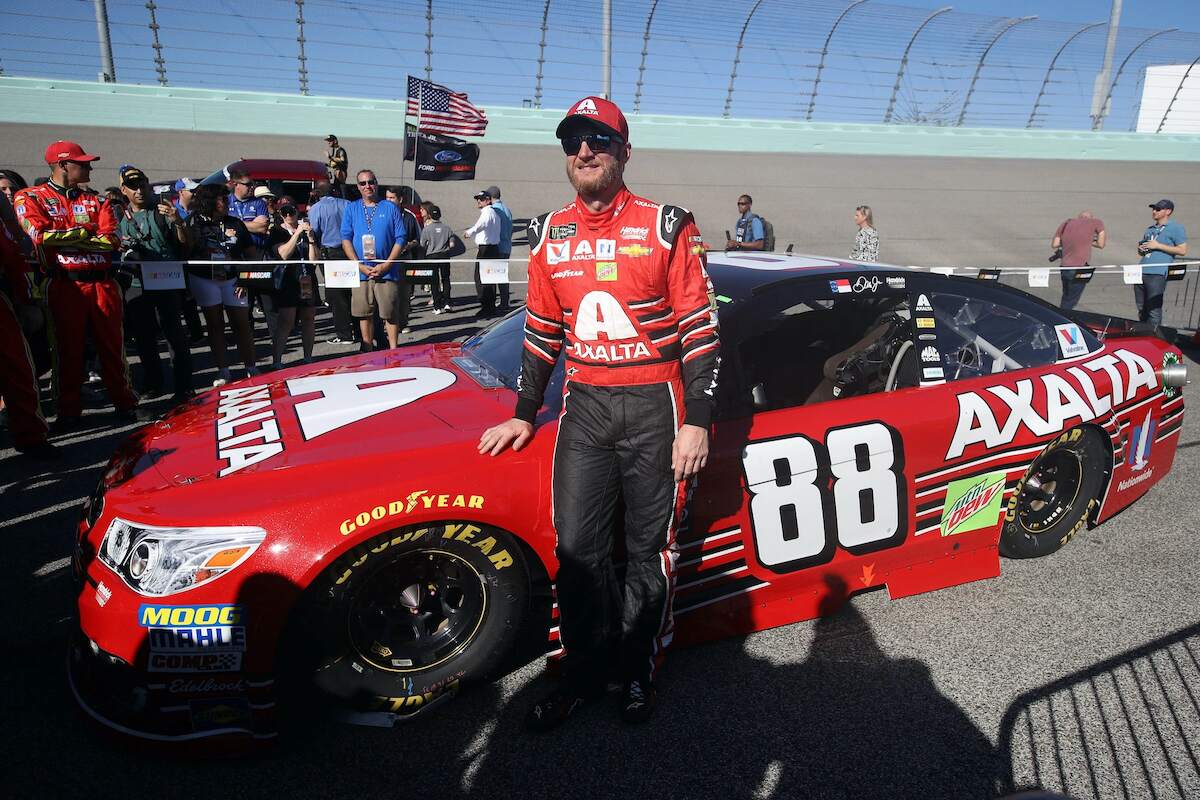 Dale Earnhardt Jr. Once Offered Rick Hendrick $1 Million of His Own Salary to Help the 'Guys in the Shop'
While Dale Earnhardt Jr. has built up a massive net worth during his NASCAR career, he once offered to give $1 million of his salary away.
During his time in the world of motorsports, Dale Earnhardt Jr. proved to be a pretty popular driver. His appeal stretched far beyond NASCAR fans, though. If nothing else, we know that Rick Hendricks was pretty impressed by Junior's generosity.
Shortly after he joined Hendrick Motorsports, Dale Earnhardt Jr. stepped up and offered to open his wallet. With concerns about NASCAR's financials raging, the driver was willing to give up $1 million of his own salary to help the people who made everything happen behind the scenes.
Dale Earnhardt Jr. proved to be an incredibly popular NASCAR driver
While he's retired from full-time driving, Dale Earnhardt Jr. is still a fixture on the NASCAR scene. At one point, though, he planned for a career that had nothing to do with motorsports.
As a young man, Junior earned an automotive degree and took a job at his dad's dealership. He planned on working his way up the ranks and becoming a mechanic. Fate, however, intervened.
After a new service manager took over, Earnhardt Jr. found himself without a job. Hhe then started working his sister's late model and eventually started spending more time racing. Once he climbed behind the wheel, Junior realized that he now had a way to connect with his father. From there, the rest is history.
Although Earnhardt Jr. never found the same on-track success as his dad, he still put together quite the career. He won 50 races across the Cup Series and what's now known as the Xfinity Series, took first place in two Daytona 500s, and monopolized NASCAR's Most Popular Driver title, claiming the award 15 times. Even today, he's one of stock car racing's biggest names.
That popularity helped Dale Earnhardt Jr.'s net worth grow to $300 million
Under normal circumstances, calling something a popularity contest has a negative connotation. For Dale Earnhardt Jr., though, his star status led to a massive net worth.
As mentioned above, Dale Jr. didn't find the same level of success as some NASCAR stars. He won two Busch Series titles but couldn't claim a Cup Series championship. That didn't hurt his bottom line, though.
"Earnhardt only finished in the top three of Nascar's year-end standings once during his career, but his popularity with sponsors and fans helped him earn more than $400 million from salary, endorsements, and his share of race winnings and licensing," Forbes explained in 2017.
In total, Dale Earnhardt Jr.'s net worth clocks in at a reported $300 million. That number probably won't be decreasing anytime soon, either, thanks to JR Motorsports and NBC.
Offering $1 million of his own salary to help 'the guys in the shop'
When you hear about professional athletes making millions of dollars, it can be easy to assume that they're spending it all on toys or hoarding it away in a vault. Dale Earnhardt Jr., however, apparently has no problem using some cash for a good cause.
In 2009, the cratering economy led to concerns about NASCAR's financial future. Earnhardt Jr., it seems, wasn't blind to that chatter. Even if he wasn't sure about the finer details, he knew that he could lend a hand.
"I called [Rick Hendrick] one time — I don't remember what was going on in the sport, but something was happening in the sport where everybody was a little nervous," Earnhardt Jr. explained on his podcast, according to For The Win. "And I called him one time and told him to take a million dollars off my salary if he needed to."
Hendrick was understandably surprised. Pro athletes usually fight tooth and nail for the best contract possible, but Junior was offering to give up $1 million of his own earnings.
"The only driver that ever I've been associated with in all my years that said, 'Hey, I want you to take a million off my salary and give it to the guys in the shop. Don't have to cut anybody's pay. I'll give up a million dollars.' Nobody else, ever. Pretty amazing," Hendrick explained. "I was shocked. That just shows you the character that he has and his relationship with people."
It's not clear if Hendrick took Junior up on that offer or not. At the end of the day, though, he's right about one thing: that gesture tells you a great deal about Dale Earnhardt Jr.'s character.