Dale Earnhardt Jr. Owes His Relationship With His Wife to Another Woman Named Jane
It's easy to imagine that professional athletes live a charmed life. Dale Earnhardt Jr., however, proved that isn't always the case. Despite being the son of a motorsports legend and growing into a legitimate star in his own right, Junior's personal life had some notable bumps along the way.
Take, for example, Dale Earnhardt Jr.'s relationship with his wife, Amy. While the two are still married today, things could have ended much differently if not for a woman named Jane.
Dale Earnhardt Jr. had an impressive NASCAR career
Even if you don't know much about motorsports, you're probably familiar with the Earnhardt family. While his father grew into a NASCAR legend, Dale Earnhardt Jr. did pretty well for himself, too.
Junior didn't start out dreaming of driving a race car—he planned on being a mechanic at his dad's car dealership—he ultimately found his way behind the wheel. He started out on the short track scene before moving up to the Busch Series in 1996; his talent was apparent and, two years later, he made his Winston Cup Series debut.
Once he reached the highest level of the sport, Dale Earnhardt Jr. became a NASCAR fixture. While he wasn't quite as successful as his famous father, he still did pretty well for himself. During his time on the circuit, Junior won 50 races across NASCAR's Cup Series and what's currently called the Xfinity Series, came in first place at two Daytona 500s, and was named NASCAR's Most Popular Driver on 15 separate occasions.
NASCAR success couldn't solve personal problems, though
When you see a rich and famous professional athlete on top of their game, it's easy to imagine that their life is perfect. Dale Earnhardt Jr., however, proves that isn't the case.
In a conversation with Graham Bensinger, Junior admitted that he had gone to therapy at various points in his life. He also explained that he and his wife, Amy, needed some help at one point in their relationship.
"Amy and I were referred to this lady named Jane," Earnhardt Jr. recalled. "And, before I met Jane, and before we went to see Jane, me and Amy were having a hard time figuring out how to make our relationship work. We wanted to be married; we both wanted to get married. We both wanted to have a family, but… every day was like grinding gears. Just a lot of tension, and disagreement, and misunderstanding."
Jane managed to save Dale Earnhardt Jr.'s relationship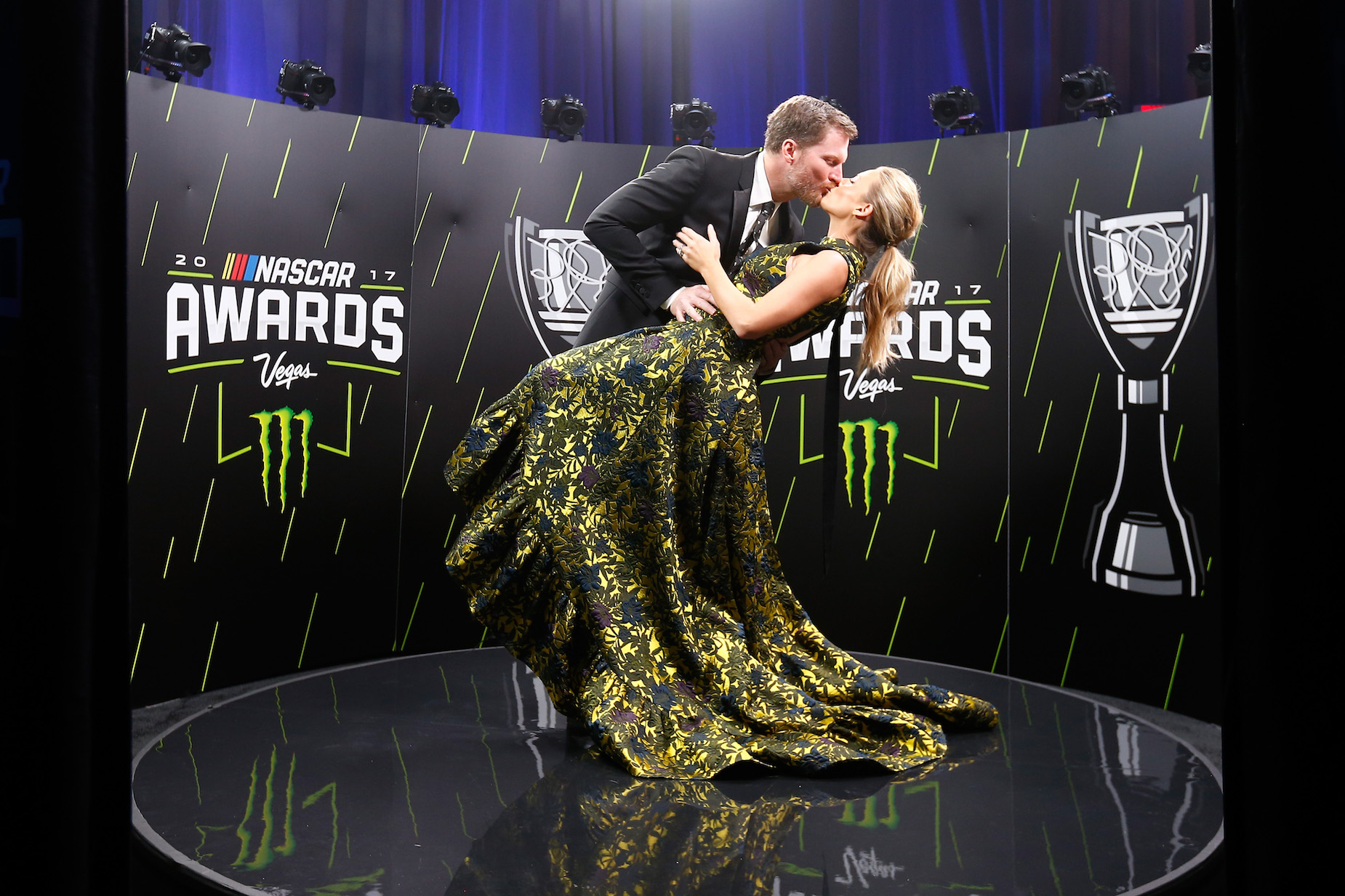 Today, Dale Earnhardt Jr. and Amy are still together. That reality is due, at least in part, to Jane's influence.
"Jane was the reason why we're married," Earnhardt Jr. explained. "Jane is the reason why we're having a family, and Jane is the reason why every day is way better, you know. We don't have the grinding gears anymore, and we don't have the disfunction anymore."
Junior's candid confessions didn't end there, though.
"We weren't going to make it," Dale Earnhardt Jr. said of his relationship with his now-wife. "We had the potential to be great and have a great family together but, if we didn't have Jane, I don't think that we would have met that potential."