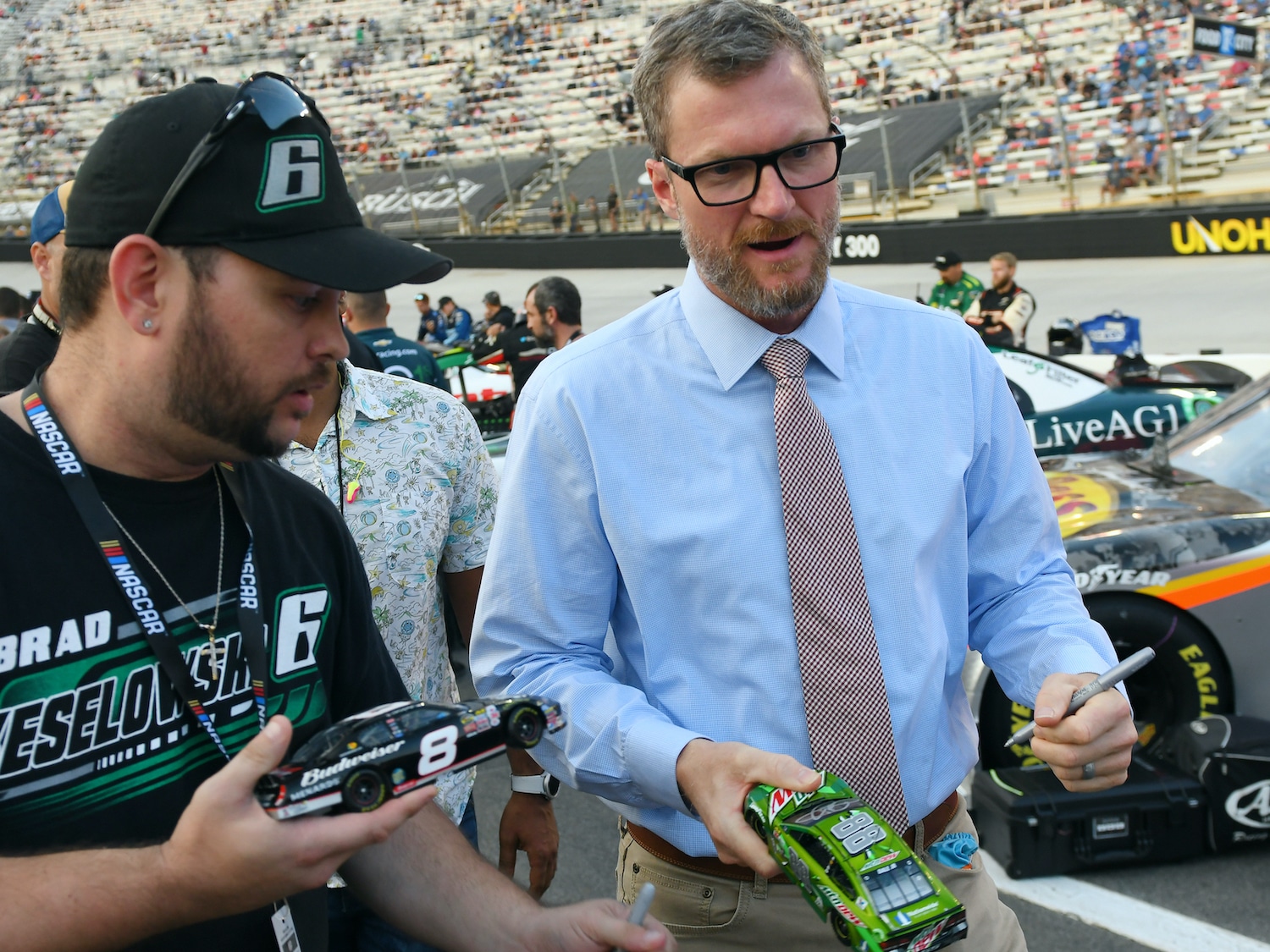 Dale Earnhardt Jr. Reveals Behind-the-Scenes Look at Broadcast Conversation on How Joey Logano and Bubba Wallace Followed Different Team Orders at Bristol
This week on his podcast, Dale Earnhardt Jr. provided fans with a behind-the-scenes look at the conversation in the broadcast booth on how Joey Logano and Bubba Wallace followed very different team orders at Bristol.
Joey Logano was already through to the Round of 12 late in Saturday night's race at Bristol. Austin Cindric was not. Fortunately for the rookie, that changed over the race's final laps, and he advanced. 
Dale Earnhardt Jr. talked about the race this week on his podcast, including how the young Team Penske driver managed to do something Kevin Harvick and Kyle Busch failed to do. The NASCAR Hall of Famer also made some interesting observations about how it happened and how another team took a dramatically different approach. 
Dale Earnhardt Jr. surprised Bubba Wallace continued
Dale Earnhardt Jr. loves Bristol. He's been a huge proponent of that track and other small circuits like it. On Saturday night, he watched a race that proved entertaining not because of the on-track action, as has so often been the case in the past, but attrition. One car after another encountered issues, including multiple flat right-front tires and steering problems. 
Austin Cindric was the first car in the race to have a right-front go down. Martin Truex Jr. and Ty Gibbs suffered steering problems early on. But it was the departure of Kyle Busch due to engine failure that got the most attention because it put the two-time champion perilously close to the cutoff line. 
During this week's episode of the Dale Jr. Download, Earnhardt talked about Busch's problem and the interesting decisions multiple teams made in the aftermath.   
"Kyle Busch had some engine trouble, and that was fascinating to watch all of the things that led up to him being knocked out of the playoffs," Earnhardt said. "There were a couple cars that got back on the race track, two of them being Toyotas — Ty Gibbs and Bubba Wallace. 
"They get back on the track after some issues with their racks and steering. As they're making laps, we're all sitting there in the booth going, 'Are they really going to make laps and pass him? This is another Toyota.' We were having this conversation. 
"Sure enough, Bubba Wallace and his team felt like the owners' points and anything that they could gain out of being out on the track was worth more than anything that might happen to Kyle. The Ty Gibbs car conveniently pulled off the race track four laps short of passing him."
Earnhardt details how Logano followed Team Penske orders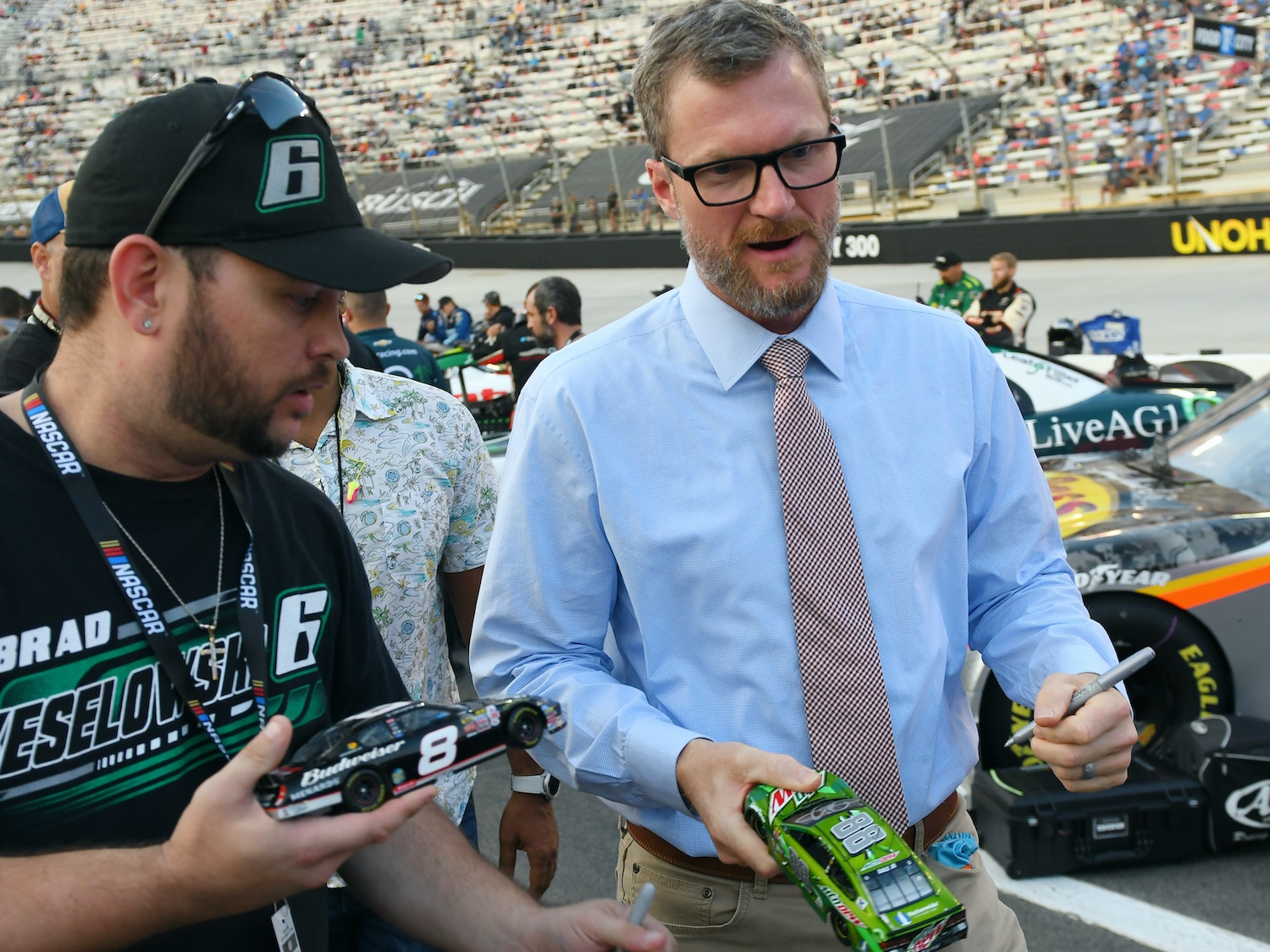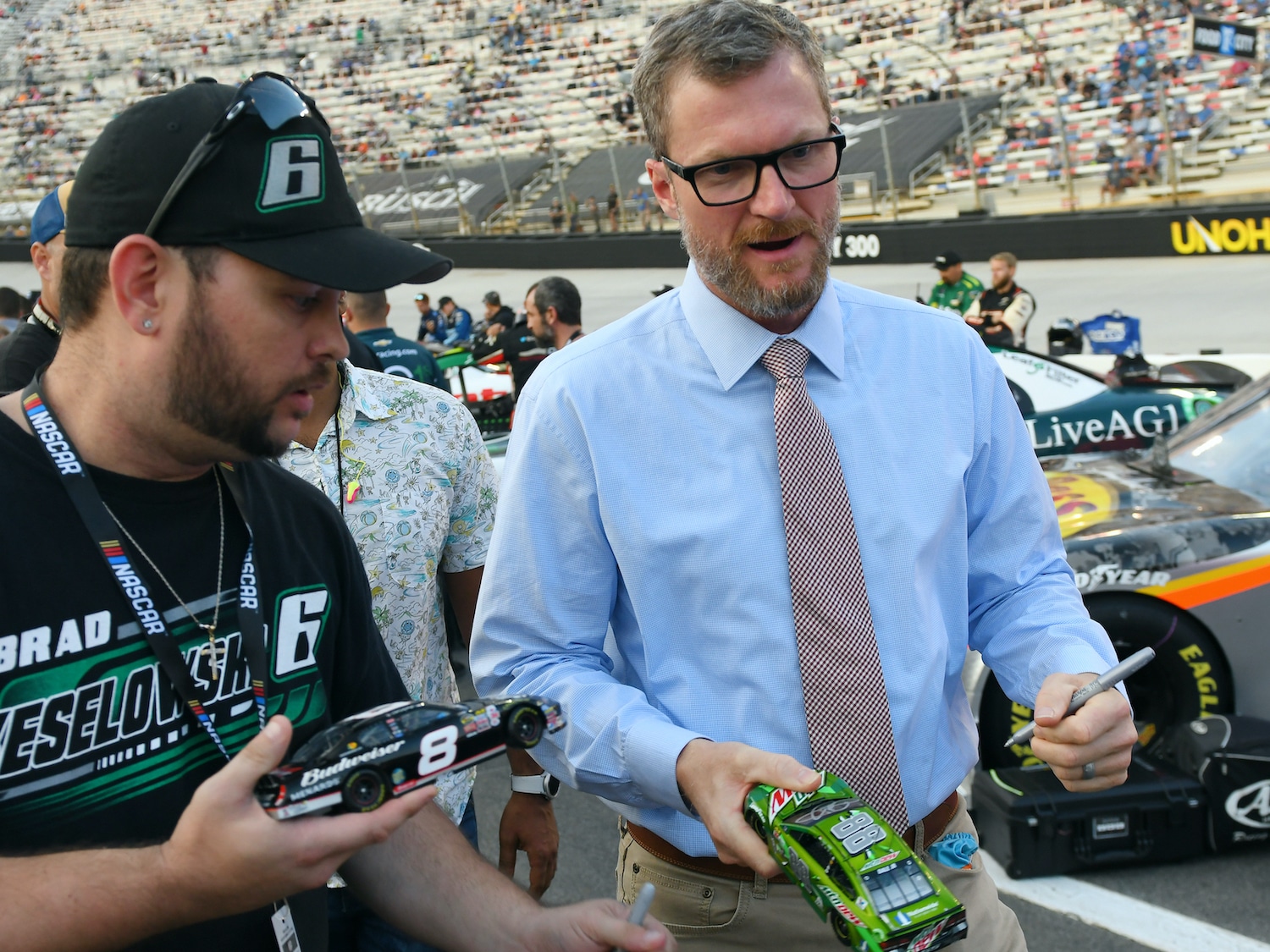 Wallace returning to race because of the Owners' Championship battle made sense. Joey Logano was in a different situation. He had already advanced to the next round. However, his Team Penske teammate Austin Cindric had not and was on the outside looking in. 
On The Download, Earnhardt noted how the Penske cars made a business decision. 
"Cindric needs to pass him to be able to get a point, and with a few laps left in the race, all of a sudden, the 22 car is on pit road," Earnhardt said. "We were in commercial, I believe, under caution and he gave two laps up to Cindric under that caution. We're sitting there going, well, that was convenient."
When podcast co-host Mike Davis asked if they talked about it on the broadcast, Earnhardt said they didn't. However, broadcast partner Steve Letarte did, in fact, mention it.
"In that cycle of pit stops, Austin Cindric had found a couple of laps on Joey Logano," Letarte said, mocking surprise. "So that moves Austin Cindric now to the 22nd position. That ties him with points with the 18 so that eliminates Kyle Busch currently as they run from the playoffs. We'll see if Cindric can stay on the race track for the last 58 laps."
NASCAR Race Hub reveals Team Penske conversation
While Earnhardt could only speculate about what was happening on the track between Cindric and Logano, this week's edition of NASCAR Race Hub provided some clarity with radio communication from the Team Penske cars during its "Radioactive" segment.
"Right now we are out by one point," crew chief Jeremy Bullins informed Cindric. "Next one ahead of you is the #22." 
Moments later, the cameras showed Logano in his pit stall along with the radio communication of his team.
"Come back, there's a bolt head sitting here from suspension," Logano's crew chief Paul Wolfe told him. "Behind the wall. Yeah." 
When Bristol ended, Logano had advanced. So had Cindric. Busch had not. On the results sheet, it looks pretty cut and dried. As Earnhardt and Race Hub revealed, it was anything but that.
Like Sportscasting on Facebook. Follow us on Twitter @sportscasting19 and subscribe to our YouTube channel.