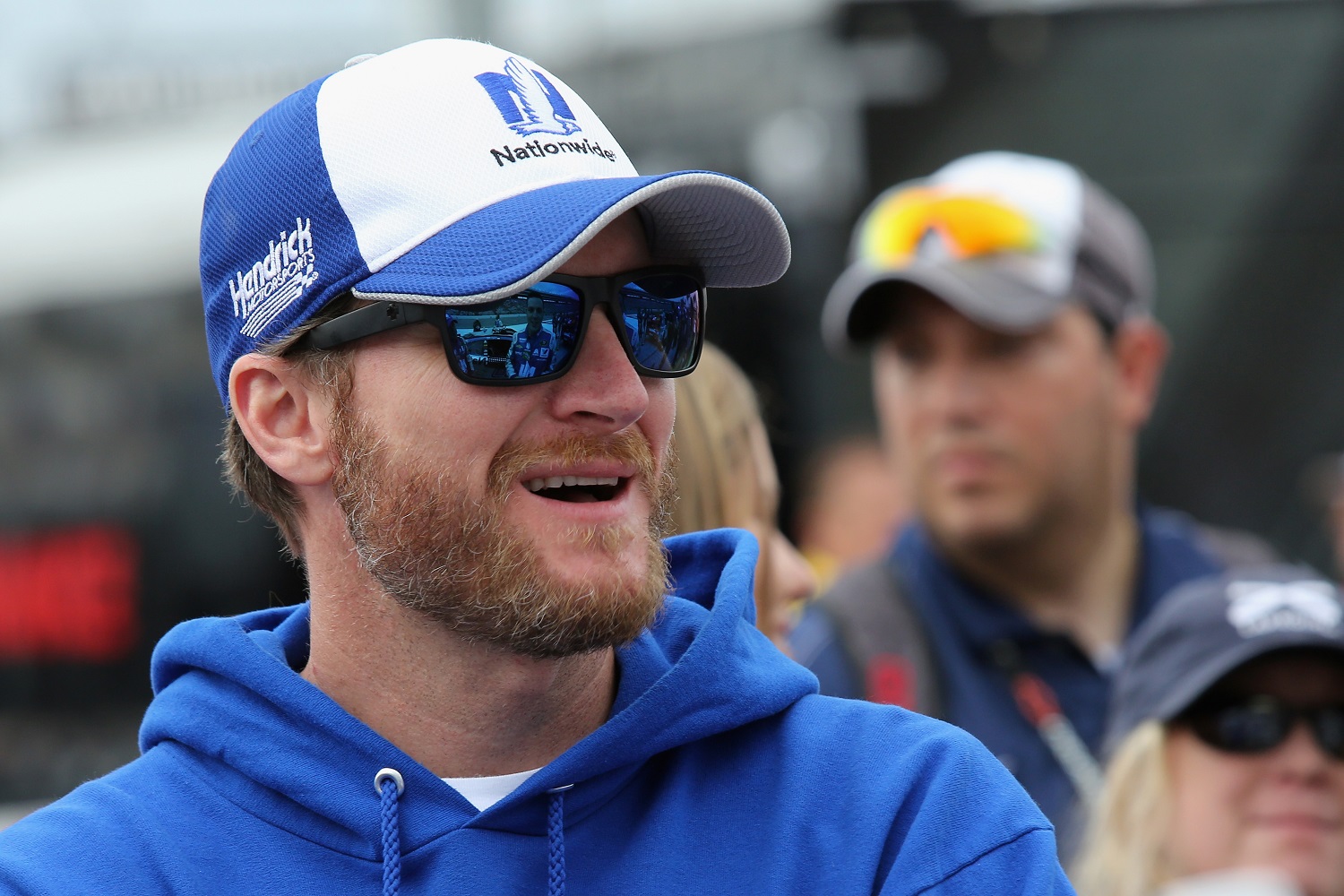 Dale Earnhardt Jr. Was Pulled Over for Speeding on His Way to a NASCAR Race
Dale Earnhardt Jr. displayed top-notch wit when he was asked about being pulled over for speeding on his way to a 2016 NASCAR race at Texas Motor Speedway.
We already knew that racing is in his blood. After all, Dale Earnhardt Jr. is a third-generation driver. With that trait comes the ever-present need for speed, even when the NASCAR Cup Series driver is "off the clock." One such instance in 2016 epitomized that and nearly got him in some trouble. But at least the episode ended with a funny three-word tweet from Earnhardt.
Drivers and traffic stops go together hand-in-hand
Jeff Gordon gets laughs when he tells the story of being pulled over by a police officer while on the phone with Dale Earnhardt Jr. after the 2007 NASCAR Cup Series. Gordon wanted to congratulate Earnhardt on joining the Hendrick Motorsports organization, but he wasn't rigged up for hands-free talking.
Combined with the fact that he was speeding, that made Gordon easy pickings for a patrol officer. Luckily, Earnhardt saved the day for Gordon by having a brief conversation with the officer.
And when drivers can't talk their way out of tickets, the media eats those stories up. Kyle Busch got spanked – a license suspension and a $1,000 fine — for doing 128 mph in 2011. That story was dredged up all over again in 2014 when he was cited again for speeding, this time with a notation on the ticket regarding a "disrespectful attitude."
Greg Biffle recently said that being recognized as a professional racecar driver can cut both ways upon being pulled over because it's caused him to get written up but also occasionally allowed him to leave with just a warning.
Dale Earnhardt Jr. was pulled over for speeding on his way to a race
The 2016 NASCAR Cup Series season saw Dale Earnhardt Jr. finish a career-worst 32nd in the standings, but that was to be expected after he missed the second half of the season while recovering from concussion-like symptoms. With Earnhardt out, Jeff Gordon and Alex Bowman took over driving the No. 88 Chevy.
Earnhardt was able to handle much of the routine, day-to-day stuff in life while recuperating, but driving at speeds close to 200 mph obviously requires total focus. He conceded by Labor Day weekend that his season was over, and Earnhardt finally received clearance to return to racing in December.
Being sidelined didn't keep Earnhardt away from race days. The weekend of the AAA Texas 500 at Texas Motor Speedway demonstrated that he still had a little bit of that racing adrenaline in him while waiting to resume his career. Earnhardt found himself being pulled over in Fort Worth for excessive speed.
Fiancee (and future wife) Amy Reimann, who was in the car, tweeted a photo of the police officer writing out a warning rather than a ticket. Neither she nor any of the media reports offered details on how far over the speed limit Earnhardt was traveling.
Dale Earnhardt's response was awesome
Carl Edwards was the NASCAR Cup Series race winner on that early November Sunday in 2016 at Texas Motor Speedway. Substituting for Dale Earnhardt Jr. in Hendrick Motorsports' No. 88 Chevy, Alex Bowman finished 13th.
Of course, that was inconsequential to Earnhardt fans. They all had one question on their minds.
"So how fast were you going speedy," one of the driver's followers asked on Twitter.
Without missing a beat, the man voted the sport's most popular driver 15 times responded perfectly:
"Not fast enough."
Like Sportscasting on Facebook. Follow us on Twitter @sportscasting19.