Dale Earnhardt Jr. Initially Refused to Join Twitter for 2 Relatable Reasons
Dale Earnhardt Jr.'s Twitter account is pretty popular, but he wasn't always keen on joining the platform.
Even if you're not the biggest motorsports fan, you're probably pretty familiar with Dale Earnhardt Jr. Thanks to his famous father and his own time behind the wheel, Junior became one of NASCAR's biggest names. That reality unsurprisingly helped him earn plenty of money and build up quite the following on Twitter.
While he's no pretty active on the platform, Dale Earnhardt Jr. wasn't always thrilled about the idea of making a Twitter account. In fact, he was initially put off by two relatable reasons.
Dale Earnhardt was one of NASCAR's most popular drivers
When you're a star athlete, a certain amount of popularity comes with the territory. Dale Earnhardt Jr., however, took things to the next level during his time on the NASCAR circuit.
While he only started driving to form a relationship with his father, Dale Jr. proved to be a capable driver in his own right. He joined the Busch Series in 1996 and, two years later, was ready for the Cup Series.
Although Earnhardt Jr. wasn't as successful as his dad, he still proved to be an incredibly popular driver. In addition to winning 50 races across the Cup Series and what's currently called the Xfinity Series, he also earned an incredible 15 NACAR's Most Popular Driver titles.
As you might imagine, that popularity served Dale Jr. well, even away from the track. His star status helped him build up a massive net worth, which clocks in at approximately $300 million; he also boasts more than two million follows on Twitter, which is also pretty impressive in its own right.
Junior was hesitant to join Twitter for two relatable reasons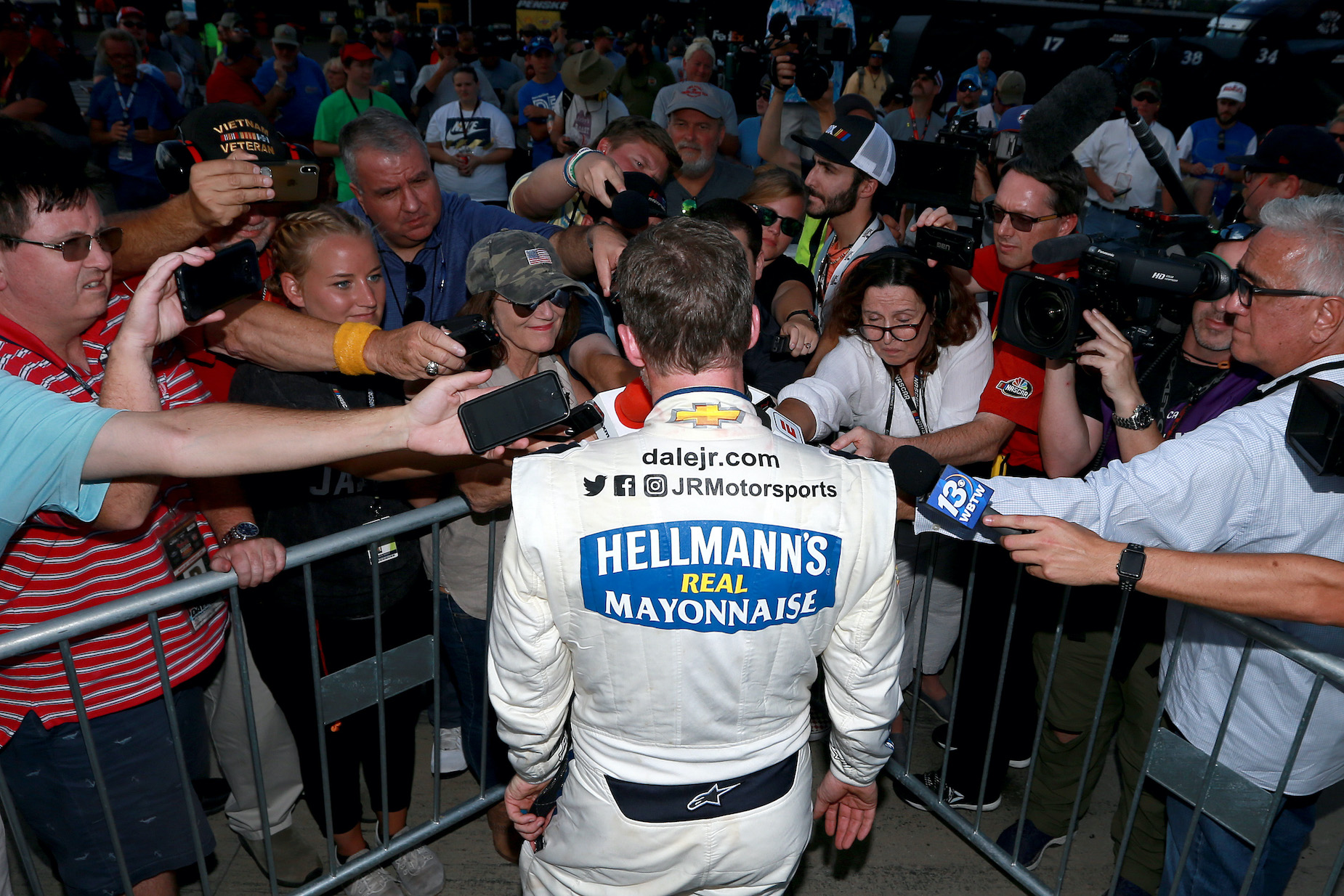 As mentioned above, Dale Earnhardt Jr.'s Twitter account is a pretty popular follow for NASCAR fans. Initially, though, he wasn't too sure about joining the platform.
While life as a celebrity can bring some unique challenges, those weren't what was on Junior's mind. Instead, he was focused on two drawbacks of social media that can affect anyone with a laptop or smartphone.
"I used to have a MySpace page, and I used to have a Facebook page; I don't anymore because it was just too much responsibility," he said in 2011, according to Jeff Gluck of SBNation. "I felt like you had to plug in and be involved with it so much, and I just thought that personally, I don't need to do it."
Beyond the sheer time-sink of social media, Earnhardt Jr. also expressed reservations about immersing himself in the negativity of Twitter.
"So that part of it, why do I need to put up with that anyway?" he added. "If I don't have to put up with it, why do I want to bring that [negativity] into my life?"
Dale Earnhardt Jr. eventually joined Twitter and faced those concerns head-on
Despite those initial concerns, though, Dale Earnhardt Jr. did eventually join Twitter. Unsurprisingly, his popularity carried over to the platform; as of February 2020, the former driver has 2.4 million followers and regularly shares updates with his fans.
In regards to his two initial concerns—time and negativity—it seems like he's had mixed success. In a 2015 USA Today interview, Junior explained that he'll avoid Twitter after a bad run or when he knows things will be tough to swallow; he also found, however, that plenty of fans would also send encouraging messages in his direction.
As for spending too much time on social media, however, Dale Jr. had a similar experience to plenty of Twitter users.
"I feel like I'm getting more and more addicted to it, to where I'm like, "Do I need to be doing this so much," he explained. "I'm sure everybody's gone through that, but I'm like, 'Maybe I need to spend more time doing something else."
These days, the trials and tribulations of social media are simply an everyday part of life. That's even true if you're a living NASCAR legend like Dale Earnhardt Jr.