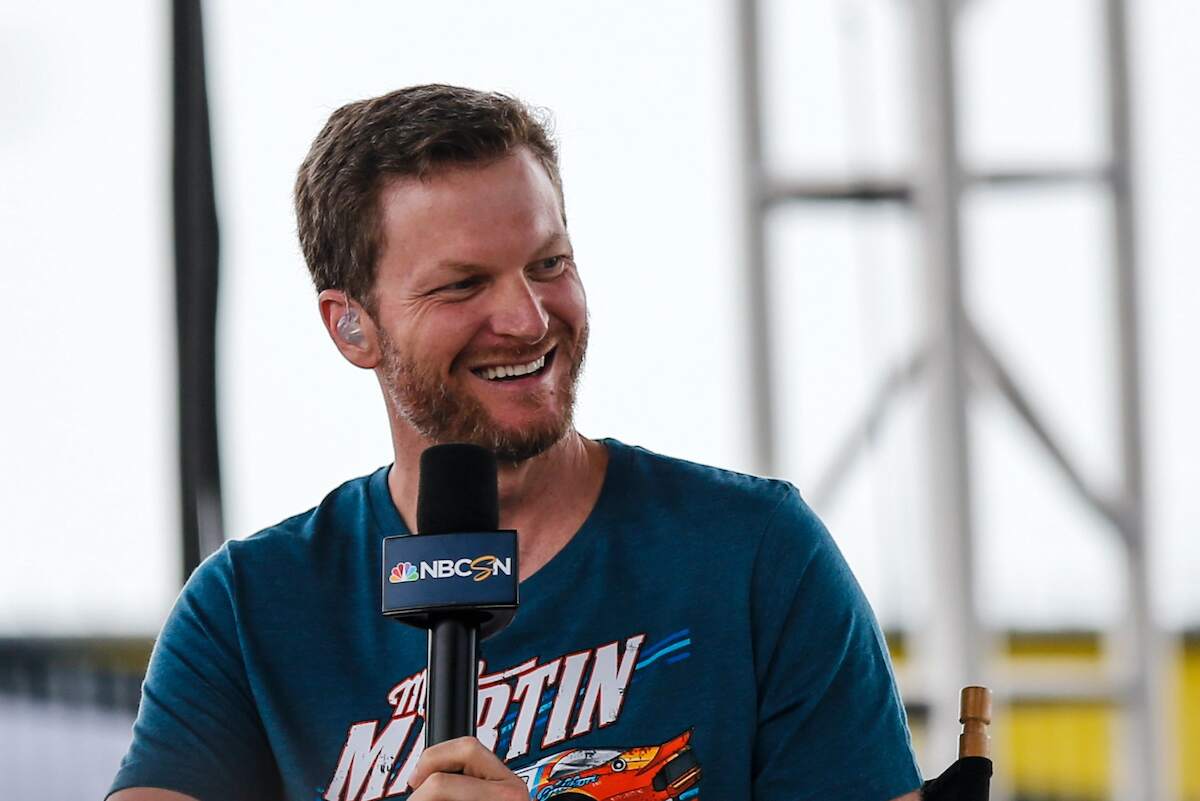 Dale Earnhardt Jr. Is Worth $300 Million, but His Ideal Day Once Consisted of Nothing More Than Drinking Beers at Walt Disney World
While Dale Earnhardt Jr. has a $300 million net worth, the NASCAR legend isn't above cracking open a cold one.
While he never claimed a Cup Series championship, Dale Earnhardt Jr. still had quite the career. During his time in the world of motorsports, Junior proved to be incredibly popular. In turn, he built up a net worth of approximately $300 million. Despite that massive fortune, he didn't exactly develop champagne tastes.
During a 2014 interview, Dale Earnhardt Jr. was asked how he'd spend a day off if he could do anything in the world other than auto racing. His pick, however, was something pretty ordinary: drinking beer at Walt Disney World.
Dale Earnhardt Jr. had a successful NASCAR career
Even though he's retired from full-time racing, it's impossible to imagine Dale Earnhardt Jr. as anything that a NASCAR star. Growing up, however, he almost took a different path.
Dale Jr. actually earned an automotive degree and took a job at his dad's dealership. He planned on working his way up through the ranks and becoming a mechanic. Fate, however, had something else planned for Earnhardt.
While Junior didn't have the greatest relationship with his famous father, he eventually realized that racing gave them something in common. That provided the inspiration to climb behind the wheel. Once he got there, though, Earnhardt Jr. proved to be quite the talent.
Dale Earnhardt Jr. made his Busch Series debut in 1996 and, after two years, made the step up to the Cup Series. Although there were some serious bumps in the road, he'd pile up 50 wins across both series by the time he retired from full-time racing.
Those victories, however, were only part of the story.
Turning incredible popularity into a $300 million net worth
During his time in NASCAR's Cup Series, Dale Earnhardt Jr. never managed to win the championship. That didn't stop the driver, however, from becoming a fan favorite.
While you could argue he didn't do much to earn the title — any Earnhardt would be beloved, especially after the Intimidator's tragic death — Dale Jr. monopolized NASCAR's Most Popular Driver crown, winning it an incredible 15 times. In the world of motorsports, where sponsorship deals rule the day, that popularity was pretty important.
"Earnhardt only finished in the top three of Nascar's year-end standings once during his career, but his popularity with sponsors and fans helped him earn more than $400 million from salary, endorsements, and his share of race winnings and licensing," Forbes explained in 2017.
These days, Dale Earnhardt Jr.'s net worth clocks in at roughly $300 million. Given his ownership of JR Motorsports and media work, that number should only increase each passing year.
Dale Earnhardt Jr.'s ideal day would be drinking beer at Epcot
Given his fame and fortune, Dale Earnhardt Jr. could do more or less anything he wants at the drop of a hat. The NASCAR legend, however, apparently prefers to keep it simple.
During a 2014 interview that ran in the Indianapolis Star, Jeff Gluck asked Junior how he'd spend a day off if he could do anything in the world other than racing. Rather than jetting off to a tropical island or popping champagne with some other celebrities, Earnhardt suggested heading to a classic family vacation spot.
"I'll tell you one thing I really enjoyed – and this is kind of corny – but Beers Around The World at Disney World," Dale Jr. explained. "I'd really love to do that. One day at Epcot [sampling beers in each 'country'], that's a lot of fun."
Earnhardt went on to say that he'd previously attempted to drink around. the world, but couldn't complete the full circuit due to a dinner reservation. In his mind, however, there was no better way to spend a one-off day.
That was just a lot of fun. You just take your time. When you're in 'Germany,' it's big enough you can almost lose yourself in that moment like you're actually there. They do such an amazing job with the architecture and really giving you that sense that you're in that moment, you know? I really enjoyed that, and it's perfect for one day. Logistically, you can't go to Hawaii and enjoy yourself for a day – but you could do Beers Around The World for a day and enjoy it.

Dale Earnhardt Jr. on drinking around the world
Since giving this interview, though, quite a bit has changed for Dale Earnhardt Jr. First and foremost, he now has a wife and two children. If he's jetting down to Walt Disney World these days, drinking beer probably won't be a priority anymore.