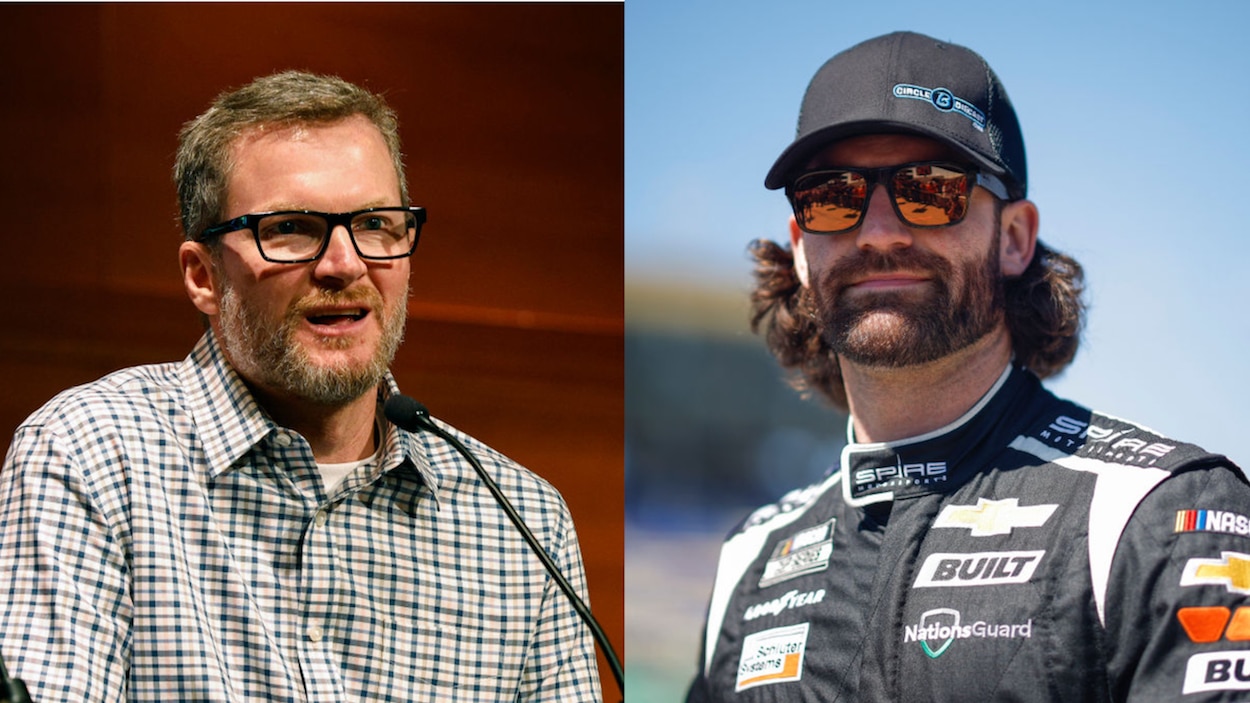 Dale Jr. Uses Michael Jordan GIF to Disagree With Corey LaJoie's List of the Top 5 Drivers of All Time
Dale Earnhardt Jr. couldn't help but bring Michael Jordan into the latest NASCAR discussion, and not because of his team ownership.
Who are the greatest NASCAR drivers of all time? It's a highly intriguing question that often sparks spirited debate among fans, competitors, and pundits alike.
So it was earlier this week when NASCAR writer Austin Konenski tweeted a message seeking some hot takes on the five best NASCAR drivers ever — listed in order. 
Among those willing to play along was current Cup Series driver Corey LaJoie, who unabashedly tweeted a top five of NASCAR legends Jimmie Johnson, David Pearson, Richard Petty, Jeff Gordon, and Dale Earnhardt.
But later on in the evening, former Cup Series driver-turned-NASCAR on NBC broadcaster Dale Earnhardt Jr. piped in with a reply to LaJoie, and that's when the dialogue started to get a little spicy.
Dale Jr. used a slightly comical tweet to Corey LaJoie to make a point
While many would concur that Jimmie Johnson, David Pearson, Richard Petty, Jeff Gordon, and Dale Earnhardt are, in fact, NASCAR's all-time greatest drivers, it was undoubtedly the order of Corey LaJoie's top-five list that caught Dale Earnhardt Jr.'s attention.
After all, Earnhardt Jr. is the son of the late Dale Earnhardt Sr. — a 76-time Cup Series race winner who owns a record seven Cup Series championships along with Petty and Johnson. However, Earnhardt's wins and championships came in an era of the sport that was arguably far more competitive than the era in which Petty won his titles. As for the comparison between Earnhardt and Johnson, some would say (and have said) that Johnson enjoyed much of his success as a result of competing in far superior equipment, which some claim Earnhardt didn't have during his heyday.
So, in the eyes of many people, Earnhardt will forever be NASCAR's cream of the crop despite having fewer wins than Petty (200), Pearson (105), Gordon (93), Bobby Allison (84), Darrell Waltrip (84), Johnson (83) and Cale Yarborough (83).
Earnhardt Jr.'s response to LaJoie ranking his father last among the five greatest drivers of all time was amusing in one sense, but it also sent a not-so-subtle message that he disagreed with LaJoie's opinion.
His specific GIF choice, which features a young version of NBA legend and current-day NASCAR team owner Michael Jordan in a 1980s ad encouraging America's youth to say no to drugs, also hinted strongly that Earnhardt Jr. might consider his father to be NASCAR's all-time best wheelman.
Sure enough, at LaJoie's urging, Earnhardt Jr. tweeted his own list a little while later, and, not surprisingly, his father — the one known as The Intimidator — was atop the heap.
So, where does Dale Earnhardt actually rank?
On Feb. 18, 2001 — the day Dale Earnhardt tragically lost his life — then-NASCAR president Mike Helton walked into a packed Daytona International Speedway media center to tell the world that the driver of the iconic black No. 3 car had suffered fatal injuries from an impact with the Turn 4 wall on the final lap of the Daytona 500.
Helton then made the following statement, which he attributed to then-NASCAR chairman Bill France Jr., and which you can watch here: "NASCAR has lost its greatest driver ever, and I personally have lost a great friend."
So is Earnhardt the top driver in NASCAR history?
At the time of The Intimidator's death, Jeff Gordon had won three of his four championships and trailed Earnhardt in career Cup victories. Jimmie Johnson hadn't even made his first Cup start, which came later that year.
Richard Petty and David Pearson — the two drivers with the most NASCAR Cup Series wins both then and today — had already long since retired from the sport, so France's claim that Earnhardt was NASCAR's greatest driver ever was a bold statement.
Farfetched? No. But definitely a bold statement with which Corey LaJoie would disagree. 
As for three-time Daytona 500 winner Denny Hamlin, well, he's in the Dale Jr. camp on who should be No. 1.
No matter which in-the-know driver you side with, Earnhardt's status as (at least) a top-five driver is beyond question.