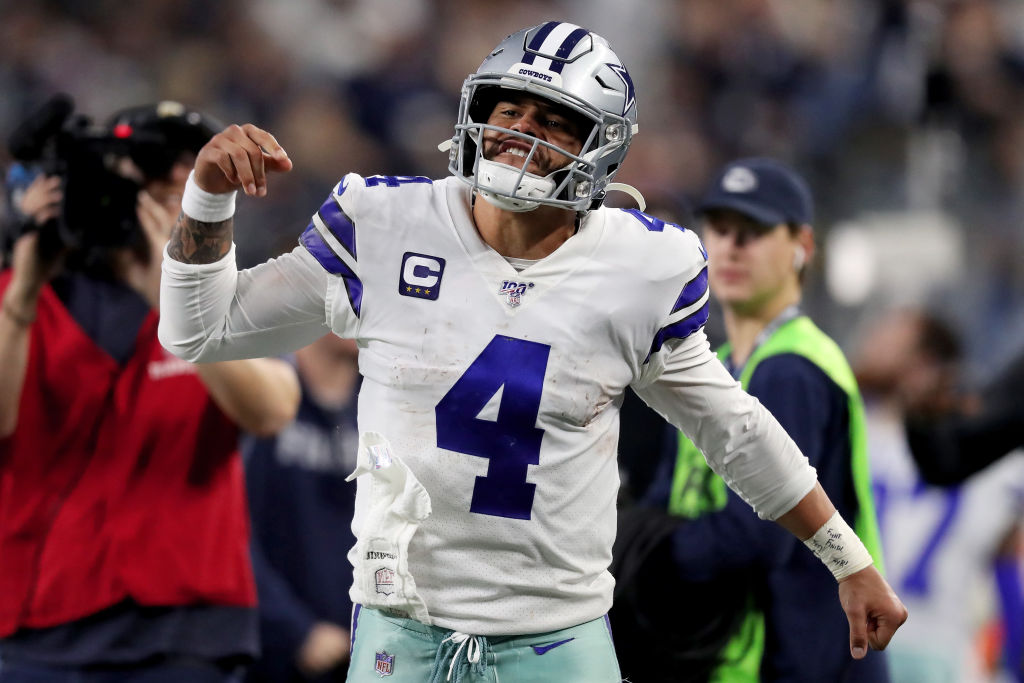 Dallas Cowboys QB Dak Prescott's Brother Jace Motivated Him to Accomplish His NFL Dream
Dallas Cowboys quarterback Dak Prescott is mourning the death of one of his brothers.
Triumphs on the field are seldom a match for tragedies off it, and Dallas Cowboys quarterback Dak Prescott is now wrestling with another personal setback in a complicated offseason.
Dak Prescott's brother Jace has died
The Dallas Cowboys have confirmed an earlier report that Jace Prescott, the brother of NFL quarterback Dak Prescott, died of unknown causes on Thursday at the age of 31. A family member said Jace Prescott died at his home in Orange, Texas.
Nicknamed "Moose," Jace Prescott appeared in 11 games on the offensive line for Northwestern State University in Natchitoches, Louisiana, in 2008 before having his career ended by a knee injury in the 2009 opener. He previously was an honorable mention all-state scholastic football player and a standout in weight events for the high school track team.
He was in a Campbell's "Champions of Chunky" commercial last year with brothers Dak and Tad.
"Family is everything. It's what keeps me grounded when everything else is changing around me I know that's one thing that's always consistent and certain," Dak Prescott said at the time. "I'm thankful for them."
Dak Prescott has been inspired by family
Family has been important to Dak Prescott in his rise to starting quarterback of the Dallas Cowboys, one of the most intently scrutinized jobs in professional sports. It helps explain why the initials of his brothers are tattooed on the back of his arms.
Another of his tattoos, stripped across his back, says simply, "Fight. Finish." It's a tribute to Peggy Prescott. The boys' mother died of cancer in 2013.
"I love my brothers to death, but my mom was something that no one could ever mimic that relationship," he said in a 2017 interview. "My brothers were my good friends. They were my best friends. But they weren't my best-est of friends."
The continuation of a difficult offseason
The Dallas Cowboys issued a statement on the opening night of the 2020 NFL draft expressing condolences to Dak Prescott and his family, calling Jace Prescott's death "devastating."
The relationship between the team and its quarterback has been a complicated one over the past year. Even as Dak Prescott has rolled up a 40-24 record as the franchise's quarterback, owner Jerry Jones has been unable to come to contract terms with the standout signal-caller.
Although the Cowboys have rewarded running back Ezekiel Elliott and receiver Amari Cooper with lucrative contracts, they applied the franchise tag to Prescott last month. While that makes for a $31.4 million salary for the 2020 season based upon the average of the league's top five quarterback salaries, it doesn't give him the long-term security that numerous other quarterbacks have.
Although the sides can still reach an agreement on a longer deal before the start of training camp, it must weigh on Prescott to accept having to wait when he's produced so consistently on the field.
Prescott's ratio of 97 touchdown passes to just 36 interceptions is confirmation of his decision-making acumen, and his career passing rating is a solid 97.0.
If he is going to be criticized for a 1-2 record in playoff games, then it must be done in the context of pointing out that the Cowboys haven't appeared in an NFC Championship Game since winning the Super Bowl after the 1995 season.